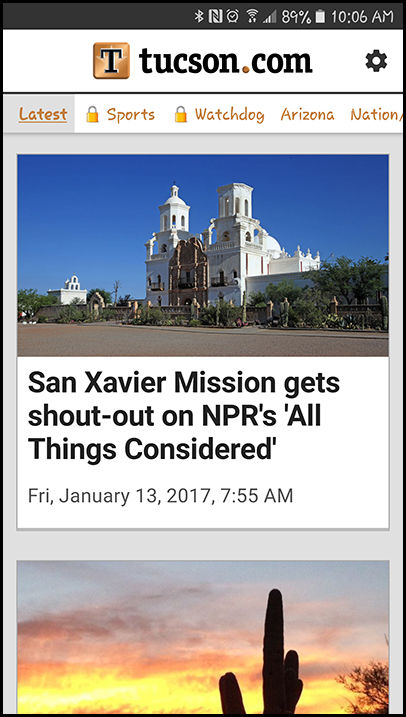 Arizona Daily Star mobile apps
Get local news from Tucson, AZ - iPhone/iPod and Android versions available
Features
See the latest news updates
"Push alerts" for major breaking news
Share stories with your friends via email or social media
Videos and slide shows
Funeral notices and classified ads
Current weather conditions and five-day forecast
Search through thousands of articles stored in our database
---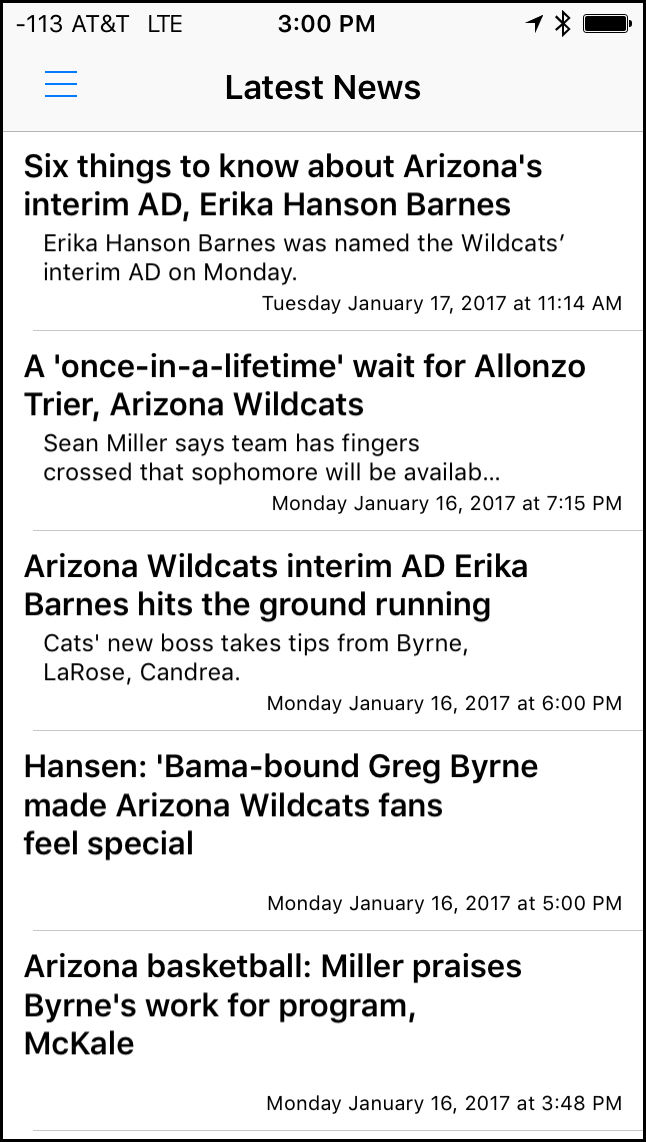 UA Sports
Follow University of Arizona sports.
Features
Daily coverage from the Star staff
Breaking news, including game updates
Pre-game and post-game analysis
Photo galleries, feature stories, video
Standings, scoreboards and schedules
---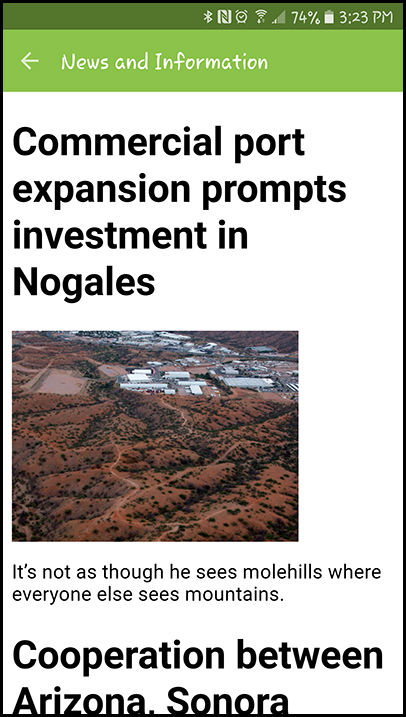 AZ Sonora Business Resource Guide
Our region moves forward
Last year's inaugural edition of this Arizona-Sonora Business Resource Guide was met with great enthusiasm. Many connections were made and business deals inked.
Meanwhile, the relationship between our neighboring states continues to gain momentum and attention from national leaders.
Arizona investment in Sonora is growing with manufacturing expansions and co-production partnerships. Mexican investors are also choosing Arizona in projects that range from our new hospital in Green Valley to downtown Tucson redevelopment and a state-of-the-art luxury bus depot under construction in Phoenix.
Hundreds of companies joined the list of resources this year and the explosive growth in mining activity in Sonora prompted the addition of a new mining category.
This year's directory is complemented by a mobile app, which will be updated throughout the year as more companies register.
Both states have new governors this year and both are committed to strengthening our region by promoting a united economic voice. The Arizona Daily Star and Tucson Hispanic Chamber of Commerce are grateful to both governors for their leadership and support and to our new and returning sponsors for believing in the project.
We look forward to many more partners and advisors as we continue to grow.
---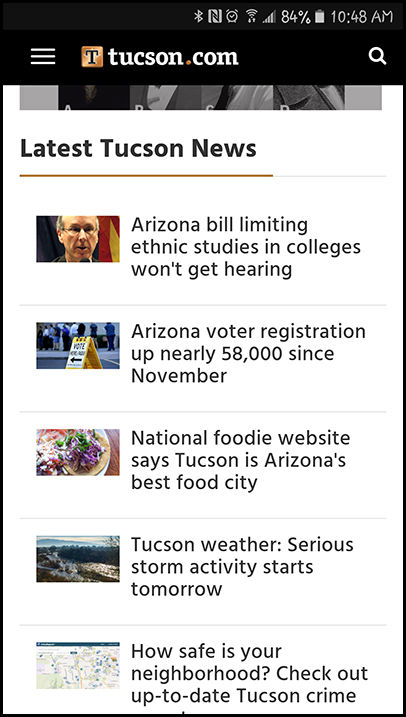 Arizona Daily Star mobile web
Get local news from Tucson, AZ
Features
Multi-platform mobile-friendly web site; no app download needed
See the latest news and sports updates
Traffic updates and movie times
Five-day forecast
---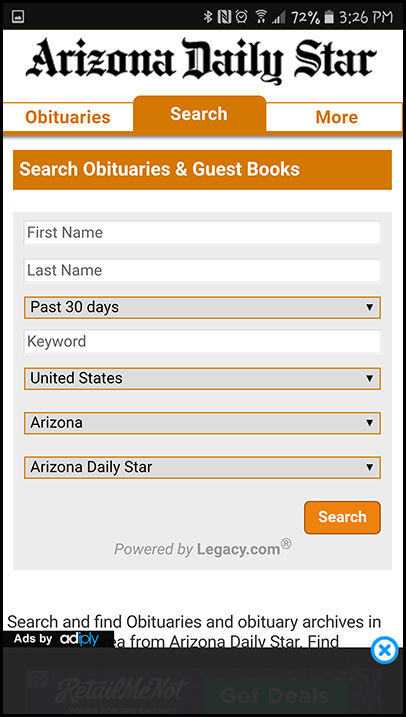 Arizona Daily Star obituaries
Funeral notices, optimized for search and display on your mobile device
Features
Multi-platform mobile-friendly web site; no app download needed
Recent obituary listings, plus search
Read guest books and add your own message
Social media sharing
---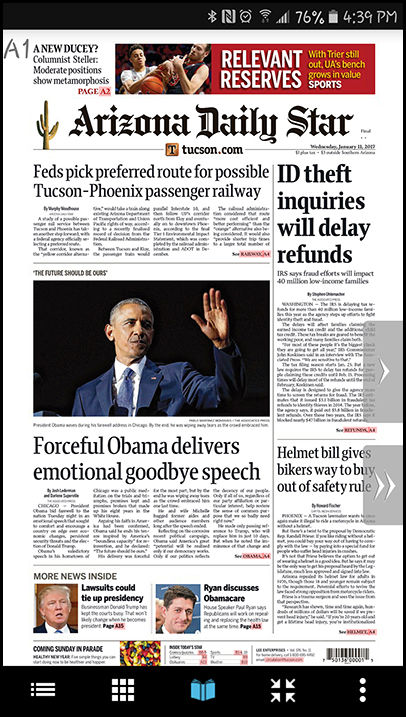 Arizona Daily Star e-Newspaper for iPad, iPhone and Android
The Star's electronic newspaper - local news from Tucson, AZ
Features
An exact replica of the Arizona Daily Star newspaper, accessible online.
View the print edition's ads as well as articles & photos
Funeral notices and classified ads
The App is a free download but requires a subscription to the Star to view.
---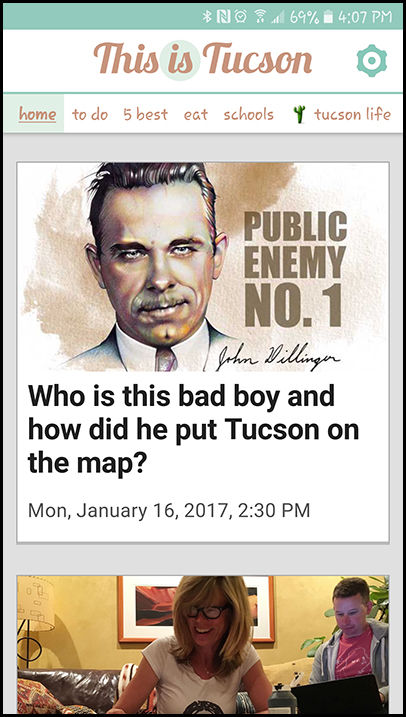 This is Tucson app for Android and iPhone
We are your Tucson BFF — making sure you and your family don¹t miss out on the best things to do or best things to eat all over town.
Features
Things to do, food, local schools, 5-best lists and Tucson life
You decide which alerts you get. We won't buzz you with clickbait
Add local events straight to your calendar app
Save stories to read later
Everything you REALLY need to know in one, convenient place
Info for all parts of town: Tucson, Oro Valley, Marana, Vail, Sahuarita and Pima County
---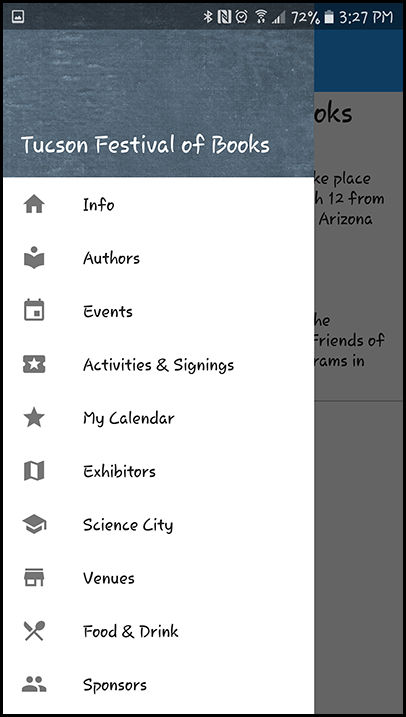 Tucson Festival of Books for Android and iPhone
Your pocket guide and mobile companion for the Tucson Festival of Books
Features
Author bios and event listings
Exhibitors, sponsors and food vendors
Last-minute changes and other festival news
"My Bookfest" feature lets you save a custom list of authors, events, exhibitors, accommodations for convenient reference later
Directions and parking info