Bay of Biscay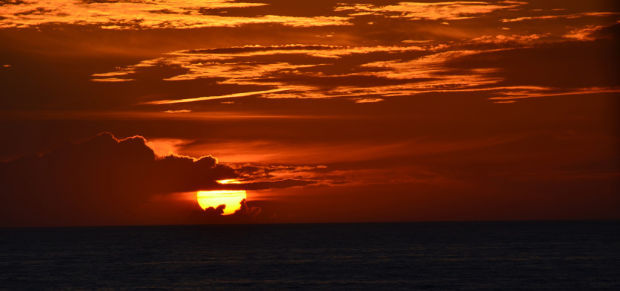 Who: Ken Mowbray, 49, employee at CyraCom International Inc. and paleoanthropologist for the American Museum of Natural History in New York City.
Where: Aboard Sea Cloud II in the Bay of Biscay.
When: August 2013.
What: Mowbray picked up some photography copycats aboard the Sea Cloud II. With about 75 passengers aboard this three-masted ship on its way from Ireland down to France and Spain, Mowbray's eye for scene-setting did not go unnoticed. The 10-day educational tour led by the American Museum of Natural History placed the Tucson native in the spotlight as one of the educators on board. His goodhearted mimickers also learned from his photography, glancing at his shots to compose similar ones of their own. Coming into the Bay of Biscay, the Sea Cloud II left the rockier seas along the coast of Ireland. Finally, with clear skies and smoother seas, the ship turned off its engines and dropped its sails — a break for the seasick- prone. "That was one of the few opportunities that the clouds parted and the sun came up," Mowbray said. "Usually, when it's rough, it's overcast and rainy and drizzling, but that was a gorgeous night and evening." Without a jacket that night, Mowbray was "just freezing" as he waited for the sun to go down. Even with his Arizona blood putting him at an immediate disadvantage, he toughed it out and waited. "We kept joking that we were waiting for the green flash from 'Pirates of the Caribbean,' " Mowbray said. "I love the fact that (in the photo) you can see the ocean, and it was fairly smooth sailing, and the sun was so huge. The clouds put it into perspective."
How: Mowbray, whose hobby is photography, takes photos whenever he can. By the time he returned from the trip, he walked away with about 1,600 photos. He bought his current camera, a Nikon D5100 DSLR, the Christmas before the trip and spent the cruise getting acquainted with his new toy.