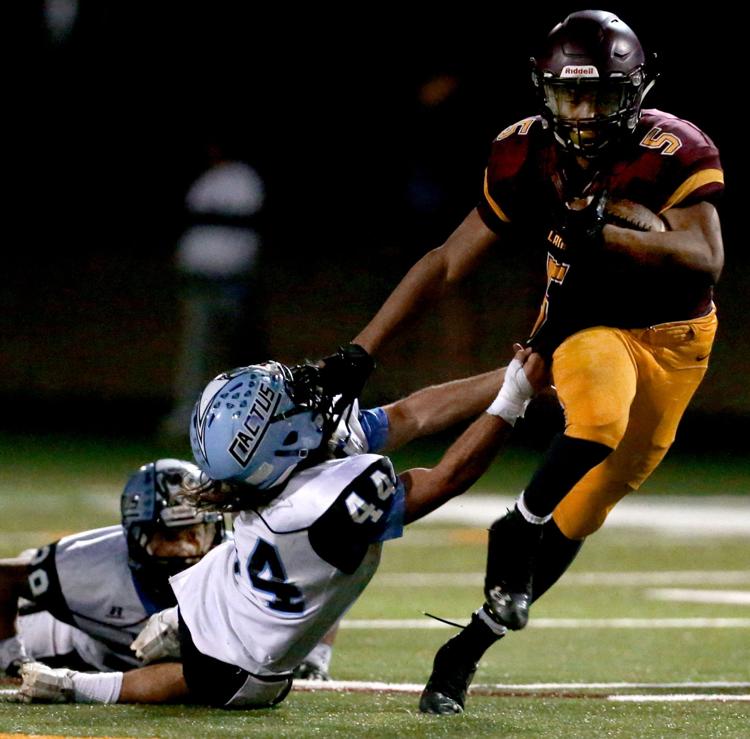 In its convincing 49-27 state semifinal victory over No. 1 Peoria Sunrise Mountain on Friday, Salpointe Catholic packed a punch.
Dennis Bene's Lancers gained 496 rushing yards in their most difficult game of the season (so far). Sophomore Bijan Robinson — who has cleverly been nicknamed "Be Gone" by his classmates — gained 303 yards with Khalil Tate-type touchdown runs of 60, 54, 26 and 20 yards. Mario Padilla gained 202.
Fortunately, the Lancers will have two weeks to prepare for the Dec. 2 state championship game against the state's top football school, Scottsdale Saguaro. The Arizona Interscholastic Association has rarely made space for a week off between the semifinals and finals, but this year it makes sense because, one, the players can use the rest after 13 games in 14 weeks, and, two, it would not make sense to conflict with Saturday's Territorial Cup in Tempe.
Salpointe's power game can be traced to, among other things, the preparation and work of offensive line coach Al Alexander, a former lineman at UNLV who grew up in Compton, California, and works in the Tucson automobile industry. The Lancers started Christian Massey and Matteo Mele at the two tackle spots in the semifinals alongside guards CJ Franks and Jason Villanueva and center Thomas Lares.
They pushed the top-seeded Mustangs all over the field.
The 4A title game is scheduled to begin at noon at Arizona Stadium. Four years ago, on the same field, Salpointe won the state championship 49-20 over Scottsdale Chaparral. In that game, Bene's team rushed for just 59 yards as it built its offense around the passing of Andrew Cota and wide receivers Cam Denson and Kaelin DeBoskie.
Now, four years later, Bene and his staff have changed the Lancers' strategy almost 100 percent to suit the personnel. Coach of the Year, anyone?