Border busts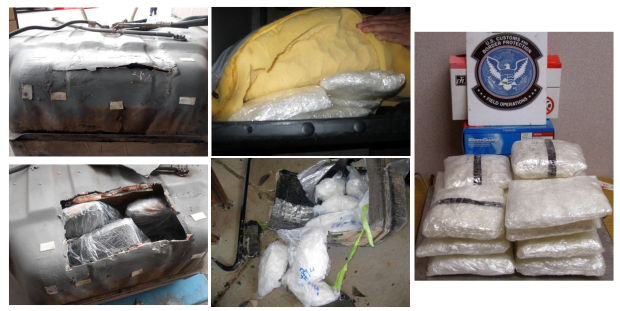 Three Arizonans were arrested in separate drug-related incidents over the weekend at the Nogales border crossing.
On July 12, U.S. Customs and Border Protection officers say they referred Judy Adilene Aguirre, 22, of Chandler, for an additional inspection of her Ford SUV and officers found 14 packages of crystal methamphetamine worth $227,788, U.S. Customs and Border Protection said in a news release.
Only July 14, officers referred Joaquin Vicente Lopez, 61, of Nogales, for further inspection of his Honda sedan. A drug dog alerted to the front bumper area where officers found 14 packages of meth worth $225,060.
Later the same day, a 34-year-old Fort Mohave woman was arrested after officer found nine packages of meth in the gas tank of the  Chevrolet SUV she was driving. The meth's estimated street value was $171,182.  
The drugs and vehicles were processed for seizure.  The three people were referred to U.S. Immigration and Customs Enforcement's Homeland Security Investigations, according to the news release.
Related Stories