Here is a list of the classical performances slated for the next week. Join the feast.
Saxophone Virtuoso Ashu Joins SASO for Glazunov Concerto — See story.
Tucson Symphony Orchestra — See story.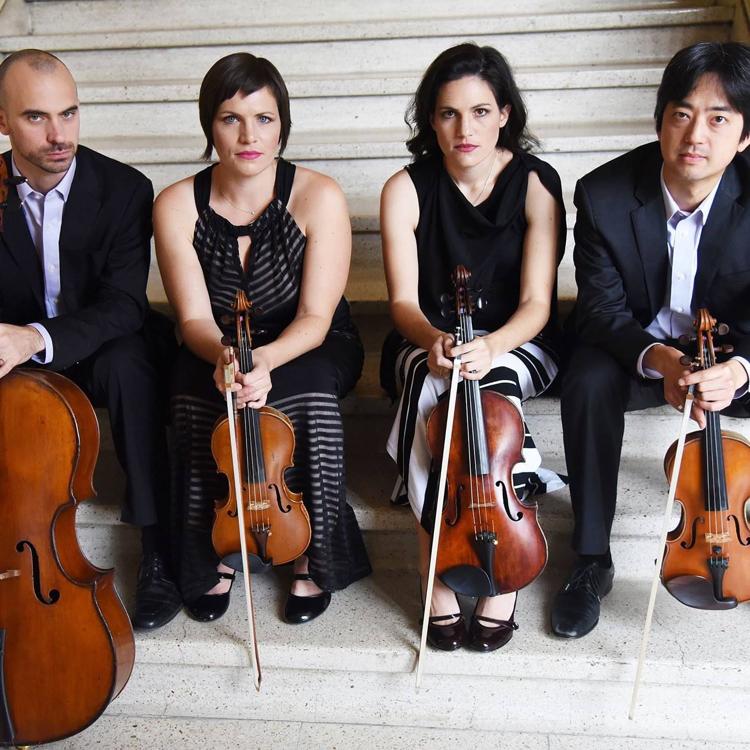 Tucson Winter Chamber Music Festival — Leo Rich Theatre, 260 S. Church Ave. The festival's busy weekend kicks off with a recital of works by Schumann, Tymoczko and Vaughan Williams featuring headliners the Jupiter String Quartet and a host of festival musicians. The festival runs through Sunday, March 19. Concerts are at 7:30 p.m. Thursday, March 17, and 3 p.m. Sunday at Leo Rich. A gala dinner and concert will be held at 6 p.m. Saturday, March 18, at Arizona Inn, 2200 E. Elm St. Concert tickets are $30, $10 for students; the gala is $160 per person. Details: arizonachambermusic.org or 577-3769.
Thomas Mellan, organist — Catalina United Methodist Church, 2700 E. Speedway. The Lyon, France-born Mellan, a junior at the University of Southern California's Thornton School of Music, will bring his endless talent and enduring personality to the Catalina Organ Festival. His concert will include works by Schöenberg, Bach, Reubke and a world premier of Mellan's own composition, "Ballade de l'impossible." The concert is co-sponsored by the Southern Arizona American Guild of Organists, which is celebrating its 80th year. 7-9:30 p.m. March 18. $15. 327-4296. Admission is free for SAAGO members and students, $15 for nonmembers through eventbrite.com or by calling 327-4296. Details: catalinamethodist.org/ministries/music-art/catalina-organ-festival
Soprano Gabriella Carrillo and Tenor Mitchell Sturges: With a Song Like a Dream — Northminster Presbyterian Church, 2450 E. Fort Lowell Road. Art song, opera arias and duets. 7-8:15 p.m. March 17. Free. 327-7121.
The University of Notre Dame Glee Club — St. Mark the Evangelist Catholic Church, 2727 W. Tangerine Road, Oro Valley. Daniel Stowe will lead the 70-voice Glee Club in a concert of classical a cappella for men's chorus. The program includes folk songs, African-American spirituals, barbershop arrangements and songs that celebrate Notre Dame. The concert is part of the club's 2017 spring tour. 7 p.m. Friday, March 17. Admission is a suggested $20 donation.
Southwest Regional Tuba and Euphonium Festival — Fred Fox School of Music, 1017 N. Olive Road. Sponsored by the International Tuba-Euphonium Association. For more information or to register, visit iteaonline.org. 8 a.m.-8 p.m. March 17 and 18. $40. 621-1655.
United States Naval Academy Women's Glee Club Concert — St. Andrew's Presbyterian Church. Under the direction of Cindy Bauchspies. Classical, sacred, folk, patriotic, popular and Broadway. 7-9 p.m. March 18. Free. 297-7201.
Fretwork: In Nomine — Grace St. Paul's Episcopal Church, 2331 E. Adams St. British viols play Renaissance music based on early plainsong. Pre-concert talk starts at 2:30 p.m. 3-5 p.m. March 19. $25. 721-0846.
Sundays in the Garden, Spring Concert Series — Tohono Chul, 7366 N. Paseo del Norte. Classical guitar music of Grant Miller. Included with admission. 1:30-3 p.m. March 19. Free. 742-6455.
Franc D'Ambrosio's Broadway — Green Valley Recreation West Center, 1111 GVR Drive. 7-9 p.m. March 21. $36-$40. 625-0288.
UA Wind Symphony — Crowder Hall, 1017 N. Olive Road. UA Wind Symphony. 7:30-9:30 p.m. March 21. $5. 621-1162.
University of Arizona Wind Ensemble — Crowder Hall. Under the baton of director of bands Chad Nicholson and graduate conductor Clifton Weston. 7:30-9:30 p.m. March 23. $10. 621-1162.