I had the opportunity to spend this past weekend across the border in the Bella Vista neighborhood of Nogales, a dusty labyrinth of meaty fragrances, gas station block parties and staircases made from car tires leading up to homes on the hill. 
Like many, I've been going to Nogales since I was a UA freshman, when my dorm friends and I would walk over to buy trinkets and go to the bars. It seemed very commonplace back then, but somewhere along the way people stopped going, and now just give me worried looks when I tell them about it. 
You see, I still like to go about once a month, to eat tacos, walk around downtown and buy cheese and local veggies from the street sellers who come up from their farms in Imuris. It's a fun city! Nogales is definitely industrialized and not nearly as touristy as it used to be, but never once have I felt unsafe.
And I have gone a lot. But this? This experience was a new adventure ...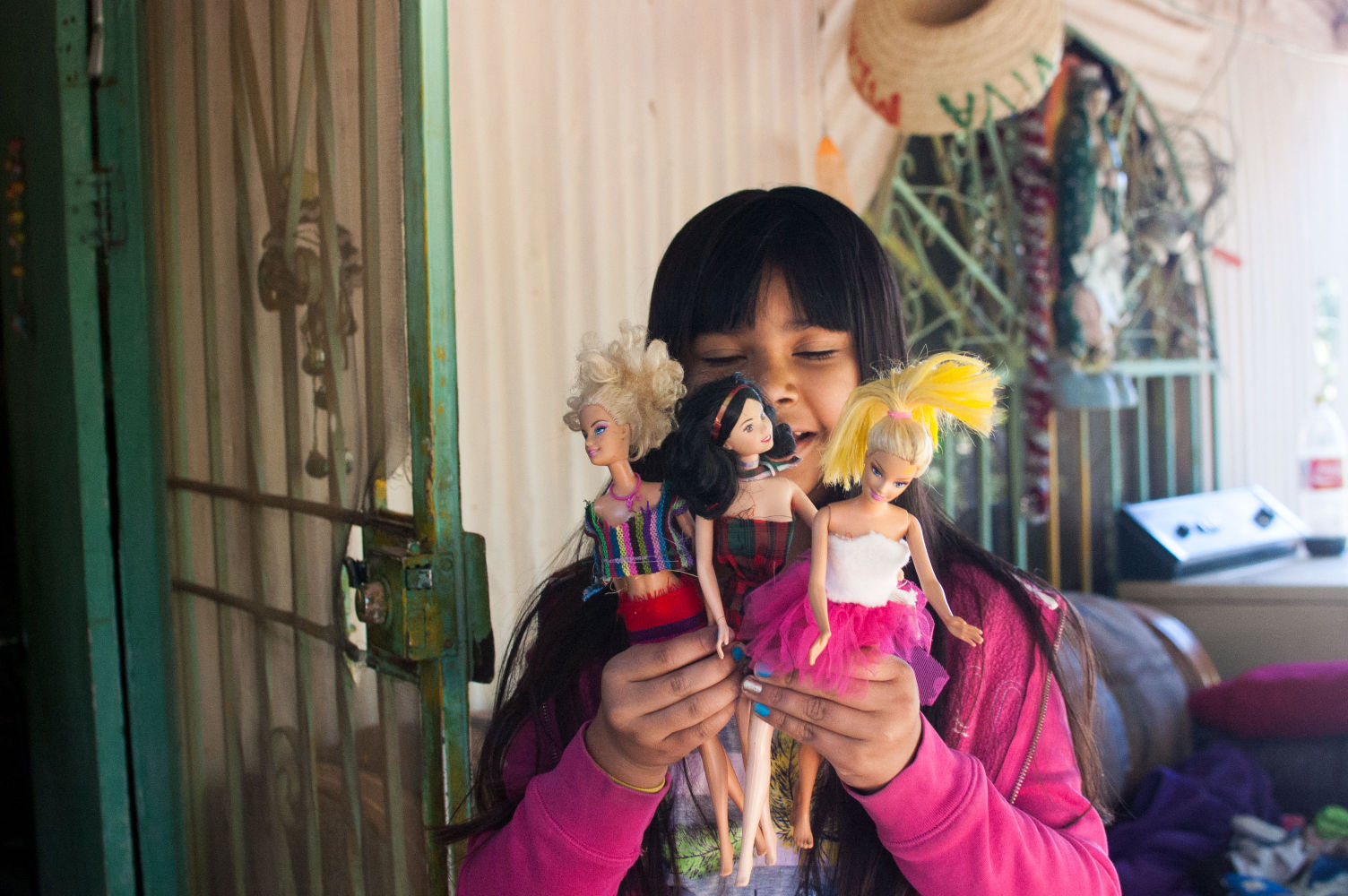 My host sister Karyme at home with her Barbies. She helps her mom sew dresses for them.
I traveled down to Nogales for a weekend Spanish immersion program run by HEPAC, or Hogar de Esperanza y Paz. HEPAC is a community center in Bella Vista that provides free meals and educational activities for disadvantaged people in the neighborhood. (Some departments at the University of Arizona use this program to help satisfy foreign language requirements, but it's open to anyone. For more info and to sign up for future trips, go to friendsofhepac.org)
I paid $150 for the trip, which included three days of Spanish classes and outings led by program volunteers. A volunteer family hosted me at their home, and fed me extremely well if I do say so myself. (Gracias Elena! No picante!) Around lunchtime we would go to the HEPAC's sunny kitchen for Spanish cooking classes, where the head cook Juanita Ponce showed us how to make Baja fish tacos and pork tamales with salsa verde.
On the last day, the Guadalajara-native hosted a fish barbecue at her house down the hill. She bought half a dozen whole corvina fish and filleted them, smothering them with a glaze of pureed red chiles, mayo and Dijon mustard, scattering raw onion slices on top. (The heads went into a clear soup, which we sipped from mugs on the patio.) The recipe is called Pescado Zarandeado, and it's from the coastal state of Sinaloa.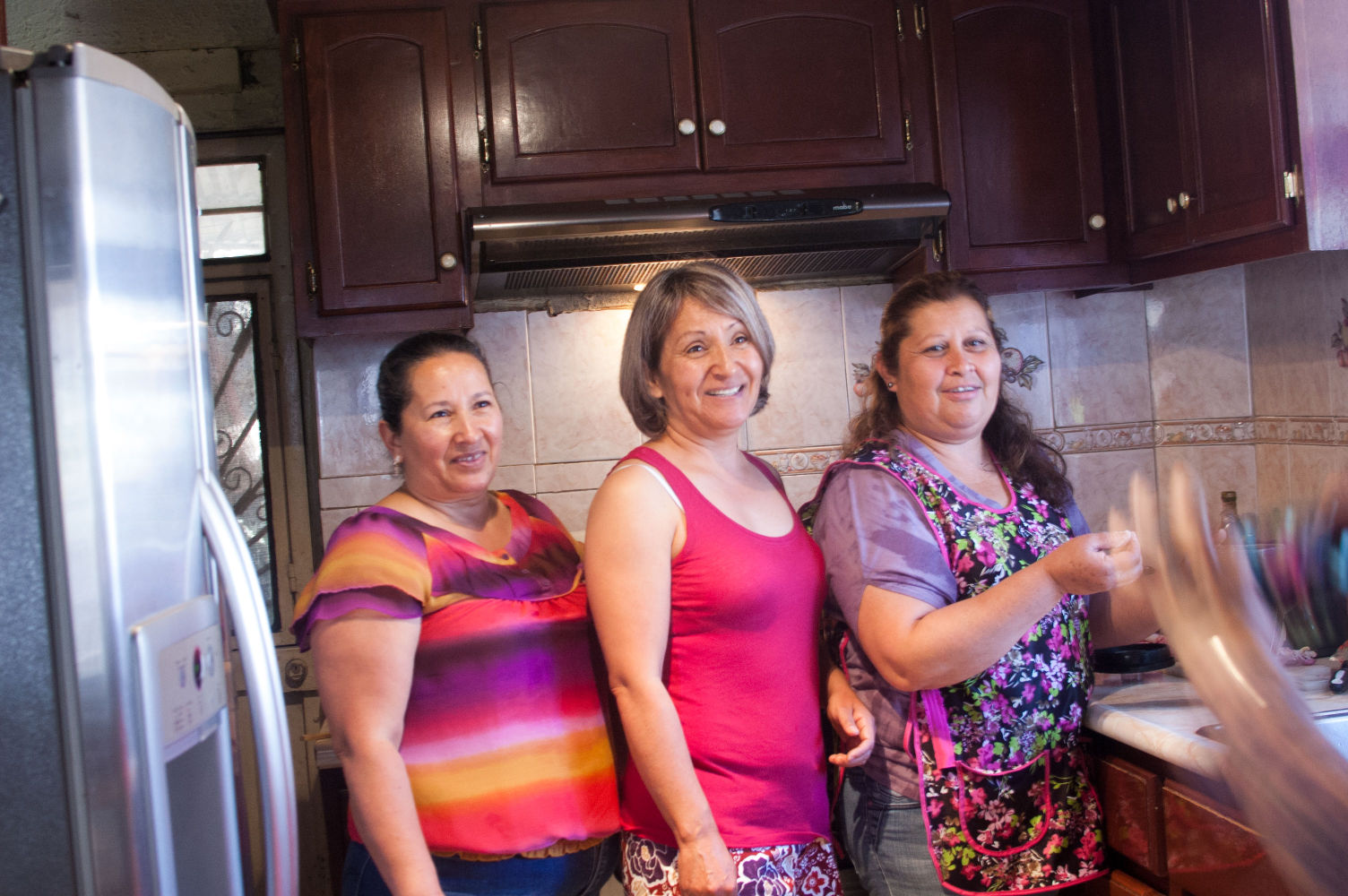 Juanita in her kitchen, with and my host mother Elena (right) and another host Lola (left).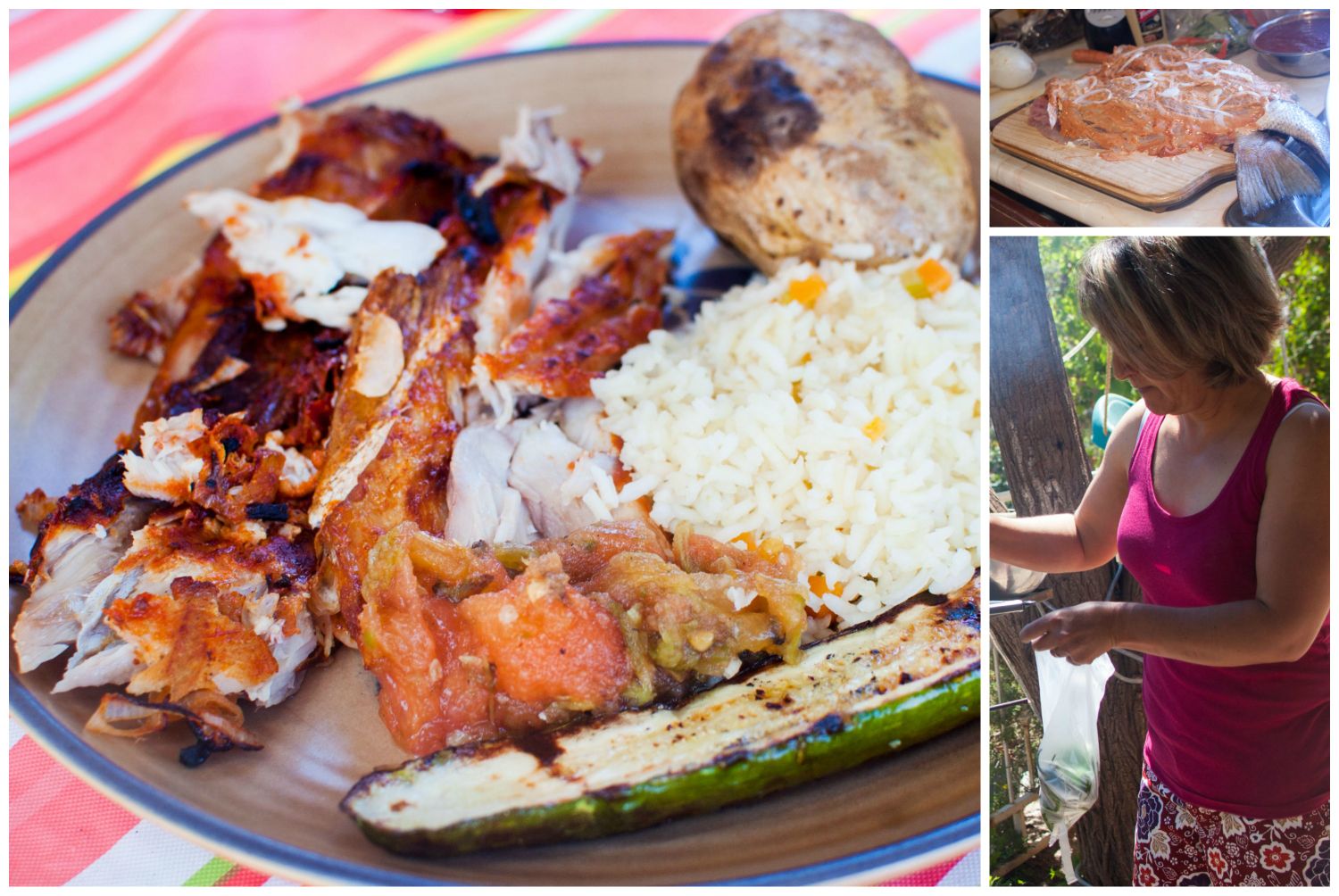 Juanita making barbecued Pescado Zarandeado, a Sinaloa recipe
Every day after our cooking classes, we would hop into the car and drive into town, where we ate more incredible food. Well I did at least ... While downtown, I snacked on cinnamon churros fresh from the bubbling oil, grilled elote corn and crunchy chicharrones tacos that dissolved in your mouth like salty cotton candy.
Over by the Purisima Concepcion church I found a man selling big chunks of crystallized sweet potatoes and yellow cactus candies. He told me the latter are called Viznaga, which is a type of barrel cactus that needs to be 30 years old when it's harvested. (Sorry, I forgot to take a picture!) In the future I want to learn more about this unique treat, with the texture of a Sour Patch Kid and a vegetal sweet taste. 
On Sunday the last day, we visited a Oaxacan festival in a supermarket parking lot outside of downtown. Vendors had come up to sell their wares, which included chocolate mescal dessert drinks, sweet gorditas filled with cream and Oaxacan grasshoppers sold by the pound.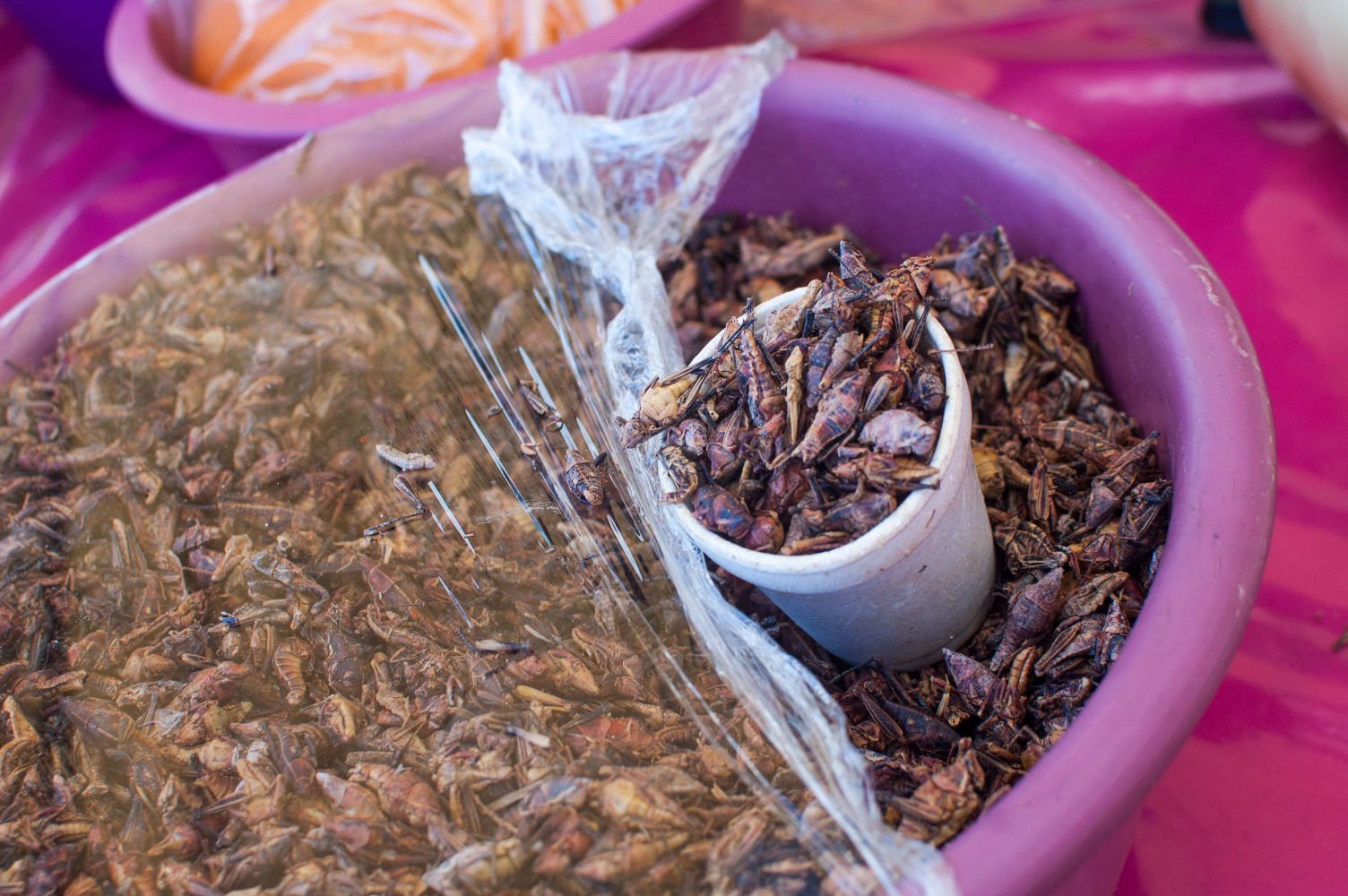 A vendor sold chapulines, or grasshoppers by the pound. These are typical Oaxacan snacks.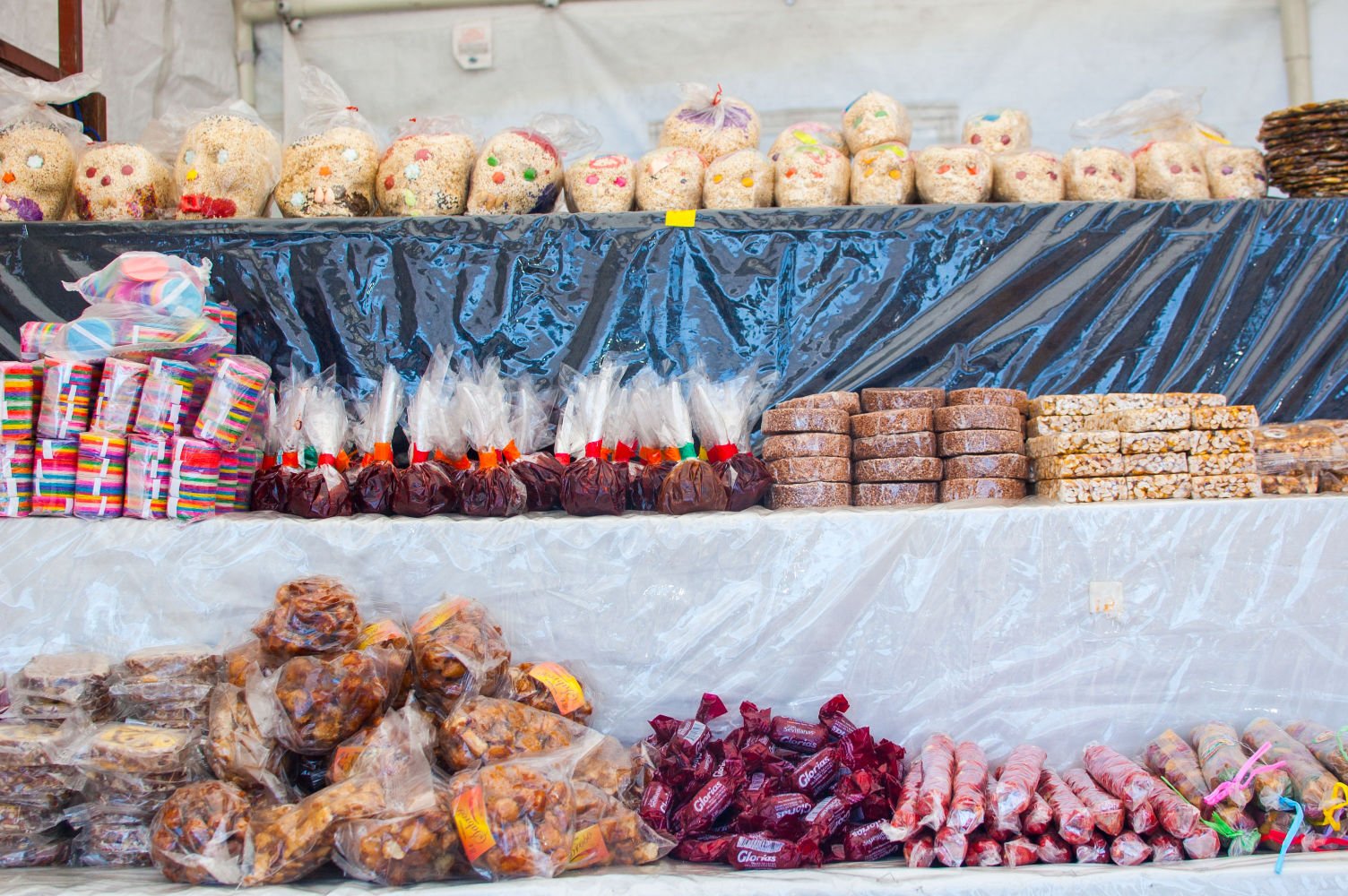 Sweets booth at a Oaxacan festival, with edible skulls made from amaranth seed.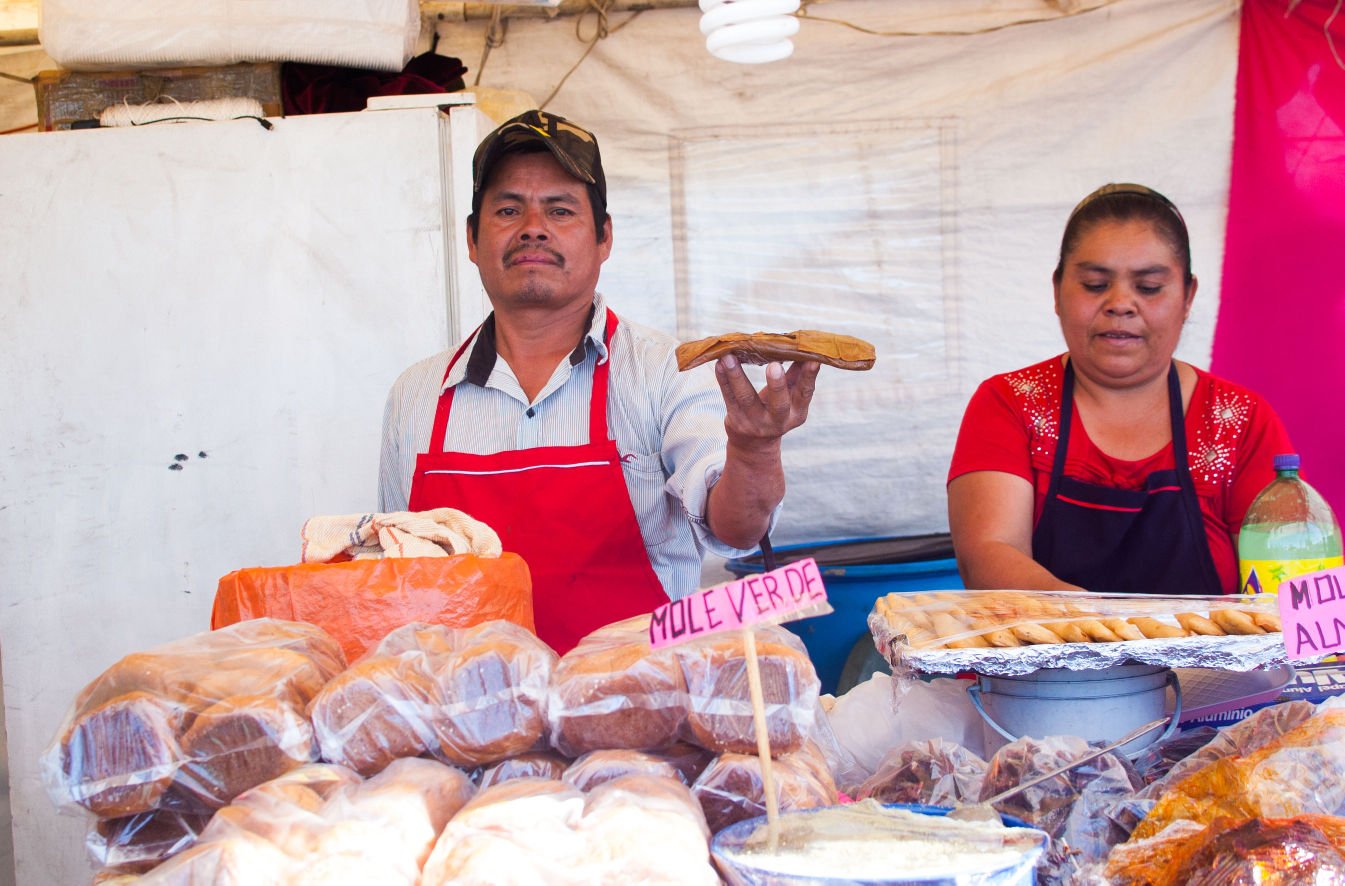 A vendor holds up his large Oaxacan corn tortillas called tlayudas.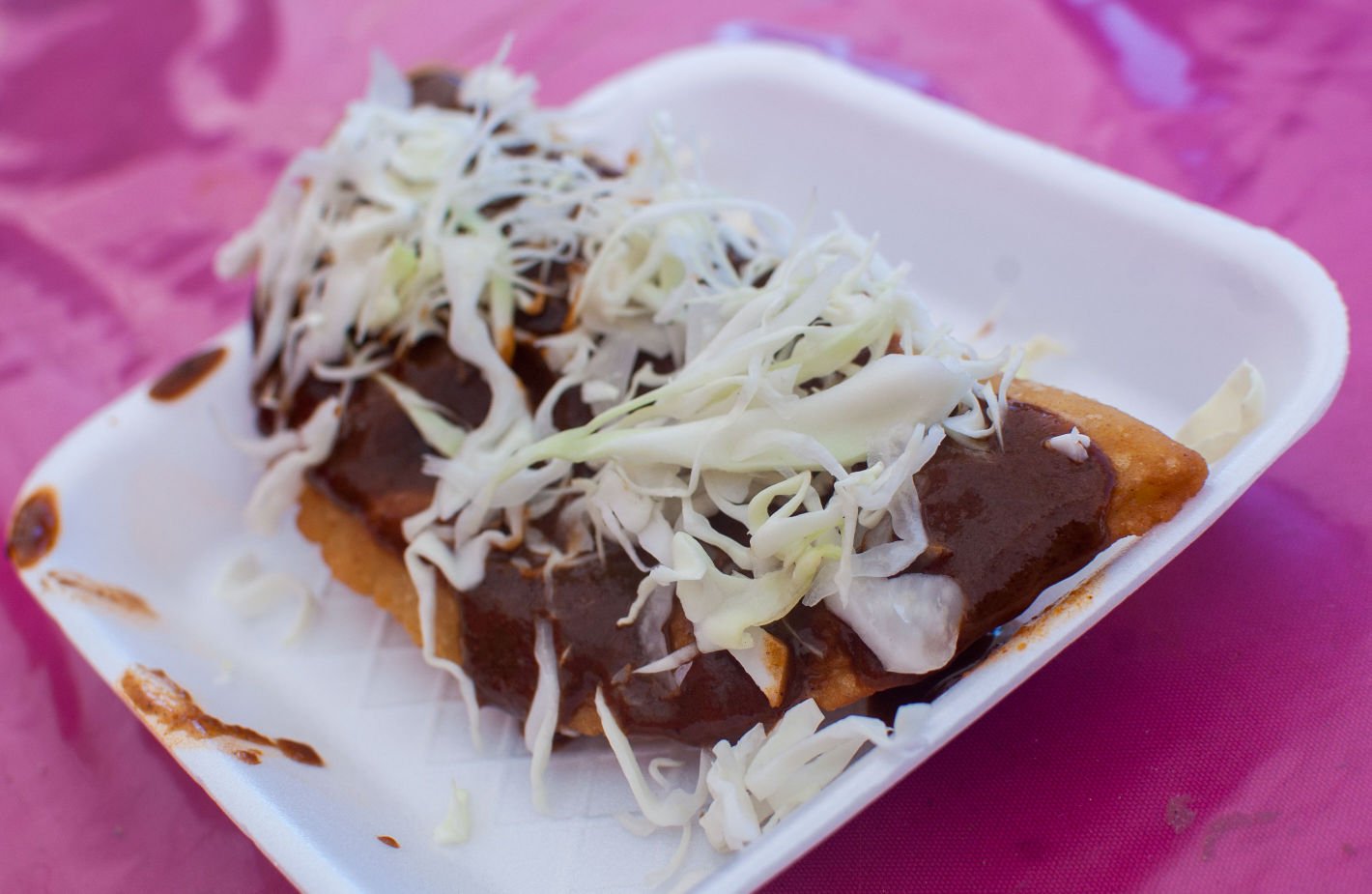 A Oaxacan "quesadilla" stuffed with stringy Oaxacan cheese and chocolate mole.
It's actually a little hard to say any of my meals were truly Nogales-style cuisine. Like any border city, people settle here from all regions of Mexico, bringing their recipes along with them. The carnitas tacos might be from Michoacan, the fish from Sinaloa, grasshoppers from Oaxaca, etc.
But there was one thing I did eat that my hosts assured me was 100 percent Nogalense: tacos de perro. It sounds bad, but a taco de perro is actually just a folded and fried tortilla stuffed with mashed potatoes. I ate four of them at HEPAC one night while people were singing songs around the campfire, staring down at the city lights below.
Strangely, that was actually my dessert. Before someone brought over the tacos that evening, we all passed around sticks and held giant marshmallows over the fire until they burst into flaming white orbs of puffed sugar. Then of course, we ate what they called "Andi's family tradition," s'mores ...