Don't be surprised if you're walking the wooden sidewalks of Tombstone this weekend and you bump into someone you swear bears a passing resemblance to Hollywood actor Val Kilmer.
He's a lot thinner than you probably remember him from his role in the 1993 blockbuster "Tombstone." He also looks a lot more frail than the tuberculosis-plagued Doc Holliday character he portrayed; the 57-year-old Kilmer recently admitted he had a "healing of cancer" amid media reports that he had throat cancer.
Kilmer is expected to be in Tombstone this weekend for the inaugural Doc Holli-Days festival Aug. 12 and 13. He is expected to be a special guest at the sold-out VIP Doc Holliday Birthday Party Saturday commemorating the late Old West dentist and Wyatt Earp sidekick's 166th birthday and serve as the grand marshal of a parade down Allen Street.
We couldn't reach anyone Friday at the Tombstone Mustachery, which is hosting the festival, to confirm if Kilmer has already arrived. But Kilmer on Thursday posted a photo of himself in a car wearing a hat with the Arizona flag.
Also on Saturday, Kilmer is expected to be at a meet-and-greet and display/sell his Pop Doc Art Collection that includes Doc Holliday bobble head dolls. (Click here for a rundown of events and here for the art.)
The festival kicks off Saturday with live entertainment from 10 a.m. to 5 p.m. along Allen Street, a Doc Holliday look-alike contest, a Texas Hold 'Em tournament and a movie in the park at Allen and Third streets screening, you guessed it, "Tombstone."
On Sunday, events include vigilantes along Allen Street, a peach pie eating contest and a "Tombstone" movie trivia contest.
Want to get a jump start on the trivia? Kilmer on Thursday pasted a recollection from his days filming "Tombstone" on his website. His latest blog entry recounts how Kurt Russell, in the lead role of Wyatt Earp, worked tirelessly to bring the film to fruition after the first director Kevin Jarre was fired.
"Kurt is solely responsible for Tombstone's success, no question," Kilmer wrote on his blog.
This is the second time Kilmer is in Southern Arizona this month. He was at Rialto Theatre downtown on Aug. 5  for "Val Kilmer Live Presents Cinema Twain," a movie version of his one-man play "Citizen Twain."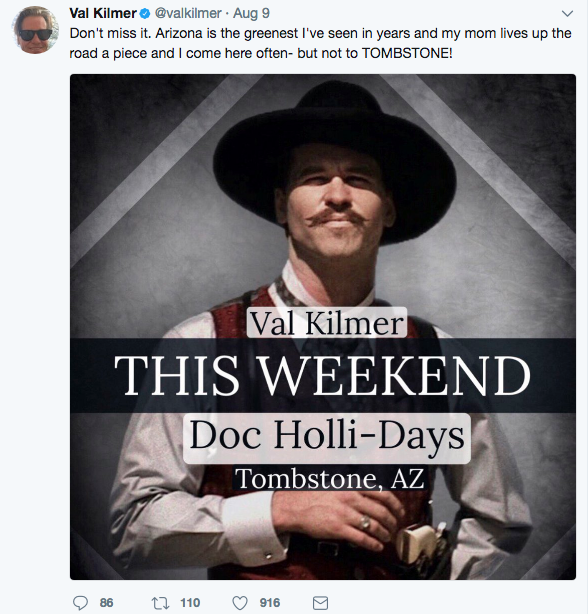 We're not sure if Kilmer is in Tombstone yet, but on Twitter Wednesday, he posted that "Arizona is the greenest I've seen in years and my mom lives up the road a piece and I come here often- but not to TOMBSTONE!"