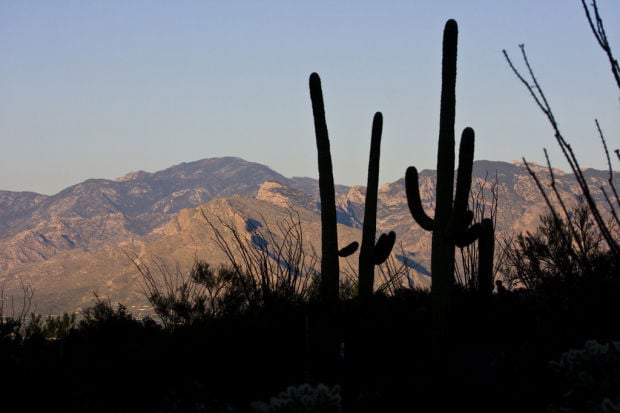 Perhaps your holiday feast consisted of a few leafy greens, a small serving of tofu and a glass of spring water. Good for you.
But if you're one of the rest of us — wolfing down a mountain of a meal followed by one or more irresistible desserts — you might benefit from a little penance in the form of exercise.
One appealing, painless option: Take a short hike.
Here's a guide to some inviting nearby trails.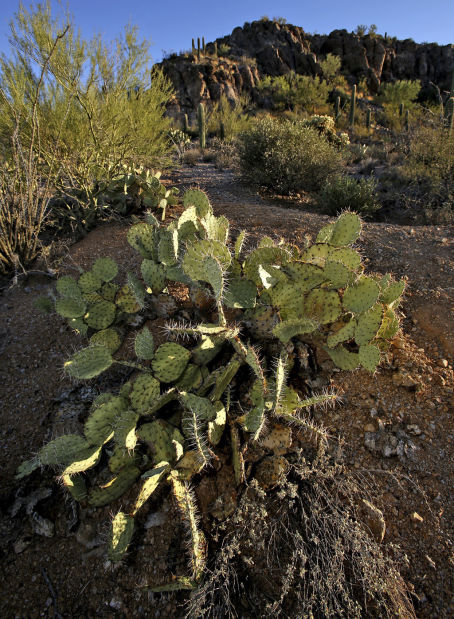 ROBLES PASS TRAILS
What's out there: Hikers, as well as mountain bikers and horseback riders, will find a wondrous maze of interconnected trails at Pima County's Robles Pass Trails Park on the southwest side.
The site, at the southern end of Tucson Mountain Park between Ajo Way and Irvington Road, features more than a dozen trails traversing rocky ridges and saguaro-studded hills. Among the popular routes are the Sunset Pass Trail, Cascabel Trail and 360 Vista Trail.
Trekkers of all ability levels are likely to find a just-right hike at Robles Pass — with options ranging from out-and-back walks of less than a mile to longer loops involving some moderate elevation gains and miles of hiking.
Get to the trails: Several points provide access to the trails park, but signs aren't in place to mark trailheads — and they can be a bit challenging to find. To reach one of them, follow Irvington Road west of Cardinal Avenue and watch for a small, unsigned, unpaved pullout on the north side of Irvington just a bit west of Mesquite Hills Place. A loop trail begins there. For another trailhead, take Ajo Way about three miles west of Mission Road and turn south on Bilbray Avenue. Follow Bilbray to Coyote Ridge Trail and go east on that unpaved road to an unsigned trailhead.
SWEETWATER PRESERVE TRAILS
What's out there: Here's another area, close on the edge of the city, with a rich mix of terrain and trails that are popular with hikers, equestrians and especially mountain bikers.
Routes — including the Saguaro Vista Trail, Sun Circle Loop and Black Rock Loop — take trail travelers through classic Sonoran Desert terrain with shapely saguaros and other cacti dominating the prickly scenery.
Keep an eye out for wildlife. Mule deer, Gila monsters, coyotes and other critters roam the 700-acre preserve.
Get to the trails: Take El Camino del Cerro west of Interstate 10, past Silverbell Road, to Tortolita Road. Turn south on Tortolita and go about a mile until the road dead-ends at the trailhead.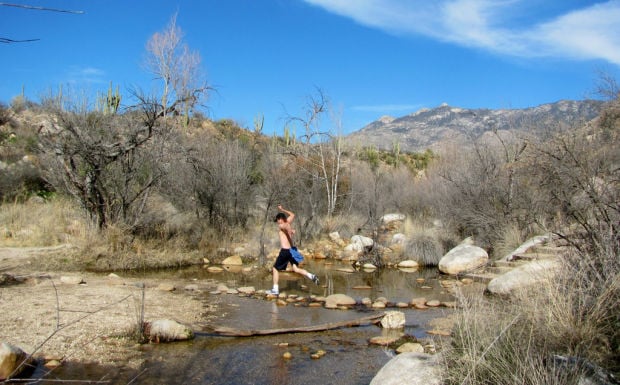 CANYON LOOP TRAIL
What's out there: Dense cactus forests, a seasonal stream and rugged ridges towering in the distance make this easy 2.3-mile loop at Catalina State Park so scenic you might hardly notice expending energy along the way.
Much of the path is relatively flat, but there's a slope with about 90 stairsteps in the trail near the halfway point.
The loop route — made up of segments of the Sutherland and Romero Canyon trails — is popular with bird-watchers, and it's a good place to spot wildlife in the early-morning hours.
Get to the trail: Drive north out of Tucson on Oracle Road, which becomes Arizona 77, and continue to the Catalina State Park entrance at Milepost 81. Admission is $7 per vehicle. Drive to a trailhead at the end of the main park road and start the loop in either direction.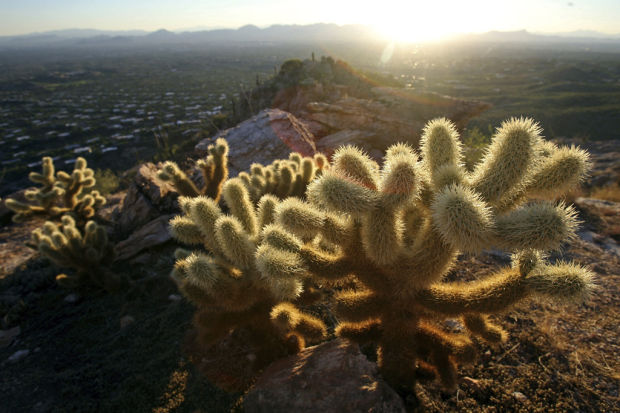 PONTATOC RIDGE TRAIL
What's out there: This 2.6-mile trail in the Catalina Mountains north of Tucson offers easy going in the first mile or so, but it becomes moderately steep as it ascends the ridge. Stick to the lower reaches for a casual hike. Climb higher if you are seeking to pay off a massive stuffing and pie debt.
Parts of the route lie along the urban-mountain interface — where you'll see tall saguaros and rugged slopes in one direction and look down on luxury homes in the other.
Expansive rock outcrops along lower reaches of the trail make a perfect perch for watching a sunset.
Get to the trail: Take East Skyline Drive to North Alvernon Way. Turn north on Alvernon and follow it for a mile to a hikers' parking lot at its northern end. Start up the trail and watch for a trail junction just a minute or two into the hike as you reach the crest of a small hill. At the junction, the Finger Rock Canyon Trail goes to the left. You will take the right fork, which begins as a shared route for the Pontatoc Canyon Trail and Pontatoc Ridge Trail.
EAST BROADWAY TRAILS
What's out there: A trailhead near the eastern dead end of Broadway offers access to a complex web of interconnected trails in the northwestern corner of Saguaro National Park East.
It's an area where you can easily concoct a short loop route, a longer loop route or a marathon loop covering many miles.
One scenic loop covering about three miles follows the Shantz, Pink Hill, Loma Verde, Cholla and Cactus Forest trails.
Get to the trails: The trailhead is along Broadway just west of Camino del Codorniz.