RSSHome And Garden
Register by Wednesday. Organic edibles and landscape contouring will be discussed.

 Tucsonans experiment with native and other arid plants as Bonsai canvases. 

Rosie tackles a leaking dishwasher and more this week.
Latest home and garden stories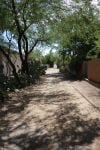 Liz Farkas takes a route less traveled. 

Drainage problem merits call to the plumber.