Aarthi Jude, 30, hopes to turn fabric from her grandmother's saris from India into household and clothing items.
Kimberly Cervantez, 42, inherited a sewing machine and wants to make costumes for her child's preschool.
Cedar Werner, 14, a University High School student, is learning to sew because she hopes to have her own fashion line.
The threesome gathered among the bolts of bold, bright fabric, cutting boards and sewing machines at Sew Hip on a Saturday morning to learn to make a messenger bag, one of the projects in a multiple-session learn-to-sew class.
They are creating a new trend of an old skill: A resurgence in sewing, spurred by creativity, consciousness and connections.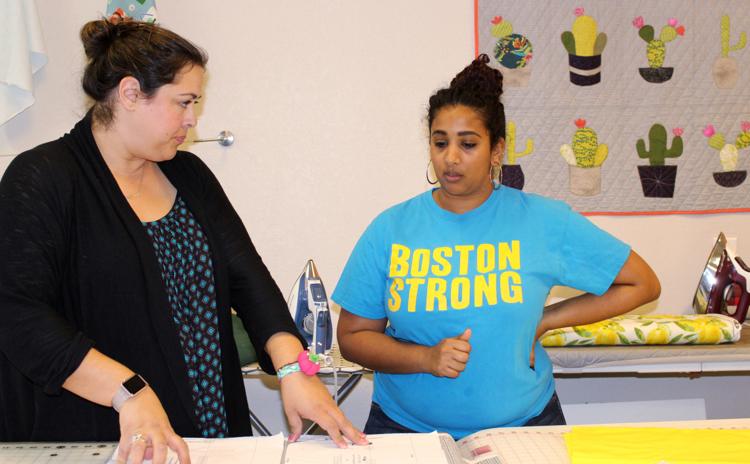 Today's trend is not a remake of the penny-pinching sewing like mom's or grandma's, who may have made much of their wardrobe — and yours — from patterns and fabric found in a variety store.
"People are not sewing to save money," says Donny Cathey, who owns and operates Cathey's, the sewing-machine and vacuum-cleaner sales and repair business that was originally founded by his parents, Friou and Myrtle in 1954, in downtown Tucson.
"Sewing is a hobby, a creative outlet," Cathey says. However, making household items, such as curtains and pillows, can help keep money in your pocket.
"We saw an area of opportunity" in Tucson for a modern sewing shop/studio, says Kristin Owens.
Pinterest projects and the DIY (do-it-yourself) trend are prompting the desire to make your own things, says Owens, 35, who with her sister Brittany Severns , 38, opened sewing studio Sew Hip about two years ago.
Sew Hip is a concept similar to sewing shops/studios popping up in large cities, such as the Sew You Studio in Denver, and Common Thread in Orlando, Florida. Sew Hip offers classes, select fabrics, notions and tools, and nontraditional, independent pattern lines. During open studio, participants can use Sew Hip's equipment, ask questions, get help and chat with others.
Other tributaries to the sewing trend: "Project Runway," the Heidi Klum-hosted reality TV series for hopeful fashion designers, has been an inspiration, says Rose Skelly, instructor and sewing department manager at Cathey's store on North Oracle Road.
Designers are skewing toward a younger crowd, who are then inspired to make, modify or embellish their own clothes.
Skelly, who has been with Cathey's 21 years, also says the growing interest in "cosplay" and the desire to make sturdy, personalized costumes is a growing part of the sewing industry. Cosplay — the contraction of "costume play" — is a hobby in which the players step into costumes of characters from cartoons, books, films, TV shows and video games.
While some adults may want to learn the basics — sewing a button or fixing a seam — sewing is an opportunity to express and explore your creativity, says Owens.
And you can make or embellish a garment or project "exactly the way you want it," says Severns.
Quilting has been popular sewing art for years and remains so, say Cathey and Skelly. Also, computerized machines make embroidery easy and attractive.
Men are bellying up to the sewing machine, too. About 10 percent of Sew Hip's clientele are men — mostly engineers —who like the process of piecing the patterns, pieces and fabrics together.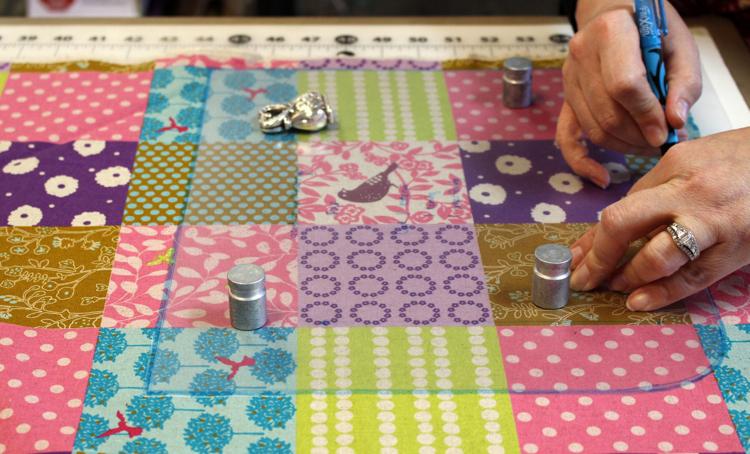 FASHION CONSCIOUS
The slow-fashion movement is also piquing interest in putting a sewing machine's foot pedal to the metal.
Slow fashion is a backlash against the fashion industry's reliance on speedy mass production where garments go from design to retail floor at very low prices, which entices consumers to buy more than they need.
The slow-fashion movement seeks to replace the "buy cheap, throw it away after a season, and buy more" cycle with conscientious clothing purchases made of durable, natural fabrics that can be worn more often and longer.
You might be able to buy an inexpensive shirt on sale for $2 and feel little guilt about tossing it in the trash after wearing it once or twice, says Severns.
"It's easy to say, 'Oh, it's only $2'," Severns says. That price doesn't reflect the hidden impact on the labor to make the garment or the landfills in which cheap clothing eventually land. Such cheap clothing is often made of inexpensive fabrics that aren't environmentally sensitive.
More consumers want to be in touch with where and how their clothes are made, says Owens.
Cervantez says she hopes to eventually make clothing for her children, as purchased clothing is often poorly made and not durable.
The slow-fashion movement complements the "Me Made" movement, Severns says. "Me Made" followers and bloggers encourage wearing self-made, long-lasting wardrobe pieces. It is considered a step in living a more self-sufficient life.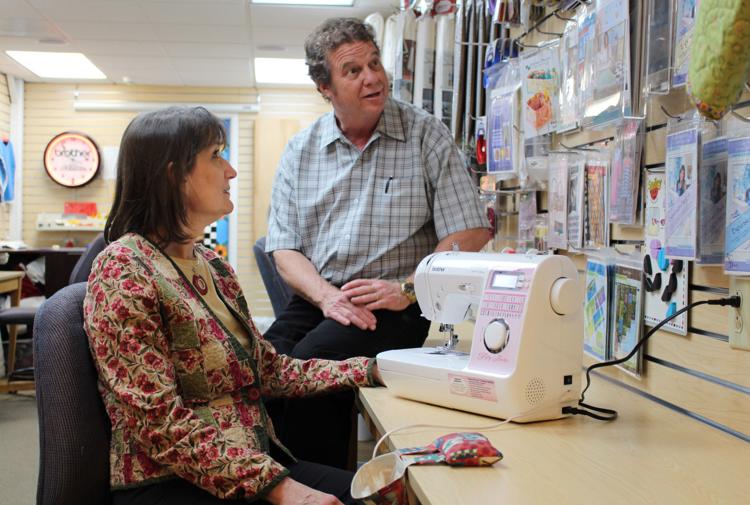 WHAT IT SEAMS
Sewing can be a connection to the past. Cervantez says she feels a connection to her grandmother with the sewing machine, while Jude hopes to stitch fabrics from her grandmother's past into her present.
"Sewing is easier than ever," says Skelly, who has been with Cathey's 21 years. Electronic, computerized machines, with features like automatic needle threaders, have revolutionized sewing.
"We're trying to make sewing accessible," says Owens. That's why you'll see simple mechanical sewing machines that let newbies learn how to use a machine.
When learning to sew at Cathey's, novices can use one of the store's machines until they determine what their needs and preferences are.
In addition to classes, Sew Hip has open studio hours where "sewists" — the term Severns and Owens use —can come with questions or to sew surrounded by others.
Cathey's hold clubs and classes on specific sewing techniques, as well as flexible-format classes in which students can make "whatever they want," a garment, home decor item, or a crafty project, Skelly says.
Cathey's also holds a couple of sewing events every year. The store also offers community involvement efforts like its Christmas in July, which has benefitted Beads of Courage and Aviva Children's Services in the past.
Sewing is also a "relaxed focus activity" says Skelly. Like meditation, when sewing you don't think about the pressures and stress of work or family — and you have a product at the end.
"This is my happy place," one of Skelly's students in a high-stress profession told her.