Tales from the Morgue: Jet crash stunned Tucson
Almost 11 years before an Air Force jet crashed in Tucson, barely missing a school, there was a similar crash with more devastating damage. The crash happened Dec. 18, 1967.
Tales from the Morgue: Jet crash stunned Tucson in 1967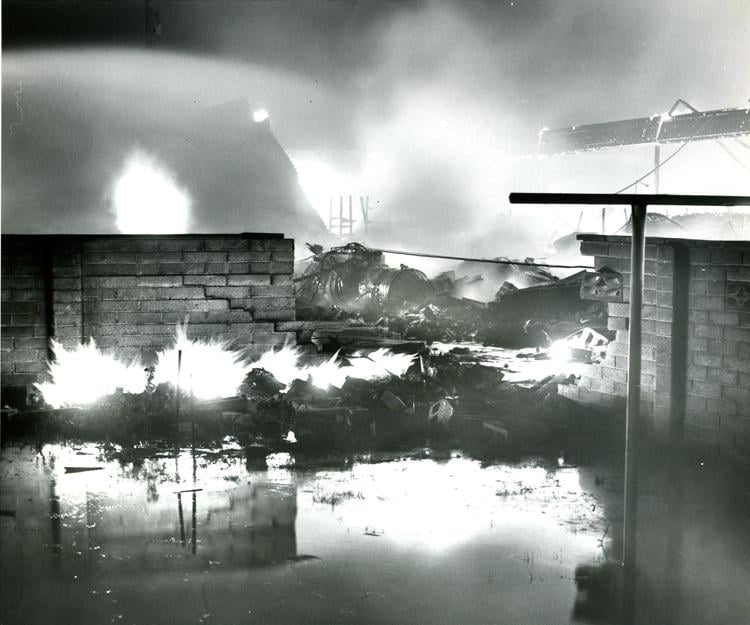 Almost 11 years before an Air Force jet crashed in Tucson, barely missing a school, there was a similar crash with more devastating damage.
The crash happened Dec. 18, 1967.
Note: The exact addresses of the homes hit were listed in the Star. The Morgue Lady has removed the numbers because if those addresses still exist, the people living there now are probably not the same families.
From the Arizona Daily Star, Tuesday, Dec. 19, 1967:
Plane Plows Into Tucson Shopping Center
15 FEARED DEAD IN FIERY CRASH
2 Homes Razed By Falling F4D Near Airbase
By KEN BURTON
Fifteen persons were believed killed last night and at least a dozen injured when a U.S. Air Force F4D jet crashed into the rear of a Food Giant store at the Cactus Shopping Center at E. 29th St., and S. Alvernon Way.
Capt. Ellis Franklin of the Tucson Fire Dept. said at press time this morning that he feared the death toll might reach 15.
Eight of the deaths were confirmed as still more bodies were being removed from the gutted store and homes to the rear of the market.
At least two houses to the rear of the shopping center complex were also destroyed as a fireball of JP-4 aviation fuel engulfed the area, creating a holocaust.
Air Force officers said the two-man crew, Flight Lt. Jack R. Hamilton of the Royal Canadian Air Force (RCAF), the pilot, and U.S. Capt. Gary L. Hughes, the navigator, were able to parachute from the plane before it crashed.
Tim Oned, of ---- E. 32nd St., was standing on S. Winstel Ave. when the plane hit the ground shortly after 5:30 p.m.
"I saw two planes heading north above me," said Oned. "They were flying side-by-side, when two objects shot out of the eastern aircraft . . . I realized later these were parachutes."
Witnesses, including Oned, said the aircraft then turned on its side and descended upside down. Oned said when it hit, "It exploded like a bomb you see on television."
Another witness, 15-year-old Roswell Burk, of ---- S. Baxter Pl., said he was just blocks away from the supermarket when he saw the jet approaching.
"When the plane came over, it tipped a little and it looked like a wing caught on one wall — and it just blew up," Burk said, explaining how the craft slammed into an alley directly behind the store.
The plane was loaded with more than 16,000 pounds of volatile JP-4 aviation fuel, which it had taken on prior to leaving Davis-Monthan AFB. The plane was based at Nellis AFB, Nev.
The fuel exploded across houses and ripped a fiery path through the grocery store, which was dotted with holiday shoppers and employes.
Ernest Sanchez, a Tucson Gas & Electric Co. employe who was driving by the store when the crash occurred, stopped his car and ran inside to help men, women and children escape.
Reports indicated that between 20 and 30 persons escaped before the fire completely engulfed the store's inside.
Aby Mogy, a self-employed truck driver who runs Mogy's Towing Service, was helping a stranded motorist some 300 yards from the supermarket when he saw the plane fall.
Mogy said he heard "a thud," saw "not more than 20 people" run out, and immediately got on his two-way radio in his wrecker and called for the fire department. He was credited with the first alarm.
More than 85 city firemen — 50 regulars, plus 35 off-duty men called back to work — responded to the three separate alarms that sent a total of 10 pieces of fire and rescue equipment to the tragedy.
Firefighting teams also rushed to the blaze from David-Monthan and Air National Guard headquarters. D-M also sent several ambulances and teams of medics.
Some 100 city policemen and other officers from South Tucson, the Arizona Highway Patrol, the Pima County Sheriff's Office, plus Civil Defense teams, the Sheriff's Search & Rescue Unit and the Red Cross—all rushed to the crash site.
"We've got every law enforcement and rescue agency in the city and county out here fighting this thing," said one city patrolman. "I don't think we've missed anyone."
Residents in the block behind the market said it looked as though four houses were hit by the initial fireball.
J. A. Eribe, ---- S. Winstel Blvd., lives directly across from one home that was hit. He said he heard "a loud roar, and a terrific explosion." Before his family reached their windows, Eribe said they could see the fire racing in behind them.
Outside, Eribe recalled, a man came running from his own home screaming, "My baby! My baby! She's still in there!"
The home was believed occupied by the James Tilton family, at ---- S. Winstel. Two bodies were recovered from that residence early last night. One of the dead was identified as Sherri Tilton, 19, trapped in her bedroom.
Eribe later told a reporter: "I'm getting the hell out of here and moving. I'm not going to live here any longer."
Meanwhile, the 21-year-old Sanchez said he saw "at least" six people inside the stopre, adding: "Those people didn't have a chance." Sanchez dragged a hysterical mother from the store as she started to go back for her child. The spot where her child had stood was a searing fireball.
"It was the worst thing I've ever seen in my life." Sanchez said. "One minute they were picking greens. The next minute , they just weren't there."
Tucson's hospitals went on alert last night, but it was not necessary to put their disaster plans into full effect, chiefly because there were relatively few injured.
Physicians and off-duty nurses reported in great numbers to St. Mary's, St. Joseph's and Tucson Medical Center emergency rooms as soon as they heard of the tragedy.
The hospitals were prepared to treat any number of victims, and had opened their disaster supplies of bedding, plasma, and burn remedies in preparation for patients from the accident.
At press time, all the injured treated at local hospitals had gone to the emergency rooms with members of their families, not by ambulance.
Firemen and city workers, under the direction of Tom Price, superintendent of the Sanitation Dept., loaded debris into five pickup and six dump trucks last night. Captain Franklin estimated that the men may not finish their mop-up operation until noon today.
Deputy Fire Chief Kenneth Dirks, in charge of the giant fire and recovery operation, said the blaze "could wind up being one of the worst tragedies in Tucson history."
First reports concerning the number of people trapped inside houses to the rear of the store and in the store itself were confused. Dazed witnesses who had fled the supermarket could only mumble when asked how many failed to make the doors.
Admitted for shock at St. Joseph's Hospital last night was Mrs. Rayalda Chavez, 40, --- Calle Colado, a Food Giant cashier who was not otherwise injured.
Mrs. Victoria Steffania Palmer, 55, a clerk at Food Giant who had reported for work only five minutes before the crash, was identified by her husband, James, late last night at Bring's Mortuary. She lived at ---- Monthan Strav. and is survived by a son and two daughters.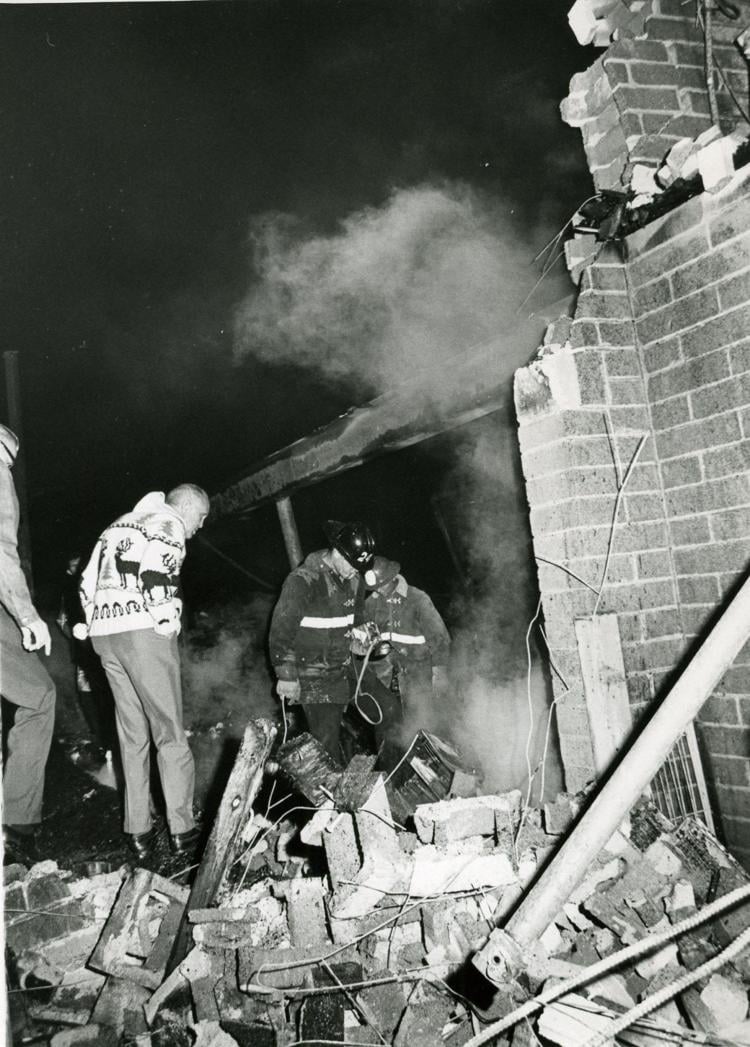 It must have been especially difficult for families of people who were thought to be in the area and then were listed as missing. Waiting for searchers to confirm a body or, for the more optimistic, waiting for the phone call from that missing person must have made minutes seem like hours. 
It was noted that this crash was the first into a residential area in Tucson.
From the Star, Dec. 19, 1967:
Home Area Crash 1st For Tucson
Previous Mishaps Occurred In Desert
Last night's tragic crash of an Air Force Phantom II jet fighter at a Tucson shopping center was the first involving a local residential area in the 26-year history of Davis-Monthan AFB.
Records show only four scattered incidents involving private property and the malfunctioning of Air Force planes. One death resulted.
In December, 1941, a four-engined American bomber plunged into a home at ---- E. Elida St.; but neither the 19 crewmen aboard the plane nor the four occupants of the home were seriously injured.
In January, 1944, a B24 bomber sheered off the roof of a home at ---- S. Alvernon Way—then crashed on the field killing two aboard the plane and injuring five others. There was no one inside the damaged house.
Then, in December, 1959, a 32-year-old housewife died when the wing tank of a B47 Stratojet fell. The woman was killed as the tank struck her and burst into flame. That accident took place in the 2700 block of S. Alvernon Way.
During the years from 1941 to 1947 more than 15 D-M-based bombers crashed, killing countless crewmen; but all crashed over the desert.
The 4453rd Combat Crew Training Wing, the F4C training wing of the Tactical Air Command at D-M, has been located there since 1964. Though there have been several F4C crashes of D-M training planes, all have taken place over the desert.
The last F4C crash occurred Nov. 7 of this year in a ranch field near Douglas. The plane's systems operator — or rear seat pilot — was found still strapped in the wreckage. The flight commander — or front seat pilot — escaped with injuries.
But the 4453rd is credited with the lowest accident rate per 100,000 flying hours of all 17 units of the 12th Air Force of which it is a part.
The 4453rd maintains 50 F4Cs with 1,200 men — about a third of that number are training pilots undergoing courses of from four to eight weeks preparatory to Vietnam assignment. In addition, the 4453rd serves as a refueling stop for other training bases such as Nellis, AFB, Nev., home station of the plane that crashed last night.
Last night's fatal crash was an F4D, a modified cousin of the F4C.
The McDonnell F4 is used by the Air Force, Navy and Marines in Vietnam. The craft is capable of speeds of up to 1,400 m.p.h. and bomb loads exceeding six tons. It is capable of performing strike, reconnaissance, escort and high cover missions. It is 58 feet long. It is capable of carrying 5,900 gallons of fuel.
The field at D-M handles some 170,000 take-offs and landings per year. Col. Robert Ackerly, 4453rd commander, has estimated that approximately 85 to 96 F4Cs take off and land at D-M each day. D-M is called upon to manage an average two emergency landings per day.
F4s usually travel in flights of three. Such was last night's takeoff. The member planes of a flight leave the D-M runway separately and "catch-up" roughly over Tanque Verde Rd.
D-M commanders have spoken of repeated efforts made to re-route the jets away from the Tucson residential district. But under weather conditions such as yesterday, regular patterns are altered and pilots controlled by the Federal Aviation Agency through D-M tower.
When one considers the number of take-offs and landings at D-M, the accident rate is not at all high, but that is no comfort to the families of the victims or the residents of the nearby homes.
Next: More stories of the crash.
Tales from the Morgue: Stories from the 1967 jet crash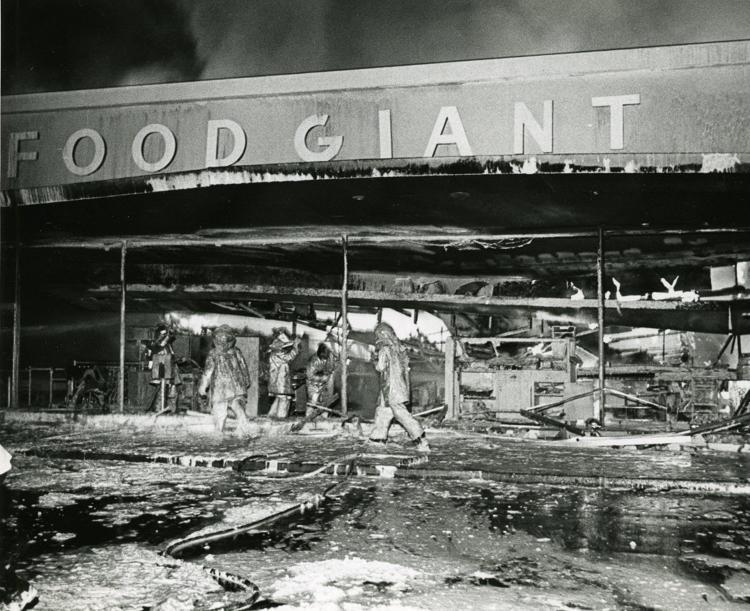 An Air Force F4D fighter jet had crashed into a grocery store and demolished a couple of homes.
The death toll turned out to be much lighter than was originally thought, with four confirmed dead. Compared to estimates, this was good news.
From the Arizona Daily Star, Wednesday, Dec. 20, 1967:
Toll In Air Tragedy Confirmed At Four
By KEN BURTON
Weary, mud-stained firemen left the Cactus Shopping Center yesterday, convinced that no more than four persons died in Monday's tragic holocaust.
Authorities said that the high death toll estimates of 15 persons made late Monday night was caused by difficulty in removing the dead and a conflict in reports.
Investigators said their estimate of the damages totaled $202,050 — excluding the $2 million-plus pricetag of the U.S. Air Force F4D jet fighter that caused the fire.
The fire department's estimate included a $200,000 loss to Food Giant No. 10, which was demolished, plus a $77,000 loss to the store's inventory.
Also added to the tally were the homes of Sgt. Paul Porto, at ---- S. Winstel Blvd., and James Tilton, ---- S. Winstel. Both houses were destroyed and damage was set at $10,000 each, plus $2,500 for each home's contents.
Another $1,050 was listed as damage to the Gun Slot, a hobby store, the Rasco variety store and a home at ---- S. Winstel. The Gun Slot and Resco were on either side of the Food Giant.
Davis-Monthan's legal office yesterday began round-the-clock operations to process claims arising from the crash and had set up an emergency advance system for hardship cases.
Capt. Ellis Franklin, unshaven and drawn after staying at the crash site for more than 20 straight hours, said he had based his casualty estimate on reports from witnesses.
The Dead were identified as Sherry Tilton, 19, of ---- Winstel Blvd., daughter of Mr. and Mrs. James Tilton; Mrs. Robin Bush, 34, of --- E. Bromley St., wife of Glenn Bush; Mrs. Victoria Steffania Palmer, 55, of ---- Monthan Strav., wife of James Oliver Palmer; and Mrs. Crystal Siemund of Empirita Ranch near Benson, wife of Raymond Siemund.
The fire erupted when a U.S. Air Force F4D jet fighter, loaded with more than 16,000 pounds of JP-4 aviation gasoline, crashed after takeoff from Davis-Monthan AFB.
The plane, originally stationed at Nellis AFB, Nev., ripped into the rear of the Food Giant store and sent fireballs into the grocery and the nearby homes.
Firemen said the exact time of the crash was fixed at 5:44 p.m., by an electric clock, stopped at a Burger Chef stand not far from the mishap.
Besides gutting a store and two homes, the plane severed two natural gas lines and set the escaping fumes afire and also sheared an eight-inch water main. The water loss caused some drop in pressure, firemen said.
Some 120 off-duty firemen reported in after three alarms had been sounded, and 60 were shuttled to the shopping center to bolster the department's strength. Davis-Monthan also sent in men and equipment.
Franklin said his department had granted permission late yesterday to restore electricity to the six remaining businesses in the Center. They expect to re-open soon.
Some confusion resulted when persons thought to have been shopping in the Food Giant later reached home safely, but didn't notify authorities — not knowing they had been reported missing.
Franklin praised Civil Defense volunteers and Air Force firemen, who worked hand-in-hand with city firemen in the long mopping-up operation.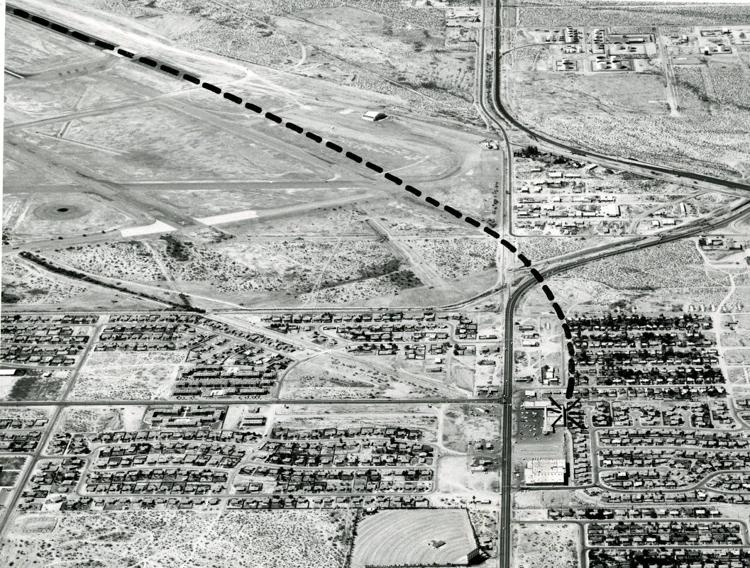 Have you ever heard disaster stories in which a person says, "I was supposed to be on that [train, plane, bridge or other location]. An angel must have been watching over me."
Here are some similar stories. From the Star, Wednesday, Dec. 20, 1967:
Call It Luck, Or Call It Fate
By TOM RISTE
Call it fate or luck or the hand of God, but a few residents of Citation Park who live behind the scene of Monday night's tragedy at the Cactus Shopping Center on South Alvernon can count their lucky stars.
Mrs. Gay Dingle, of ---- S. Baxter Pl., was heading out the front door to buy a head of lettuce at Food Giant when her telephone rang. She answered the call and chatted with a friend for some five minutes until the explosion occurred. "I would have been in the Food Giant, right there in the vegetable department when it happened of the phone hadn't rung."
Mary Ann Heinlein, of ---- S. Kitt Pl., and an employe in the meat department at Food Giant, finished work at 5 p.m., and went home. "Normally I stick around and talk to Robin Bush while she is cutting chickens back in the kitchen," she reported, "but I wanted to get home and then do some Christmas shopping. That's why I wasn't there with Robin when she died."
J.A. Uribe and his wife, Yolanda, who live at ---- S. Winstel almost directly across the street from the demolished Tilton residence, were at home waiting for a TV repairman who had promised to work on their set by 4:30 that afternoon. "It was nearly 5:30 and he still hadn't come and we were pretty upset. We planned to go to the laundry and then on to Food Giant for some shopping. If he had gotten here on time we would have been over there when the plane hit."
Even more frightening was the experience of Mrs. George Medina and her three children. Mrs. Medina was already at the shopping center headed for the market when they spotted Medina's wrecker in front of a nearby store helping a stranded motorist.
"We stopped and talked to George for a few minutes, then went on to the Food Giant. Just as we entered the building the plane struck and flames came roaring at us from the rear of the store. We ran back out and I began looking for my daughter, Debbie, who had gone into the variety store next door. We finally found her. If we hadn't seen George, we would all have been inside the market."
Mrs. Mercy Garcia, ---- S. Winstel, does alterations for the laundry and dry cleaning unit in the shopping center. She had just finished a pair of slacks, but instead of taking them back to the laundry she decided to stay home and address Christmas cards. Her son, Raul, 17, was in the Garcia living room just seconds before the explosion rocked their home. But he had walked into their kitchen for a drink of water and was there when the plane came roaring down and a chunk of mortar came hurling through their front window and crashed into the chair where he had been sitting.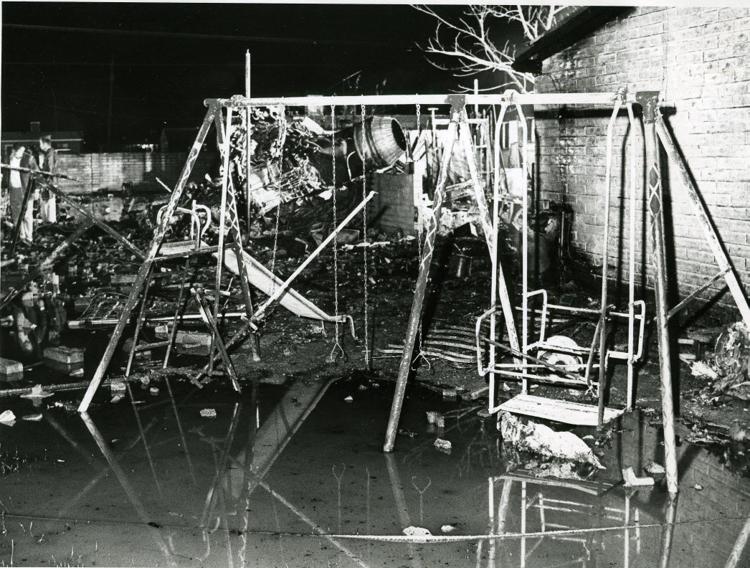 Angels were indeed watching over these people.
Of course, investigation of the crash began immediately, and people wanted answers.
From the Star of the same date:
Experts Begin Investigation Of Air Crash
Disaster Plan Need Is Cited
By TOM TURNER
A military-civilian board of experts yesterday began what may be a weeks-long probe into the causes of Monday's crash of an F4D jet fighter bomber at the Cactus Shopping Center.
And the city's mayor spoke of an "immediate need" to consider an area-wide disaster plan to meet future emergencies.
Mayor James N. Corbett, Col. George P. Cole, landlord unit commander at Davis-Monthan AFB, and Brig. Gen. Ralph Taylor, Tactical Air Command chief at Nellis AFB, Nev., met with newsmen early yesterday in city council offices.
Cole said the investigation board is made up of pilots, physicians and civilian specialists in all systems of the McDonnell F4 craft. Some likely will be McDonnell engineers from St. Louis.
The last piece of the fatal craft — a twisted General Electric J79 jet engine — was removed from the crash scene at 5:30 a.m. yesterday. The parts will be reassembled and each will be analyzed at a DM hangar, Cole said.
Cole said the investigation may take several weeks.
"We want to make certain we find the exact cause of this crash and prevent a recurrence," Cole said. "We can and we will learn from this tragedy."
In response to a Star query, Corbett said that more work needs to be done to coordinate the efforts of city, county, Air Force and volunteer groups in handling disaster emergencies. But both Corbett and Cole praised the impromptu organization that had the crash scene nearly cleared before dawn this morning.
City Manager Roger O'Mara said that city departments have already been organized in a disaster plan that was fully utilized at the shopping center site. Cole said that a cooperative arrangement is being worked out between the Air Force and D-M with city police and fire departments.
Cole had praise for city units, Pima County Sheriff's and Southern arizona Search and Rescue Assns., the Red Cross, Civil Defense, Arizona Highway Patrol, Navy Reserve and Air National Guardsmen who assisted.
Cole was asked why the crash scene was cordoned off by rifle-bearing air police for nearly an hour after the mishap. Cole explained that it was a precautionary measure taken by the Air Force in air crashes until it can be determined what armaments the crashed plane carried.
As soon as it was determined that the Nellis AFB-based plane carried only dummy ammunition, Cole said, the air police were disarmed and entire control of the area was turned over to Police Chief Bernard Garmire.
"We respect civilian jurisdiction just as they repect ours," Cole said.
The rifles, Cole added, were not loaded; but each air policeman carried a clip of live ammunition in his pocket.
Cole said that Maj. Gen. William Campbell, deputy inspector general for inspection and safety from U.S. Air Foce Headquarters, would assist in the probe.
Taylor and three investigators arrived from Nellis within hours of the crash. Yesterday morning, a team of seven Air Force claims officers arrived from California and began assessing the damage and making door-to-door checks in the accident neighborhood.
The claims officers are authorized to pay out up to $1,000 in immediate relief benefits. Higher claims must be presented administratively to Air Force Headquarters.
The injured and survivors of victims have the right to file court suit if the administrative judgments are not considered satisfactory.
Cole was asked about the possibilities of changing D-M approach patterns as a result of the crash. He replied that the some half dozen pattern changes in the last year were made in effort to abate noise.
Cole explained that, because of the lay of the D-M runways, some overflying is done to the limit of safety to prevent noise.
However, he added that between 65 to 75 per cent of some 95 F4 takeoffs and landings per day at D-M are executed over the sparsely-populated desert to the southeast of the field.
The F4D — the crash plane — is a slightly-modified version of the F4C, the plane used for training Vietnam-bound pilots by the 4453rd Combat Crew Training Wing at D-M.
The 4453rd arrived at D-M in 1964 with 1,200 men and 50 airplanes. Today, the wing maintains 100 F4Cs and some 3,000 men. About a fourth of the men are students undergoing from four to eight weeks of course work.
Cole said that refuge for the crash homeless has been offered at D-M quarters.
Tucsonans also learned a little more of the pilot's and navigator's experiences:
Pilot Seen Heading For Park
Bail-Out Occurred At Last Second
The commander of F4D jets at Nellis AFB speculated yesterday that the pilot of Monday night's ill-fated plane was attempting to head it toward Randolph Park.
Brig. Gen. Ralph Taylor who arrived here Monday night, said it was his opinion that command pilot Canadian Flt. Lt. Jack R. Hamilton, Perth, Ontario, and his trainee navigator, Capt. Gary L. Hughes, 32, Mt. Shasta, Calif., waited until the last second before bailing out.
Ejection is only safe at altitudes of 200 feet and above, Taylor explained, and their chutes barely opened before they touched down. One of the plane's crew apparently landed just behind the airbase security fence and the second in the backyard of a nearby residence.
Both men were taken to the D-M Hospital, questioned for awhile, then put under sedation. Taylor said the two men received minor injuries and remained under sedation until about noon yesterday.
Witnesses said the plane apparently was without lights or engine power when it fell behind the Food Giant Super Market, 1830 S. Alvernon Way.
Taylor said the plane gave no indication of malfunction either before or during takeoff — nor during the plane's trip from Nellis, near Las Vegas, to D-M Monday morning.
The general said that Hamilton, an exchange instructor pilot with 3,500 hours experience, brought Hughes to Tucson for experience in D-M's F4 flight simulator.
There were, of course, questions about the flight paths the jets used to and from D-M. And, as we learned, a couple of months ago, there would be another major crash of a jet from Davis-Monthan.