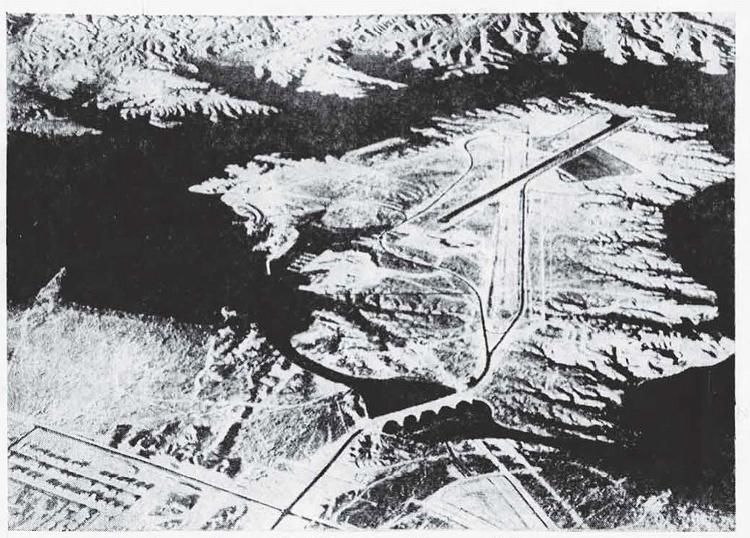 It probably sounded like a confidence scam when people first heard of it. Who would have though one could actually buy London Bridge?
Fifty years ago, that's exactly what happened though. The bridge that served traffic over the Thames in London was no longer big enough to handle the traffic it was getting. So a new bridge would be built and the current one would be taken down.
The British people must have thought it strange that Americans would want it, but an American company with deep enough pockets did.
From the Arizona Daily Star, Thursday, February 1, 1968:
London Bridge May Make Way To Havasu City
PHOENIX (AP) — McCulloch Properties Inc., developers of Lake Havasu City would like to bring the London Bridge from England and set it up at the Colorado River resort in Yuma County.
"We think it would make quite a tourist attraction," said Robert P. McCulloch Jr., executive vice president of the land development.
McCulloch is currently negotiating with British officials about acquiring the bridge, which is to be dismantled this summer. It would be reconstructed as the gateway to Lake Havasu City.
It must have been an attractive engineering puzzle to the geeks of the day.
From the Arizona Daily Star, Friday, April 19, 1968:
Historic Span Expected To Lure More Tourists
LAKE HAVASU CITY, Ariz. (AP) — One of the West's newest towns obtained London Bridge for $2,460,000 Thursday and now must dig a channel for the 136-year-old bridge to span.
McCulloch Corp., developer of the town of about 3,000 on Lake Havasu between Arizona and California, said it would dredge a mile-long channel, cutting off a peninsula on which part of the town is built.
It expects the bridge and an international village to be built around it to increase the tourist business 500 per cent to about 10 million tourist-days a year.
The bridge celebrated in nursery rhyme was sold because it no longer can handle traffic across the Thames River and although it isn't falling down, it's settling slightly.
The bridge will be dismantled and brought to Long Beach, Calif., where the line Queen Mary now is berthed, and trucked the 325 miles to Lake Havasu City.
Yes, it would be a lot of work, and considerably more expense that just the purchase of the bridge to move it to Arizona and rebuild it.
The jokes about the bridge "falling down" would be a big enough pain on their own. But then bureaucrats got involved.
Now that we all know London Bridge is in Lake Havasu City, most people probably think it is an engineering marvel and great tourist attraction.
What many probably don't know is the political wrangling that went on, not necessarily to buy and transport the bridge, but to be allowed to rebuild it in Lake Havasu City.
From the Star, Tuesday, April 23, 1968:
Parks Chief Wonders
State's London Bridge Another Coney Island?
PHOENIX (AP) — The chairman of the Arizona State Parks Board said Monday he fears that relocation of the famed London Bridge at Lake Havasu City will create a "Coney Island atmosphere."
Bert Fireman of Phoenix declared that the bridge probably would attract "droves of visitors" and would be detrimental to an adjoining state park.
Fireman said the state park area at Lake Havasu City is mainly oriented to outdoor sports of fishing, swimming, boating, camping and water skiing.
McCulloch Corp., developer of a larger real estate tract at Lake Havasu City, announces plans last week to purchase the bridge and move all 10,000 tons of it to the resort area stone-by-stone. It would be reconstructed over a channel to be cut across a peninsula on which the development is located.
Fireman conceded that other parks board members seem to approve of the London Bridge project.
Fireman, a noted Arizona historian, said the project is like erecting a sahuaro cactus in Trafalgar Square in London (A sahuaro is a giant cactus which grows in Arizona desert regions.)
Parks board approval for the bridge project would be necessary, Fireman said, because the part of the island which would be created by the new channel belongs to the state.
McCulloch officials said, however, there is no arrangement with the state since the bridge would be part of an existing roadway that now goes into the peninsula.
Tomorrow: The Star weighs in and some bridge history.