There is a statue of Pancho Villa in downtown Tucson's Veinte de Agosto Park, a small triangular grassy space right where Congress and Broadway join (or separate, depending on which way you are going). It is a dynamic representation of Villa on horseback, created by Mexico's famous sculptor Justino Fernández. It was a gift to the City of Tucson from the Mexican government. As a work of art, it is a fine example of its genre. As a public monument, it continues to generate controversy.
Pancho Villa was a general in, and one of the most colorful and controversial figures of, the Mexican Revolution. To many, he was a liberator of the people and a scourge of the oppressors; to others, he was a murdering monster. He launched a raid on Columbus, New Mexico, in 1916, a raid that resulted in an unsuccessful U.S. military expedition to catch and punish him. This act of pulling a few tail feathers off the American Eagle made him a hero among many in his home state of Chihuahua. However, many Sonorans look on him differently.
It was December, 1915. Villa had brought his army into Sonora in an attempt to recover from a series of defeats in central Mexico. This move proved a disaster: he was soundly defeated at Agua Prieta and Hermosillo. He then took what was left of his army back across the mountains to Chihuahua. On the way, he passed through the town of San Pedro de La Cueva.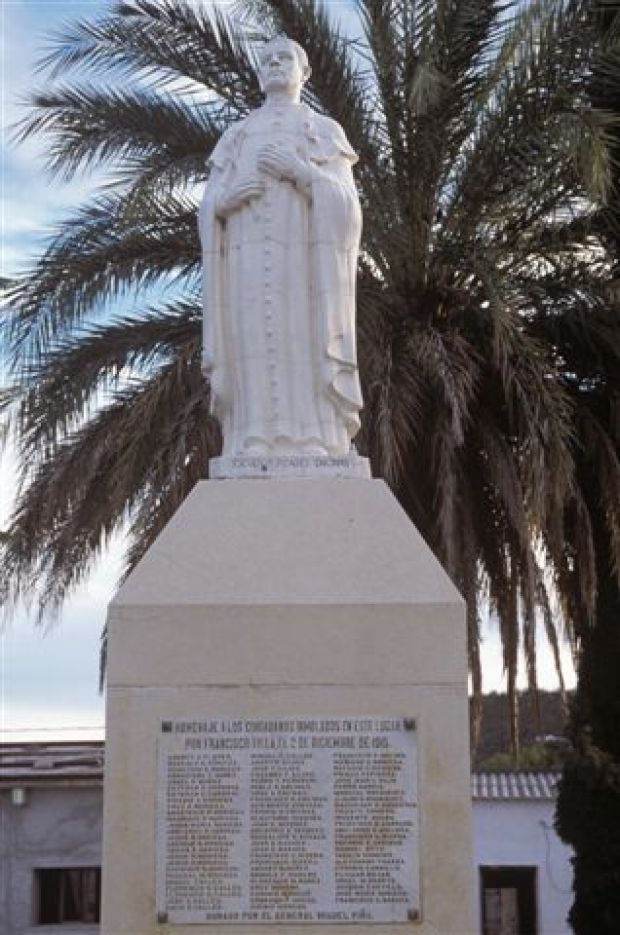 The monument to the victims of San Pedro de la Cueva. The statue, by Pedro Calles, is of Padre Andres Flores, the thirty-five-year-old priest whom Pancho Villa personally shot. Jim Griffith photo.
Now the villagers of San Pedro had lived through several years of revolution and lawlessness, in which any passing army or bandit gang felt free to plunder the village and run off its livestock. Thinking Villa's men were another bandit group, the villagers shot and killed some of them. In retaliation, Villa ordered all the males in the village over the age of fourteen to be shot. When the village priest begged for leniency for some, Villa warned him not to do it again. When the priest returned with more pleas for mercy, Villa personally shot him. Padre Andrés Flores was thirty-five years old.
Among the dead was the father of Pedro Calles Encinas, the sculptor I wrote about in my last blog. The future artist grew up an orphan in a village of orphans. Therefore it was only fitting that, when a monument was erected to the dead of San Pedro, the commission for the statue of Padre Flores should be given to Pedro Calles. Our second photo shows that monument, bearing a list of the seventy-seven names of the dead, and surmounted by Padre Flores' statue. The statue is more formal than Calles' work I illustrated earlier, due to the solemnity of its purpose.
And that's the rest of that story.