There's another side to visiting cemeteries — many of my Mexicano friends believe very strongly that they don't belong to us, but rather to the dead who are buried there.
Here is a story to illustrate that point:
A woman was visiting her sister who lived in Nogales, Sonora, near the entrance to Panteón Rosario, that city's oldest functioning cemetery. Around midnight, her month-old baby began to cry, and she went to comfort it just outside the front door of the house. As she stood there, she saw a candle-lit procession led by a priest leave the cemetery gate and pass by her sister's front door. As they passed by, the priest looked at her but said nothing. In the morning, the woman was sure she had been dreaming, but decided to check and see if the same thing happened the next night.
As she got up the baby woke and began to cry. Standing at the door with the baby in her arms, she saw the same procession led by the same priest, who came up and spoke to her. He told her she had no business looking at the procession, and that the only thing that had saved her was the baby in her arms. Next time not even the baby would save her. She did not get up again.
The message of this and similar stories is plain: cemeteries belong to the dead, especially during the hours of darkness. And the dead can be dangerous.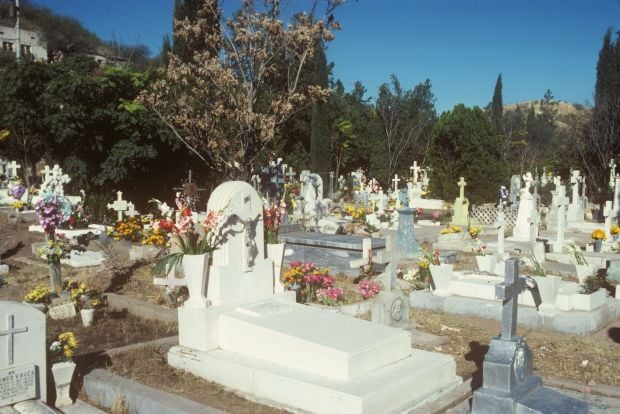 Panteón Rosario in Nogales, Sonora, where the ghostly procession came from. Photo by Jim Griffith.
The dead can also communicate with the living in cemeteries, if need be. The abandoned mining town of Sasco to the north and west of Marana, was hit hard by the flu epidemic of the early 20th Century, and many of the dead were hastily buried in unmarked graves. The Sasco cemetery is still used by neighboring ranching families.
I was told that one day some women were cleaning their family graves, when they heard a voice coming from another grave. "Rézame un par de Padre Nuestros," it said – "Pray for me a pair of Our Fathers." Startled, the women looked around, and the voice came again, with the same message They knelt down and recited the prayers, and the voice was never heard again. I was told that insufficient prayers must have been recited at this person's funeral, and that until they were said, the person could not continue on his or her journey.
Do you know any similar stories from this region? Send them along.