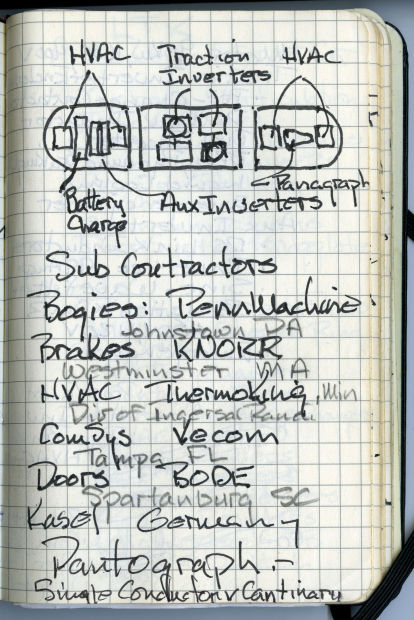 We're defining Tucson in 100 objects. The daily series began April 20. Follow along at tucson.com/100objects
This is a page from a notebook former Tucson Mayor Bob Walkup filled at a meeting on how to make good on the city's pledge to build an "All-American streetcar."
The U.S. Department of Transportation awarded the city $63 million in 2010 to help build the Sun Link system that starts operating today.
Voters had approved money from the Regional Transportation Authority for a streetcar in a bond election in 2006, but the city needed a big chunk of federal money to actually get the thing built.
Walkup, an engineer who had put together federal proposals for former employers at Fairchild Republic and Raytheon Missile Systems, said the city needed an edge in the competition for federal transportation dollars.
One of the firms bidding for the city's contract, Oregon Iron Works, had never built a streetcar at the time, but it was the only domestic firm bidding.
Walkup said the city decided its bid would be better received "if we put a sign on it that said, 'Made in America.'"
He drew the schematic of the streetcar systems to give himself a better understanding of what components were needed and how they might be obtained from a variety of congressional districts.
The city needed to reach 60 percent American parts and components to be considered American-built under federal transportation guidelines.
It is now at 75 percent, said Shellie Ginn, Sun Link project director. All but the doors (Germany) and the motors (Austria) are made in the United States.