Leaving not their first choice; it was their last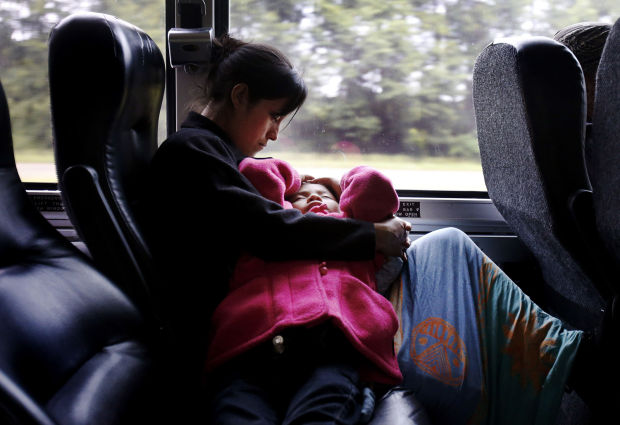 Delmar Soto left his native Guatemala when his daughter Karen was just a baby and his son Marcony wasn't yet born.
First he tried to make a go of it working construction in neighboring Mexico, only going back to meet his daughter Karen. Years later, he moved on to the United States before Marcony celebrated his first birthday.
For most of his children's early years, he was in this country, picking tomatoes in the Florida fields and deboning chicken breasts at the poultry plants in Delaware.
He wanted to give his kids an education, to offer them a shot at a brighter future.
But it wasn't enough.
He came home, but eventually his kids started talking about leaving. Marcony was still a teenager when he gave up hope. Last year, at age 17, he made a dangerous trek through the Arizona desert on his way to the same chicken plant where Delmar had worked.
Now it's Karen's turn. But the 22-year-old isn't going alone; she's bringing her 6-year-old daughter Lizeth along for the treacherous journey.
•••
The Soto family comes from a small village surrounded by green hills and forests, just a few miles from the Mexican border.
Like their neighbors, they are farmers, growing mostly potatoes and corn. If it rains just enough, Delmar can make about $200 every four months selling his potato crop to small companies that distribute them in Mexico.
Karen and Marcony spent their childhood in a tiny mud house with a roof made of straw. For a stove, the family used three stones with a griddle on top.
They didn't have much, but neither did other families they knew. More than half of Guatemala's 15.5 million people live in poverty, and 15 percent bring home less than $1.25 a day. Money sent back by immigrants, mostly from the United States, is the nation's largest source of revenue.
With Delmar away, Karen and Marcony were raised mostly by their mother, who was often ill. More than once Karen remembers seeing men loading Veronica onto a stretcher and carrying her downhill to the nearest doctor, in a town more than an hour away.
At 5, Karen became her mother's little helper. She kept the house clean, gathered wood to cook and took care of Marcony when their mother was too sick to do it herself.
When she found time to play, she climbed trees and slid off a small cliff near her home. Her dolls were made from rags, her tea set fashioned from a discarded sardine can and hollow rocks.
She and the other village girls loved to play fashion model. They didn't have fancy dresses, but they'd fix each other's hair and strut around with sweaters tied around their waists.
More than 3,000 miles away, her father saw none of this.
He had no idea what his children liked to eat, what games they liked to play. He knew nothing of their talents or their dreams.
"Papi," they'd ask when he'd call them at a phone booth in a neighboring town, "When are you coming home?"
Delmar first came to the United States in 1996 as a 25-year-old father of two, just as the migration of Guatemalans began to surge. A peace accord had ended the longest and most violent civil war in Central America, which left 200,000 people dead and hundreds of thousands displaced. But after years of violence and fear, Guatemala's economy was in shambles; coffee prices had plunged.
Delmar, like many of his countrymen, found no opportunities at home.
Leaving was not his first choice. It was his last.
He was gone for four years, first to Florida and then on to Delaware, where he had heard about poultry plants that paid $8 an hour.
After a year back home, he left again for Delaware, this time for five years.
Both times he crossed through Arizona's harsh desert, which friends said provided the best chance of slipping past la migra — they told him that Border Patrol agents in parts of Texas and California stood practically shoulder to shoulder.
In 2006, he returned home for good.
"My children needed me," he said. "They wanted me to be there for them."
At first, he feared he had made the wrong decision. The money he had saved ran out quickly.
But he had achieved his two goals: to put his children through school and to build a cinder-block house. He moved his family from the village to Tacaná, a town of roughly 80,000 people in the department of San Marcos, where the largest share of migrants come from.
Had he never left, it would have taken him 30 years to save enough money to build his four-room house. And he can't imagine how else he could have come up with the roughly $3,000 he would have needed to put Karen and Marcony through high school.
Grade school in Guatemala is free, but many high-school students pay for things like registration fees, uniforms, school supplies and transportation.
But despite their father's sacrifice, the siblings graduated into a future that looked as bleak as their father's had once looked. There are no jobs for young people, especially in education.
"For every teaching spot," Marcony said, "there are 200 people competing for it."
Karen, who had a baby when she was 16, tried her luck as a nanny in Cancún, Mexico, to help support her parents and her daughter. But that lasted only four months — she missed her daughter terribly and she didn't earn enough to make the separation worthwhile.
Three years later, still with no job, she was growing desperate.
Guatemala has one of the world's highest rates of killings targeting women, with victims often raped, tortured and mutilated. And the violence had come to Tacaná. A mutilated body of a woman was found dumped in the forest. People started staying inside at night.
Then Karen heard a rumor: The U.S. government was giving women with children an opportunity to go to the United States.
Unlike her brother, she wouldn't have to walk days and nights through the Arizona desert, where more than 2,200 people have died in the last decade.
She wouldn't have to run from Border Patrol agents.
All she had to do was pay a pollero to ensure her safe passage on a bus through Mexico and make it to the border. There, she would turn herself in and be sent on her way.
If she were ever going to leave, it was time.
•••
On the way to her new life in the United States, Karen carried a blue, pocket-sized Bible and two changes of clothes for herself and her daughter, all tucked inside her zebra-print handbag. In her pants pocket is a gum packet on which she's scrawled the phone number of her brother in Delaware.
She and Lizeth rose early on July 2 to catch the 8 a.m. bus out of town.
Her parents and grandparents came along for the first leg to Motozintla, Chiapas, about an hour away. They gave the pair fresh fruit and yogurt for the journey.
They had said their good-byes in Guatemala. They had promised not to cry.
Resigned, Delmar begged Karen to be careful. "I hope you get to accomplish everything you want," he told his only daughter.
He didn't want her to go, to take away the little girl who called him and Veronica mom and dad. They had raised Lizeth as their own so Karen could finish high school.
"I don't understand what happened," Delmar said, bewildered that things had turned out this way. "I tried to give them a future so they could have a better life."
But his son had still left, and now his daughter and granddaughter were going.
He had failed.
"How is it possible," he wondered, "that I couldn't be with my children and now they can't be with me?"
Karen felt the sadness, too.
"My heart was broken," she said. "But I tried to think that all of this was going to be for something. That the sacrifice was going to be worth it."
Migrants often are extorted or beaten, sometimes kidnapped or raped, during a journey controlled by organized crime and corrupt officials.
Karen was lucky. She was questioned twice by immigration officials and police officers during her three-day trip to the border, and both times she was free to go.
She had told Lizeth again and again that she shouldn't talk to anyone, so when the officers boarded the bus, the little girl closed her eyes and pretended to be asleep.
The one time they tried to badger Karen into admitting she was from Guatemala, she insisted she was Mexican until they gave up and left her alone.
Mother and daughter arrived in Altar, Sonora, at about 5 a.m., July 5. Shops in the town, about 170 miles southwest of Tucson, stock everything immigrants need for their journey: socks, hats, backpacks, camouflage sweat pants and locally made slippers that go over shoes to avoid leaving footprints.
The smuggler they hired took them to one of Altar's nearly 100 flophouses, rundown places where migrants rest and shower before they cross the border.
They stayed in a room with four beds — two people in each one. Karen couldn't sleep. There was no air conditioner and she wasn't prepared for the triple-digit temperatures.
That evening, she, Lizeth and five other people were rushed on foot through the Mexican desert to avoid authorities, and dropped off at the border.
"Just keep walking," the guide told them. "The Border Patrol will find you soon enough."
It would be a 10-minute walk, he promised.
With only a gallon of water for the two of them, the group started walking. Karen doesn't know where they were, but Border Patrol documents she later received say they were near Lukeville.
At one point they thought they heard vehicles nearby. As instructed, they threw away the cellphone the guide had given them in case there was trouble.
It was a false alarm. They kept walking. It was getting dark. They were getting tired.
"I'm hungry," Lizeth whined. Desperate, they tried to knock down some prickly pears fruit to eat, but only inedible green ones fell to the desert floor. The ripe ones clung to the cactus.
At 22, Karen was the eldest of the group. With her were five teenagers, one of them pregnant and one just 13 years old.
She had to take charge.
"Let's go back to find the phone," she told them, "then look for some place to sleep."
She found a place that looked clear of shrubs and cacti, and they made a little makeshift camp. With Lizeth —who is half her size— on top of her chest, Karen laid awake all night while the others slept. If the scorpions, rattlesnakes and spiders she had been warned about showed up, she'd be ready.
•••
As the sun rose, the group started to walk along the road again. Just after 7 a.m., they spotted Border Patrol agents.
"They asked us where we were from, where we were going to, our names and if we wanted to see a judge," Lizeth said in her sing-songy voice, "and we said yes."
Karen and Lizeth were processed with the others and taken to the Border Patrol station in Tucson, where they stayed in what border crossers have labeled "hieleras," or ice boxes, due to the cold temperatures inside.
At about 2:30 p.m. on July 7, agents dropped them off, along with other mothers with their children who had recently crossed, outside the downtown Greyhound bus station.
In her hand was a piece of paper with their date to report to an immigration officer and a yellow sticky note with the confirmation number of their bus tickets her brother had bought for them. aren hoped she'd be able to figure out what to do. Before they walked inside, they sat down on the ground and put their shoelaces back in their shoes. Border Patrol agents had removed them for what they say is the border crossers' safety.
To their surprise, Karen and Lizeth were welcomed inside the station by volunteers who show up to offer migrants a warm meal, a change of clothes, toys for the children and guidance on navigating the United States bus and immigration systems.
"It was such a relief," Karen said later. "It gave me hope."
They sat on the gray chairs waiting for the 7:50 p.m. bus ride that would take them more than 2,300 miles, through 12 states and more than two-dozen stops. Their destination: Dover, Del., where her brother was waiting for them.
Volunteers gave them a bowl of vegetable soup and tote bags stuffed with granola bars, toiletries and water for the road.
Karen threw away the dirty sleeveless pink shirt she had crossed with and changed into a blue Angry Birds t-shirt she found in one of the plastic bins of donated clothes.
When it was time to go, volunteers helped Karen and Lizeth find seats on the blue and gray bus, then handed Karen a zip-close bag full of cooked beans and rice. They hugged the mother and daughter good-bye and offered them a blessing.
Karen and Lizeth were on their own once again.
•••
For the nearly four day trip to Delaware, Karen was given a stack of 15 pieces of paper, all with numbers and letters that can be confusing even for English speakers.
Each time the bus stopped, she pulled out a piece of paper that listed the times and places where she had to change buses. The instructions were in Spanish for her to read — and in English in case she needed to ask for help.
Buses stop every four hours. Passengers are expected to understand their re-boarding passes and know when they have to be back on the bus.
Some stops are for 10 to 15 minutes, others can be for a few hours and involve getting off one bus and onto another one. When it was time to climb back on board in El Paso, the driver asked for Karen's ticket, but she had left it on the bus.
"You can't do that lady, it wastes time," he scolded her in Spanish. "Go get it."
After that, she always kept her tickets inside her coat pocket.
That wasn't the only challenge. In El Paso, even though the driver was grumpy, he spoke Spanish. After Abilene, Texas, it was English only.
On the morning of July 9, Karen gazed out the window while Lizeth told her stories. Little Red Riding Hood and the Three Little Pigs are her favorites.
Both tales are about families, and Karen's mind wandered back to Guatemala.
"I was wondering when I would see them again," she said later. "Asking myself whether this was worth it."
Outwardly, she tried her best to keep the journey pleasant. She and Lizeth slept, snuggled together under a sky-blue beach blanket Karen found among the donated items at the Tucson bus station.
Whenever Lizeth woke up, she would pull a coloring book she got in Tucson from her pink Jonas brothers tote bag. She would color for hours, taking care to stay inside the lines as her mother had taught her.
Always nearby was the small plush penguin with a blue scarf that she got from the bus station. Whatever she ate, she offered some to the penguin.
She doesn't understand immigration law, but she does understand the reasons for their trip: "We came to see my uncle and to work to help pay for my mom's medicine because her shoulder hurts."
And she has been through enough to know the Spanish slang for immigration officials.
Flipping through photos on a passenger's iPhone on the bus one day, she stopped on a scenic picture of the Arizona desert. "So," she asked the phone's owner, "where did la migra catch you?"
When the bus rolled through Dallas, Lizeth looked in awe at the giant roller coasters at Six Flags.
"I'm going to tell my uncle to take me there," she said.
And when they passed Atlanta's skyscrapers, both mother's and daughter's eyes widened.
"Look at that one, Mommy, that one is tall," Lizeth said.
Neither of them had seen buildings so big, although Delmar had once talked of hospital buildings where you could drive to the top.
Riding through Georgia, one day away from seeing Marcony, Lizeth was thinking about what they would do together.
"I'm going to tell him to teach me how to swim and to take me to the zoo," she said with a wide smile.
Marcony started talking about coming to the United States when he was 15, but his father insisted that he finish school.
"He would tell me that you only come to suffer, that things are very different," Marcony said.
But he saw no alternative. If there were jobs in Guatemala, he said, he would have stayed.
"Who's going to want to migrate to another country, risking your life, your health, if there were opportunities over there?"
Like his sister would eventually do, he crossed through the Arizona desert, but doing that meant walking for three days and four nights. He didn't know then that there was a different process for underage border crossers to help them reunite with family members while their case is pending.
Instead, he ran as fast as he could when the Border Patrol found them, about 30 minutes from where a ride was waiting for him, his uncle and a cousin.
He wasn't fast enough. After the agents processed him and learned he was a minor, they sent him to a shelter for unaccompanied youth in Glendale, where he spent a month before he was reunited with his uncle in Delaware.
More than a year later, Lizeth and Karen are about to join him.
•••
The bus slowed to a stop in front of Kent General Hospital in Dover, 10 minutes ahead of the scheduled 12:40 p.m. arrival time.
Karen and Lizeth, clutching their tote bags, waited at the corner of Hope and Governors streets until Karen saw a blue minivan. "That's him," she said.
Lizeth ran with open arms toward a young man with spiky hair and a checkered pink and blue shirt.
"Chaparrita," or Shorty, he told her as he knelt down to embrace her. "I've missed you so much."
He handed Karen a white t-shirt on which he used a marker to draw the names of their family and a message: "We were praying for you."
It has been a year and six months since they have seen each other.
"We were just talking over the phone a week ago, when they were still in Guatemala," he said, full of wonder. "It's like a dream, words can't explain what I'm feeling."
Their first stop, Walmart. They walked aisle after aisle of toys, clothes, food.
"In Guatemala, there's no money for new clothes," Karen said. But now they're in the United States, land of the disposable income.
"Do you like this skirt?" she asked Lizeth.
What followed was a true American shopping spree, ending with two Hello Kitty skirts and shirts, a pink Minnie Mouse shirt and a pair of sparkly Barbie sandals.
Next up was a quick stop for Chinese takeout, then on to the mobile home Karen and Lizeth will share with Marcony, a cousin and a Guatemalan lady and her two children.
Karen, a homemaker since early childhood, immediately went to work cleaning the small space. Lizeth ran outside after just a few bites of dinner and got busy making new friends.
Before long, another first: An ice cream truck rolled by, and Marcony gave each child a dollar bill. Lizeth mulled the princess popsicle, but ultimately chose a watermelon-flavored ice pop, giggling and jumping up and down while she waited for it.
Before long, she was bossing the other children and learning to play Angry Birds on a tablet computer.
"Yes!" she squealed when she scored.
•••
Karen, Lizeth, Marcony and their cousin will share one small bedroom in the mobile home. Karen doesn't mind the small space or that there's only one bed.
"We are used to it," she said as she swept the floor.
They'll join the growing Guatemalan community in Southern Delaware, most of whom arrived with the same dream that drew Delmar here in the late 1990s: to earn enough money to build a house and to put their kids through school.
"When I was a kid, my dream was to have my own car and home," Marcony said. "It's still my dream."
But now he sees the price he's paid. By coming here, he said, "I basically exchanged my family for money."
He recently had surgery to remove his appendix and he had no one to look after him.
"There are nights you cry under the blankets," he said, "but you have to think that the future is going to look brighter."
He started high school in Delaware as a freshman, but finds it hard to fit in. He doesn't speak much English. Children of immigrants born here make fun of him, he said, instead of helping him when he mispronounces a word.
When he is not in school he works at the chicken plant – the same place Karen will probably work, cleaning and cutting birds.
He's working to pay off the $5,500 he borrowed to come to the United States; to send money back to his family; and to cover the expenses for Karen and Lizeth's trip.
After that, he'll start working toward his own dreams. He wants to buy a car to start a business, perhaps selling produce out of it. If he thinks big, he might open his own car wash.
"As long as I'm alive," he said, "I'm going to work to achieve my dreams."
Karen wants to give back to the parents who did so much for her and Lizeth.
"I want them to have better food," she said, "and vitamins."
She'd also like to buy them a living room set, to have her own home, to have money so she doesn't have to depend on anyone.
More immediately, they both want to get lawyers to fight for permission to stay in this country. Marcony, now 18, has his first court date in December after one last year was cancelled for reasons he doesn't understand. He said he consulted with three lawyers hoping to find help, but they all charge between $8,000 and $10,000.
Karen is supposed to appear before an immigration official on Aug. 7 in Baltimore, about two hours from South Delaware. She and Lizeth are paroled until Oct. 8.
With that over their heads, it's hard to know what to do, Karen said. Should they live in the shadows, hiding among the estimated 11.5 million illegal immigrants in this country? Should they show up in court and fight? And if they do, on what grounds will they ask for permission to stay?
She overcame her reluctance to leave her family and survived what could have been a perilous journey to a new land. But those things are nothing, in her mind, compared with her fear of being deported.
"Not only did you not reach your goals, but now you go back with a debt you can't pay," she said. "If they send you back, that's the biggest failure of your life."