NOGALES — Gov. Doug Ducey praised the Trump administration for "finally taking action" to secure the border and asking border governors to deploy the National Guard at the U.S.-Mexico border.
"There is no militarization of the border," Ducey said in front of a half-dozen rows of National Guard troops dressed in fatigues standing alongside Border Patrol agents.
Instead, the National Guard troops would support Border Patrol agents charged with law enforcement on the border, Ducey said at a press conference Friday at the Border Patrol station in Nogales.
The governor plans to send 338 Arizona National Guard troops to help with border security, the Associated press reported. Of those, about 110 will provide air support from a base in Marana and 60 will work in Nogales.
Rodolfo Karisch, chief patrol agent for the Border Patrol's Tucson Sector, said immigration enforcement remained the responsibility of Customs and Border Protection and other agencies within the Department of Homeland Security.
CBP in Arizona has a "long and lasting relationship" with the National Guard, Karisch said. The troops will help agents with aerial support, road maintenance projects, and by operating camera systems.
With that help, agents will "get back into doing law enforcement work," Karisch said.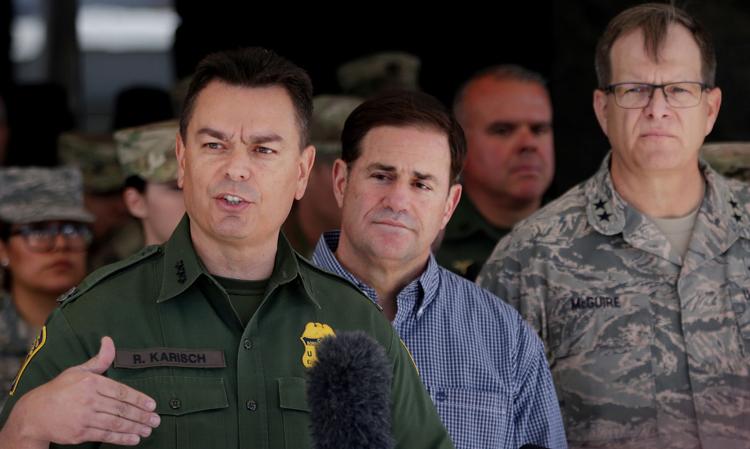 Karisch said the agencies were developing a "planned, phased approach" for using the National Guard troops on the border. The initial deployment will be between ports of entry, but at a later date they likely will be used to support customs officers at ports of entry.
When asked whether deploying troops to border areas would exacerbate the perception of Southern Arizona as a dangerous area and hurt local economies, Ducey said as governor he had to balance the economy with public safety and "public safety has to come first."