The tragic death of a 34-year-old hiker on a sun-scorched desert trail was a stark reminder that heat can kill.
Bradley Hughes of Geneva, Illinois, was found dead on a trail in Saguaro National Park West on May 27.
Park officials said he had an empty hydration bladder and no other water when found, indicating that heat or dehydration might have been a factor in his death.
Outdoor and rescue experts say that hikers who want to hit the trail on a hot summer day in Southern Arizona have a way to minimize the risk of heat danger: Go high.
The heights of the Catalina Mountains a short drive northeast of the city offer numerous trails in forests of pine, oak and fir where shade is abundant and temperatures can be 20 or more degrees lower than the desert below.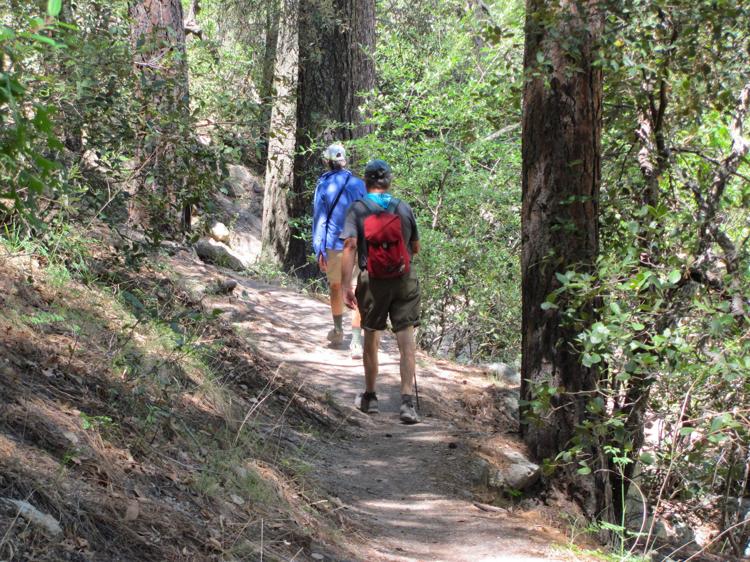 "Tucson is fortunate to be a 45-minute to hour drive to the summit of the Catalinas, which is over 9,000 feet," said Shelley Littin of the Southern Arizona Rescue Association. "It can be 110 degrees in Tucson, but above 6,000 feet it starts to really cool off. In the pine forests of the mountains, it can be in the 80s or even cooler."
Littin outlined benefits of retreating to cooler mountain areas for hot-season hiking, and she also offered critical advice for people who choose to take a desert hike in summer weather.
HEAD FOR THE HILLS
"We have this tremendous variation in climate because of that elevation gradient" — from the 2,500-foot elevation of Tucson to forests more than a vertical mile higher in the Catalinas, Littin said.
That, Littin said, means that hikers can avoid the effects of extreme desert heat by choosing trails in mountain woodlands for summer hikes.
John Heiman, owner of the Southwest Trekking guide service in Tucson, agreed that "it's beyond obvious that the cooler temperatures up there are going to be more beneficial.
"But at the same time, there are still responsibilities and considerations at the higher altitudes," Heiman said. "Dehydration is still possible, so take plenty of water."
Among mountain trails in the Catalinas with plenty of shade and relatively cool temperatures:
Marshall Gulch Trail: The 1.2-mile trail can be combined with the 2.5-mile Aspen Trail to create a 3.7-mile loop route. To reach the trailhead, take Tanque Verde Road to the Catalina Highway and follow the highway past mile marker 24 to the community of Summerhaven. Drive through Summerhaven and continue about a mile south to a picnic area and parking lot in Marshall Gulch.
Aspen Draw Trail: The 2-mile trail climbs slopes at altitudes between 8,000 and 9,000 feet. Follow the Catalina Highway past mile marker 24 to a turnoff for Mount Lemmon Ski Valley. Continue to Ski Valley and park. Walk about 20 yards down the south side of the highway from the ski area parking lot and watch for a trail leading downhill. Follow it for 0.2 of a mile down the side of the hill and across a small watercourse to the signed start of the Aspen Draw Trail.
Meadow Trail: A half-mile walk on the trail leads to a meadow perched just below the 9,157-foot summit of Mount Lemmon. Drive to Ski Valley and continue on a narrow road beyond the ski area 1.7 miles to a parking lot at road's end. A signed trailhead is at the parking lot. Follow the trail about 0.2 of a mile to a junction with the Meadow Trail. You'll pass some mountaintop observatory installations along the first part of the trail.
DESERT HIKING
People who are determined to hike in the desert on hot days should take special precautions, said Littin of the Rescue Association, whose volunteer members are often called out to help heat-stressed hikers.
"You want to do the hike as early as possible before it gets hot," she said. "Try to finish the hike by about 10 a.m.
"And carry twice as much fluid as you think you'll need," Littin said. "You should have at least a liter (about a quart) an hour for hiking in the summer. Carry water and an electrolyte beverage. You need to replace salts either by eating salty snacks or drinking an electrolyte beverage" such as Gatorade.
She recommended light-colored clothing for desert hikers "because light-colored clothes reflect the light and don't absorb heat."
Other essentials include a hat, sunglasses and sunscreen, Littin said.
"And I would advise that people pay attention to their bodies," she said. "Don't push it if your feel tired. Take a few minutes and rest in the shade."
It's also vitally important to be aware of possible heat-caused health threats.
"If someone feels sick or experiences cramps or vomiting, call 911" on a cellphone or seek help in other ways, Littin said.
"I would recommend hiking with one or more other people," so someone is available to help in an emergency, she added.