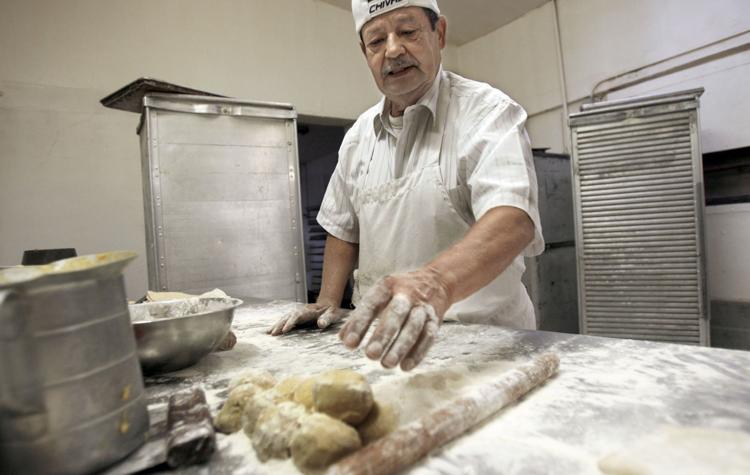 Years before Tucson earned the distinction City of Gastronomy by UNESCO and years before local foodies discovered artisan breads and years before soccer became a popular local sport, Sabino Gomez quietly devoted his time and talent to create delicate Mexican breads and pastries, and helped develop one of the city's first amateur soccer leagues. He was a husband, father, grandfather and businessman.
Gomez died Nov. 9. He was 80 years old.
I saw him from time to time at La Fresita, a small Mexican food restaurant on West St. Mary's Road, where he helped behind the counter. I would greet him as "Don Sabino," giving him the title of respect and admiration.
In January 2009, I wrote about him. Here's the column as published:
Sabino Gomez is up before dawn, kneading and rolling dough into all sorts of shapes. When the Mexican sweet breads emerge from the oven at El Rio Bakery, the aroma of the freshly baked goodies fills the small West Side panadería.
There are ribbon-twisted moñitos, corn-shaped elotes, little logs called leños, horn-shaped cuernos, round sweetbread called pan de huevo and birote, small loaves of crusty bread.
For nearly 40 years at El Rio, and several more years before that, Gomez has rolled out Mexican pastries and tortillas from the Barrio Hollywood bakery on North Grande Avenue.
But Gomez has more than produced delicious breads, which he learned to make in his native Jalisco, Mexico. The master baker has also rolled out younger panaderos who continue to maintain the ritual and role that Tucson's Mexican bakeries play in our cultural and culinary life.
"He's the master," said Griselda Villa Vargas, who with her husband, Guillermo Vargas, purchased El Rio late last year and invited Gomez to continue his artistry as long as he wants.
"It's his house," Vargas said in Spanish.
Gomez opened El Rio Bakery in 1971 on a corner across the street from St. Margaret Mary's Catholic Church and Grande Tortilla Factory, down the street from Pat's Drive In, three barrio landmarks.
It didn't take long for El Rio to become a barrio icon.
Of course, the work was not easy. But Gomez found his way.
"I love baking. It's hard but there is something special about creating bread," said Gomez in Spanish.
Gomez came to Tucson in the early '60s when he was 24 years old. He learned to bake as a youngster and worked as a baker in Cananea, Sonora, before coming to Tucson.
He found a job at Lujan Bakery, which was on South Fourth Avenue. But his baking career was almost derailed soon after he settled in Tucson: He was deported to Mexico.
He lived in Nogales and worked in a bakery. In 1965, Gomez, who eventually became a U.S. citizen, returned to Tucson with proper work papers and resumed working at Lujan's.
The bakery was one of several well-known Mexican bakeries in town.
Ronquillo's Bakery was at Downtown's Placita de la Mesilla and later on South Fourth Avenue. Le Cave's Bakery was on South Sixth Avenue, near 22nd Street, and Urrea Bakery was on South 10th Avenue in South Tucson.
When Gomez opened his business, he had stiff competition, but he put his personal stamp on Mexican pastries.
His imprint went beyond pan de huevo and cuernos.
In the mid-1960s, Gomez, a soccer aficionado who played the game as a youth, and several other fans formed one of Tucson's first soccer leagues. By the late '60s, a multi-team league was created among immigrants and foreign students from the University of Arizona who played weekly at Menlo Park on the West Side.
Gomez, who wore a white Chivas cap, a nod to his favorite Mexican soccer team from Guadalajara, said baking is his life, but playing soccer was his dream. However, it was yeast and flour on which Gomez built his reputation.
The most notable of the other bakeries inspired by him is La Estrella Bakery on South 12th Avenue and West Nebraska. It is owned by a nephew who learned the art under Gomez. There are several others.
"It makes me feel proud," Gomez said of the Mexican bakers who apprenticed under him.
Gomez continues as a teacher.
In 1999, he accepted an offer to sell El Rio. But he took back El Rio when the buyer stopped making payments.
Then, in November, Gomez sold the bakery to the Vargases, who are expanding the bakery to include a small restaurant. The new owners asked Gomez to stay on to pass on his knowledge.
"I had to return," he said. "It gives me exercise."