Star investigation: Big talk, little change on Trump's border
After months of tough campaign rhetoric, the Trump administration touted a steep decline in border-crossing arrests as evidence of a "new era."
But what exactly has changed along Arizona's border with Mexico?
Trump officials are not so much taking border enforcement in a radical new direction as they are tweaking the formidable border security machine built during the Bush and Obama administrations.
_____________________________________________________________________________________
Intro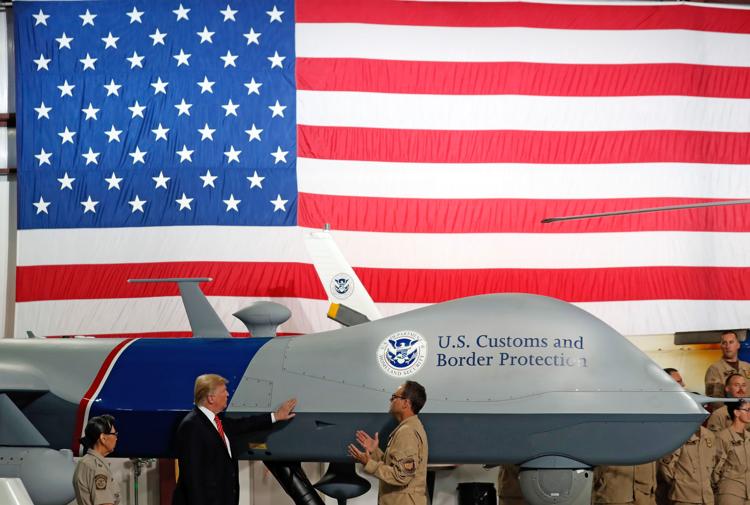 Big talk, little change on Trump's border
Arizona Daily Star
After months of tough campaign rhetoric, the Trump administration touted a steep decline in border-crossing arrests as evidence of a "new era."
In Arizona, the arrest of an unauthorized immigrant at a Pima County court and a raid on a humanitarian aid camp near Arivaca offered further signs of an immigration crackdown.
But what exactly has changed along Arizona's border with Mexico?
Federal immigration agents have arrested people at courthouses before. 
The Arivaca camp raid wasn't the first of its kind; Border Patrol agents also raided it in 2014.
And while arrests of border crossers did plummet after Trump took office in January, they had been declining for years. In 2016, there were 65,000 apprehensions in the Border Patrol's Tucson Sector, down from more than half a million in 2000. 
The truth is, Trump officials are not so much taking border enforcement in a radical new direction as they are tweaking the formidable border security machine built during the Bush and Obama administrations.
So Southern Arizonans without legal status find themselves in a familiar position: trying to figure out the new rules. While campaign bluster about mass deportations has subsided, the federal government is threatening to deport non-criminals living in this country illegally and is prosecuting first-time crossers, something that had largely stopped under Obama.
Scaling up those efforts would be monumentally difficult. The U.S. doesn't have enough judges, immigration officers or detention space for mass deportations.
The Arizona Daily Star spoke with about three dozen faith leaders, school administrators, organizers, law enforcement officials, lawyers, service providers and immigrants, and gathered data from law enforcement agencies and courts to see what has changed — and what hasn't — under the new administration.
The Star found that while people are scared, they are not hiding. Instead, they are taking steps to prepare themselves and their families in case they are stopped by a local police officer or get a knock on their door from immigration authorities.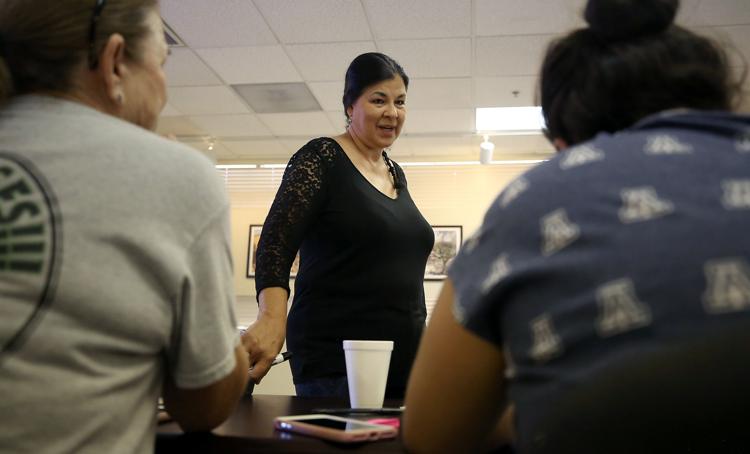 They already know they have to be ready, particularly in the seven years since Arizona passed Senate Bill 1070, one of the toughest immigration laws in the country.
Attendance is up at citizenship prep classes and know-your-rights workshops put on by the Mexican Consulate and grassroots organizations. Families are developing plans to protect U.S.-born children in case their parents are deported. 
Some schools saw a slight dip in enrollment after Trump was elected, but for the most part fears subsided and attendance rebounded after principals and teachers reassured students they were safe at school.
Trump's plan to build a "big, beautiful" wall is proceeding, but not yet on the widely fenced and heavily patrolled border in Arizona. And in recent months, he has said we may need only 1,000 miles of border wall because the rest — another 1,000 miles — already has natural barriers like mountains and rivers. 
Interactive cards: Rhetoric vs. Reality
In Tucson's federal court, first-time illegal crossers now face criminal charges, but criminal immigration prosecutions are fewer than they were during most of the Obama administration largely because the number of crossers is so much smaller now.
Local sheriff's departments are holding fewer people for federal immigration officers, and police are not checking as many people's immigration status, as required by SB 1070, after a state attorney general opinion said an Arizona ID or driver's license is sufficient proof of legal status. The opinion emphasized that local authorities can't detain people just to check immigration status. 
While Border Patrol agents are catching fewer crossers, Immigration and Customs Enforcement officers are arresting more people already in Arizona. ICE arrests are up nearly 13 percent in the state from January through April compared to the same period in 2016. But that's still 26 percent below what was reported in 2014.
And Trump's announced crackdown has run into predictable obstacles, such as the intractable backlog in immigration courts that stymies deportations. Those challenges persist even though two more immigration judges were assigned to Arizona and attorneys say judges are moving through cases faster. 
Considering all that, the Trump administration faces a steep climb in realizing a "new era" in border enforcement.
Seven months into Trump's administration — despite the rhetoric — the Arizona border remains largely as it was before he took office.
Families
For families at risk of being torn apart, fear turns to action
By Perla Trevizo
Ever since he turned 18, Matias has known he will be responsible for his two youngest sisters if his parents get deported.
But for three years, he didn't take any steps to make sure he could become their guardian.  
The prospect of his parents being sent back was in the back of his mind, not the front.
Until now.
"It's like a dam holding water," said Matias, now 21. "It's always been there, but now it's ready to crack and you must prepare for the flood."
President Donald Trump made cracking down on illegal immigration the core of his campaign — and within days of taking office in January, he expanded the pool of people who could end up deported.
While the focus is still on those who pose a national security threat, Immigration and Customs Enforcement agents no longer have restrictions on whom they can arrest, detain and deport, said Phoenix Field Office Director Henry Lucero.
Before, "our officers kind of had a look at each case and determined if they'd been here for so many years, if they have not been convicted of a crime, that maybe we wouldn't target them for arrest or even arrest them," Lucero said. "Now we're taking enforcement action on just about everyone that we come across."
But the path from arrests to deportations is not straight and the shift under Trump is not new, but part of a growing immigration enforcement machine. In 2012, under President Obama, it cost the government nearly $18 billion, more than what it spent on the FBI, Drug Enforcement Administration, Secret Service, U.S. Marshals Service and Bureau of Alcohol, Tobacco, Firearms and Explosives combined. 
So far this year, deportations are down and police here are referring fewer people to ICE. Those caught at the border made up the biggest group of deportees in Arizona, but their numbers have been decreasing for years and plummeted since Trump took office. And those arrested, especially without a criminal background, can slog through an immigration court process that today faces a backlog of more than 600,000 cases.
To do more, said Randy Capps of the nonpartisan Migration Policy Institute, the administration would have to expand detention center space, resolve cases more quickly and add the 10,000 ICE officers and 5,000 Border Patrol agents Trump has called for — a surge the Department of Homeland Security's watchdog said would require a pool of 1.25 million applicants to draw from.
Immediately after the election, fear in immigrant communities spiked, with some families pulling kids from school or dropping benefits such as food stamps that their U.S.-citizen children qualify for. But quickly that fear turned to action: Many are attending know-your-rights sessions, joining grassroots groups to stay informed and making plans for the worst.
For Arizona families, it was yet another era of change and confusion. Trump was new, but immigration crackdowns were not thanks to laws such as the state's Senate Bill 1070, which requires police officers to check the legal status of a person they stop for other reasons if they think that person is not in the country legally. 
After the elections, "we thought we were going to see another exodus like there was with SB 1070, but it wasn't like that," said Tony Ortiz of Paisanos Unidos ("United Countrymen"), a group that aims to empower community members to know their rights. "People reacted with a little nervousness at the beginning of Trump's term, but at the same time they wanted to learn, inform themselves, be more united as a community."
Learning their rights
Even people in this country illegally have rights, Imelda Cortez told the half-dozen people assembled for her cafecito, a workshop to introduce Paisanos Unidos.
The group is like a spider web, Cortez said, with a goal of developing leaders within the immigrant community and protecting one another — even raising bail if one gets detained by immigration. So far this year, there hasn't been a need.
On a recent afternoon she talked with a group of mostly women with different legal statuses about what to do when they get stopped by the police. They discussed the right to remain silent and their obligation to show a driver's license, registration and insurance. 
ICE needs a search warrant to go into a home, she explained. But she warned that there have been times when immigration officers are looking for someone else but make "collateral arrests."
"That happened to my husband," said Elma Esquer. Officers came to her house early one morning, "knocked very loudly, pushed the door open, and when my husband came out, they arrested him." He was released hours later because he wasn't the man they were looking for, she said.
"And the fear and terror," Lourdes Zuñiga asked. "Who makes that go away?"
Heads nod.
That arrest was in 2003, Esquer said. Now she knows her rights. "I wouldn't allow it to happen again."
Groups such as Paisanos Unidos have been operating here for 10 years, since a voter-approved state law restricted the use of public benefits for people in the country illegally. More grass-roots organizations sprung up after 2010, when the legislature enacted SB 1070 — and now under Trump.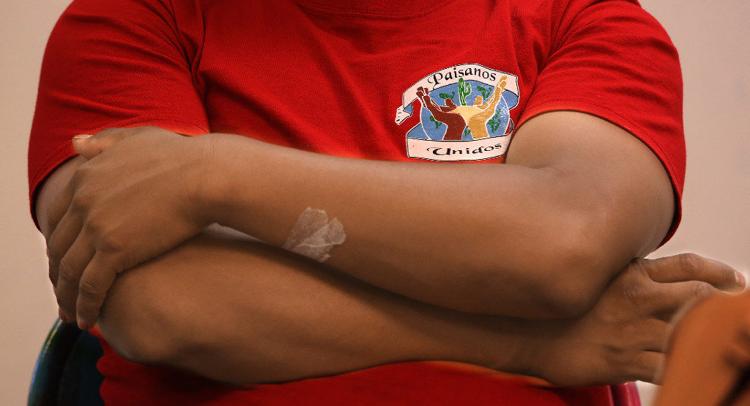 "People continue to be afraid, but at the same time, they are being more cautious as they live their day-to-day lives," said Julissa Villa of the nonprofit Por Un Arizona Unido ("For A United Arizona").
"Those who had been a little less active have been mobilizing more, wanting to learn, to be alert, getting their affairs in order, things that perhaps they weren't doing before."
The group holds U.S. citizenship campaigns and classes, which have been growing. One event in Douglas attracted 60 people, she said, and about 25 became citizens. U.S. Citizenship and Immigration Services data show that about twice as many people have also applied for citizenship in the Tucson area in the past year, from 560 in the second quarter of fiscal 2016 to 1,040 the same period this year.
Arizona's self-organizing methods are attracting outside attention, too, from groups in other states, whose leaders are reaching out to learn how to replicate what's being done here.
"One of the things I learned from my trip to Arizona is that whatever happens in one state can happen in another, and one must learn from those with more experience," said Ileana Cortes, with Latino Family Network in Lafayette, Indiana. "We can't afford to not be informed anymore."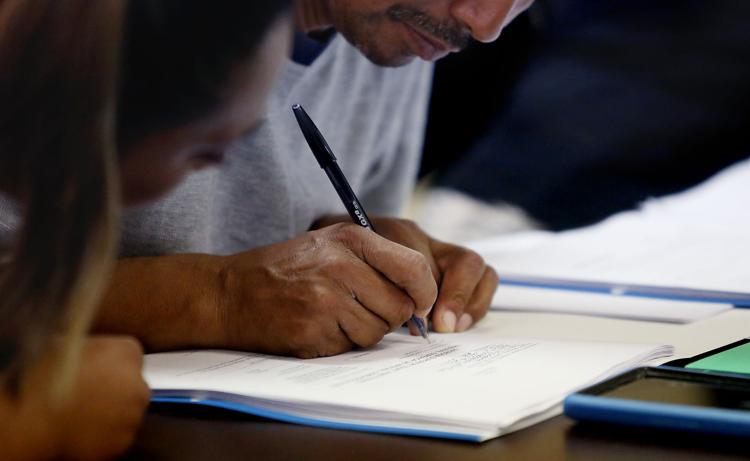 Preparing for the worst
Matias knows his parents' biggest fear: that their daughters will end up in foster care.
"Being their big brother, I'm the closest thing to them having parents if anything happens, and more and more I felt that," he said.
When the family heard about a workshop at the Mexican Consulate in Tucson to help people fill out guardianship documents, they signed up. The process took about three hours. 
Area consulates have beefed up efforts to inform their communities. The number of workshops, like the one Matias and his mom participated in on a recent Saturday morning, have doubled, and so have citizenship preparation classes. 
The call center at the Mexican Consulate in Tucson, the only one in the country, is staffed by 50 people, up from 30 before the election, and it operates 24/7. It fields about 1,500 calls a day from across the country, up from 500 to 700 calls a day last year, from people who seek help with their immigration cases, need government documents or information from their local consulate. 
"Immigration control measures have hardened recently," which have led to a rise in collateral arrests and of people without criminal backgrounds, said Ricardo Pineda, consul of Mexico in Tucson. "So we want to be on top of it to provide legal advice so people can defend their case when that's possible."
The Mexican government set aside $50 million in March for a legal-defense fund in all consulates in the U.S. But there's still a lot to do, Pineda said.
These efforts are reaching people like Matias, who asked that his full name not be used to avoid identifying his parents. He and his sisters are American citizens.
Matias was never into politics, but in June 2015 he heard then-candidate Donald Trump say, "When Mexico sends its people, they're not sending their best. ... They're sending people that have lots of problems, and they're bringing those problems with us. They're bringing drugs. They're bringing crime. They're rapists. And some, I assume, are good people."
"It pissed me off," he said. "My parents are not what he claims the majority are. … They came over here to give me a better future."
But he had no interest in hitting the streets to protest. He dropped out of college, where he was studying to be a speech pathologist, to work full time and help out his family. These days, he keeps mostly to himself. When not working in construction with his dad, he plays "Pokémon Go" in the park near his house.
The best way to protect his family, he said, "is to help keep us in hiding until we can find a solution. Either immigration reform, even if it's by Donald Trump himself, or citizenship or something that allows us not to be in the shadows anymore."
If Trump is a wildfire, Matias said, he is a bucket of water, a shield for his family.
"I'm ready to step up."
Fears fueled by rumors
After Trump's election win, some people were hesitant to show up for routine immigration checks or renew work permits. 
They shared news stories about parents of U.S. citizens being deported; about someone brought to the United States illegally as a child — a group President Obama had given a reprieve from deportation — being sent back; about ICE agents conducting raids and arresting anyone in their path.
That heightened anxiety is not completely unwarranted, said Capps, research director of the Migration Policy Institute. "There is a risk there for people that wasn't there six months before."
Although not for everyone.
If people have a final order of deportation and they are checking in with ICE, they probably run a greater risk of being arrested, he said. "But for an unauthorized immigrant going to work every day, otherwise abiding by the law, the chance is a lot lower." 
The problem is the uncertainty, Capps said.
Rumors and misinformation fuel that fear, said Ana Chavarin of the Pima County Interfaith Civic Education Organization, which conducts know-your-rights sessions.
Patricia Arteaga of the Casa San Juan Food Basket Program through St. John the Evangelist Catholic Church, said people stopped picking up food boxes after the election, afraid they would be detained and deported. In December, the program gave out only one or two boxes, down from about 30, she said. It's picking up slowly but is not quite back to normal.
It isn't only unauthorized immigrants who were worried, said Marco Liu, outreach director at the Community Food Bank of Southern Arizona, which helps enroll people in federal benefits like food stamps.
Permanent legal residents, those who entered the country legally and aren't yet citizens, backed away from benefits for which they are eligible, he said. And some unauthorized-immigrant parents disenrolled their U.S.-citizen children from food-stamp benefits for fear of drawing attention to their families.
Federal benefits including cash assistance and Medicaid — known here as the Arizona Health Care Cost Containment System, or AHCCCS — serve only U.S. citizens or certain qualified noncitizens. The latter category includes refugees and permanent legal residents who entered the country legally and have been here for at least five years.
In the months after Trump's election, more people in Arizona pulled out of the food-stamp program. The number of households with at least one family member who is a noncitizen not eligible for those benefits, who pulled out, jumped from 18 to 44 between November 2016 and February, before dropping back to 11 in June, Arizona Department of Economic Security data show.
Eligibility for the Women, Infants and Children nutrition and breast-feeding program is based only on income and family size — not immigration status. Across the state and country, enrollment in WIC has gone down since last year, but local numbers have remained stable.
Francisco Garcia, chief medical officer at the Pima County Health Department, said the department deliberately does not ask its WIC clients about their citizenship status.
"I don't know that that much has changed," Garcia said. "This is an escalation of what was already a relatively hostile environment for a lot of immigrant communities. What we're counting on is that the population we work with trusts us and that we will continue to serve them."
The surge in withdrawals this winter coincided with the leak of a draft executive order in January that provoked panic within the immigrant community, advocates say. The order would expand which public benefits could be considered when determining whether an immigrant could be described as a "public charge" reliant on government benefits, which the government can take into consideration when deciding whether to allow entry to the U.S. or grant permanent residence.
Currently, only cash assistance benefits like Temporary Assistance for Needy Families can be considered, but the leaked memo sought to expand that to other federal programs, like food stamps and free student lunches, said Liu of the Community Food Bank.
Some Tucson medical providers contacted by the Star asked not to be quoted on the heightened fear experienced by unauthorized immigrants they serve. One health care clinic official expressed concern the clinic could become a target for anti-immigration protesters.
Domestic-violence victims who are not citizens are also concerned about what seeking help could mean for their immigration status. A February federal immigration arrest of a woman who had just filed a protective order against her abusive partner in an El Paso courthouse seemed to confirm those fears.
But local domestic-violence advocates say the fears predate Trump.
Children feel fear most strongly
Francisca Acosta has always been a worrier.
But now it's worse, she said. "The subject of Trump is discussed around every kitchen table. What is he going to sign now? What is he going to do?"
After watching the election results, she said, her 12- and 7-year-olds, both American citizens by birth, started to cry.
"They are going to send us to Mexico," Alexandra, her youngest, told her.
"Don't drive or go to the stores," Emiliano, 12, tells his mom. "Make sure you drive the speed limit." When they get in the car, he never fails to remind her: "Put your seat belt on." Even though she never forgets.
"Somebody would say, 'Did you see Trump did this or that?'" Emiliano said, "and I would feel anxious and think, what if my parents get deported or my big brother?"
"Or your sister," Alexandra added.
"You can't be deported," he corrected her. "You were born here." 
Normally he kept that anxiety to himself. But the day after the elections, his teacher called Acosta saying Emiliano wasn't doing well in school.
"I felt very scared," he said. "People would be like, 'Did you see Trump won? Did you see Trump won?'"
The group most affected by the rhetoric and national immigration policies is children, who don't fully understand the nuances of limited resources and priorities. All they know is that their families could be torn apart.  
"On the lunch line children would say that their parents were worried something was going to happen to them, worried about whether or not they were going to be able to stay in the country or not," said Tamara McAllister, principal at Walter Douglas Elementary School. She and her teachers reassured them they were safe in school.
"As the months went by, I heard it less and less," she said. After SB 1070 the school lost about 80 students. Enrollment is up this year.
For Emiliano, who doesn't attend Walter Douglas, Trump's rhetoric hit home.
When he won, he said, "I cried a little because I think all people should be equal. We are each unique in different types of ways, but should all be treated equally."
"And about the wall, why is he wasting so much money on that type of thing instead of schools, hospitals, houses for homeless people who can't afford houses, giving jobs to homeless?"
Lucero, the ICE field office director, said agents can still use discretion. But he acknowledges that is less common now.
"People come to the United States to have a better life, I fully understand that as a second-generation American. My grandparents were from Mexico." But they came legally, he said.
He wants the public to know his agency exists to protect the public.
"ICE officers are also human beings, just like the people that we're arresting," he said. "We're also citizens of the community who go to churches, our kids go to schools, we live in the same areas. We're also empathetic to people that are coming across into the United States and sympathetic to the reasons why. But we also have a job to do and we took an oath to do that."
Not enough time has lapsed to see the full impact of Trump's immigration policy shifts, said migration researcher Capps.
So far, deportations have been slowed, partly because many of those being arrested have not been convicted of crimes and generally can't be deported right away. In Arizona, 31 percent of those arrested in the first four months of Trump's presidency were noncriminals and therefore may be allowed to post bond and leave detention while their cases progress. That process normally takes longer than deporting someone with a criminal history who is detained. 
It's unlikely that deportations here would go back to levels seen when Obama was president, when more than 40,000 people were deported through the Phoenix ICE office in one year, Capps said. That's not only because arrests at the border have plummeted, but also because local policing practices have changed.
"SB 1070 is still the law of the land, but the climate has changed so much in Maricopa County, which accounted for so much" of local immigration enforcement in Arizona, he said. It's unlikely things will go back to how they were under former Maricopa County Sheriff Joe Arpaio, he said. Arpaio lost his bid for re-election last year after his department was found guilty in 2013 of racial profiling. Arpaio himself was held in criminal contempt of court for refusing to stop his so-called immigration patrols for 17 months after a court ordered him to do so in 2011.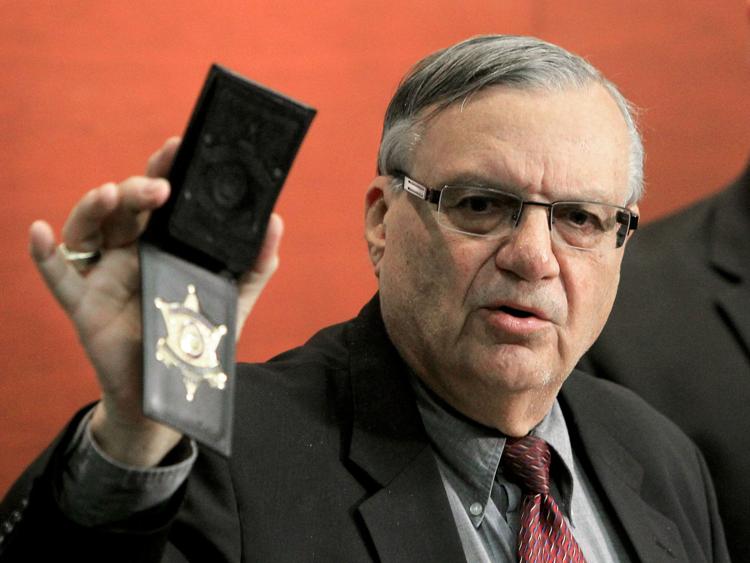 Trump pardoned him on Aug. 25, three days after hinting he would do so during a speech in Phoenix. In the same speech, he threatened to shut down the federal government if Congress refuses to fund the border wall.
Seven months into Trump's presidency, Emiliano said he feels more at ease these days because "deportations are getting lower and stuff."
His mother also has lost some of her initial fear after seeing that not much has changed for her.
Her heart races when she has to drive on the freeway and she entrusts her fate to the saints — but that predates Trump.
She tries to stay informed and involved. After SB 1070 she got Mexican passports for her two youngest, just in case.
But she can't bring herself to designate a guardian. She can't even think about what would happen if they were to get separated.
"It's just too hard."
Security
The border machine: Just a few tweaks so far
By Curt Prendergast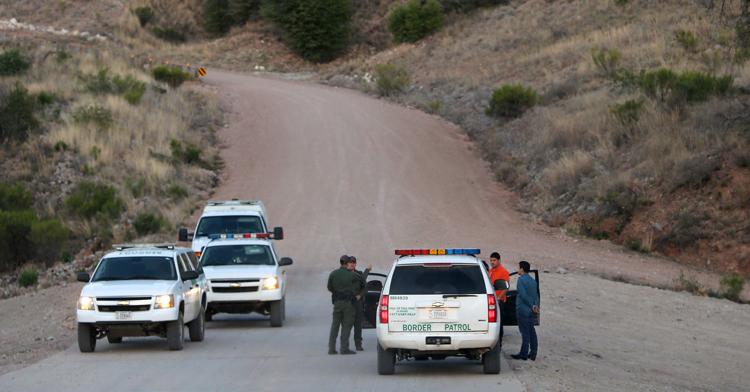 Attorney General Jeff Sessions promised a sweeping crackdown on illegal immigration when he heralded the beginning of the "Trump era" on the border. 
"The lawlessness, the abdication of the duty to enforce our immigration laws and the catch-and-release practices of old are over," Sessions told reporters at a Nogales port of entry in April. 
Four months after Sessions' speech and seven months after President Trump issued wide-ranging executive orders on border security, federal agencies in Southern Arizona are changing their policies to meet those directives. So far, most Trump-era policies in Arizona are tweaks to the border enforcement machine built by the Bush and Obama administrations, rather than a radical new direction. 
No new laws were passed that would affect the enforcement efforts of Tucson Sector Border Patrol agents. Congress has not approved funding for the 10,000 additional Immigration and Enforcement officers and 5,000 Border Patrol agents Trump wants to hire. 
And the president's signature plan for a "big, beautiful wall" seems to be scaling back from a continuous barrier to additions and improvements along half of the 2,000-mile border. Contractors are submitting prototype bids now and the U.S. House of Representatives approved spending $1.6 billion for a wall in California and for levees and a wall in Texas.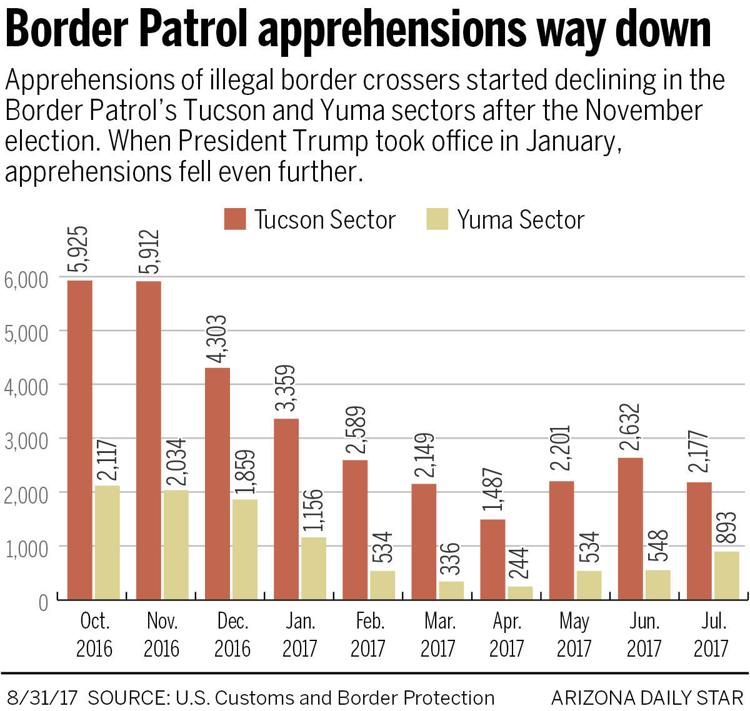 Arizona has 300 miles of border fence as well as sensors, cameras and nearly 4,000 Border Patrol agents.
Two things have changed in the Trump era: Illegal border crossings are way down, although they had been falling for years, and the esprit de corps at federal immigration agencies is way up. 
The unions for the Border Patrol and ICE issued a joint statement in January calling Trump's executive orders on border security "swift and decisive action" and saying "morale amongst our agents and officers has increased exponentially."
In the months leading up to Trump's inauguration, apprehensions of illegal border crossers — a proxy used to estimate total illegal crossings — jumped by a third briefly. But as soon as he took office, apprehensions plummeted to levels not seen since the 1990s.
The recent dip in apprehensions came after a decline in the Tucson Sector from nearly 500,000 in fiscal year 2004 to 65,000 in fiscal year 2016, according to Border Patrol statistics. With two months left in fiscal 2017, Tucson Sector agents have apprehended illegal crossers 32,700 times.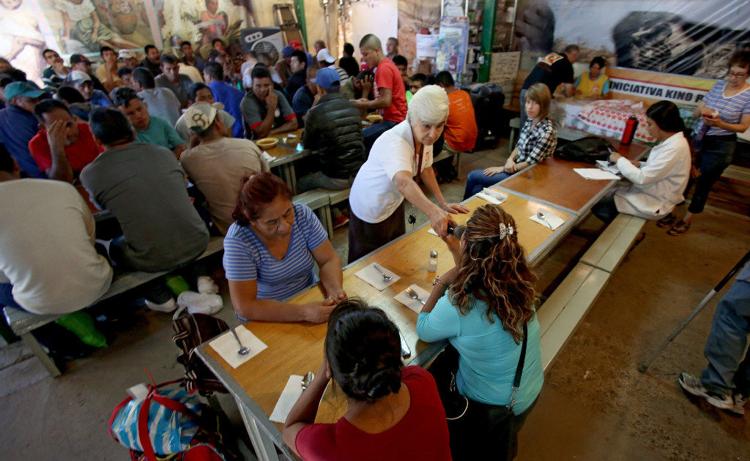 First-timers charged
Despite the dramatic decline in apprehensions, the average daily population at federal immigration detention centers in Arizona hasn't changed much since last year.
Crossers arrested by the Border Patrol used to account for about 80 percent of the people in ICE custody in Southern Arizona, according to ICE data reported by the Arizona Daily Star in 2014. With the decline in illegal border crossings, ICE officers have more time to arrest people at county jails or after immigration court proceedings and more space to house those people in detention centers.
Now, "it's about a split" between those arrested near the border and those arrested in the interior of the state, said Henry Lucero, field office director for ICE's Office of Enforcement and Removal Operations in Phoenix. 
"Now, we're taking enforcement action on just about everyone that we come across, although we're still targeting the criminal element," Lucero said.
The Border Patrol has shifted, too. Agents used to quickly deport first-time crossers or give them a notice to appear in immigration court, a practice known as "catch and release." 
The Obama administration stopped filing criminal charges against that group in the Tucson Sector several years ago. But after Trump took office, Sessions issued a directive cracking down on first-time crossers, which — combined with a depleted docket due to fewer arrests this spring — led prosecutors to start filing charges again on May 22.
Forty-three first-timers ended up among 72 detainees brought before a federal magistrate judge in Tucson on Aug. 16. They were sentenced to time served and deported with a black mark on their record that will lead to prison sentences if they are caught again.
In the last three months, about half of the 3,400 people in Tucson who went through the fast-track prosecution program, known as Operation Streamline, were first-time crossers, court calendars show.
The new crackdown on first-time crossers contributed to a 35 percent jump in immigration prosecutions at federal courts in Arizona from May to June, according to U.S. Department of Justice data gathered by the Transactional Records Access Clearinghouse at Syracuse University. 
However, the 1,700 immigration prosecutions in June still lagged prosecutions from June 2016 by 4 percent. Since 2012, those prosecutions in Arizona have fallen 54 percent, clearinghouse data show.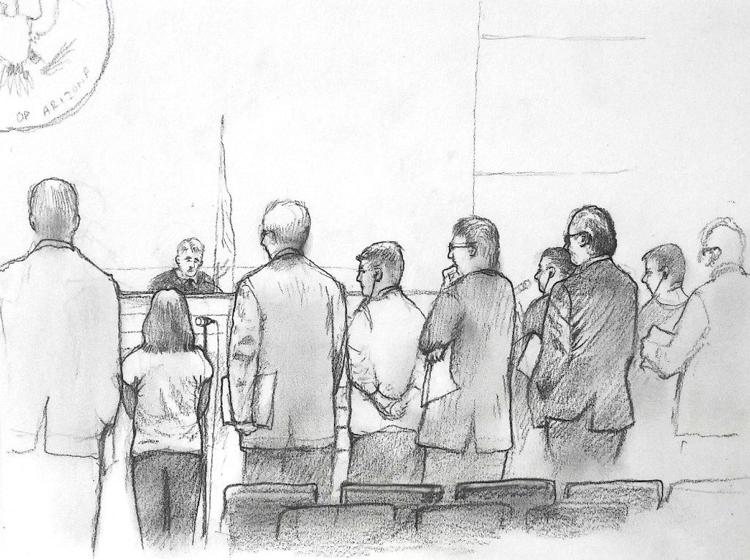 Speeding up the docket
Across Congress Street from Tucson's federal courthouse, a dozen immigrants took their turns before an immigration judge on Aug. 22.
Speaking in Spanish to Judge Sean H. Keenan, without representation by a lawyer, a Mexican woman said she crossed the border legally in Nogales 18 months ago and overstayed her visa.
ICE wanted to deport her, but she said someone in Mexico threatened to kidnap her 10-year-old daughter, who was born in the United States. Because her child is a U.S. citizen, Keenan told her she could be eligible for a green card and set her next hearing for April 2018. 
A man asked the judge in English for time to find a lawyer, but because his first court appearance was in 2013, Keenan denied his request. The man filed an asylum petition and left the courtroom with a woman and a child. His next hearing will be in May 2018.
Civil immigration cases often last several years. Nationwide, pending cases have been active for an average of 672 days. The immigration court system faces a backlog of 600,000 cases, which is a major obstacle to the Trump administration's goal of increasing deportations. 
As of June, the 679 pending cases in Tucson's federal immigration court, which handles cases of people not being detained by law enforcement, had been on the docket for an average of 573 days, according to Syracuse's records clearinghouse.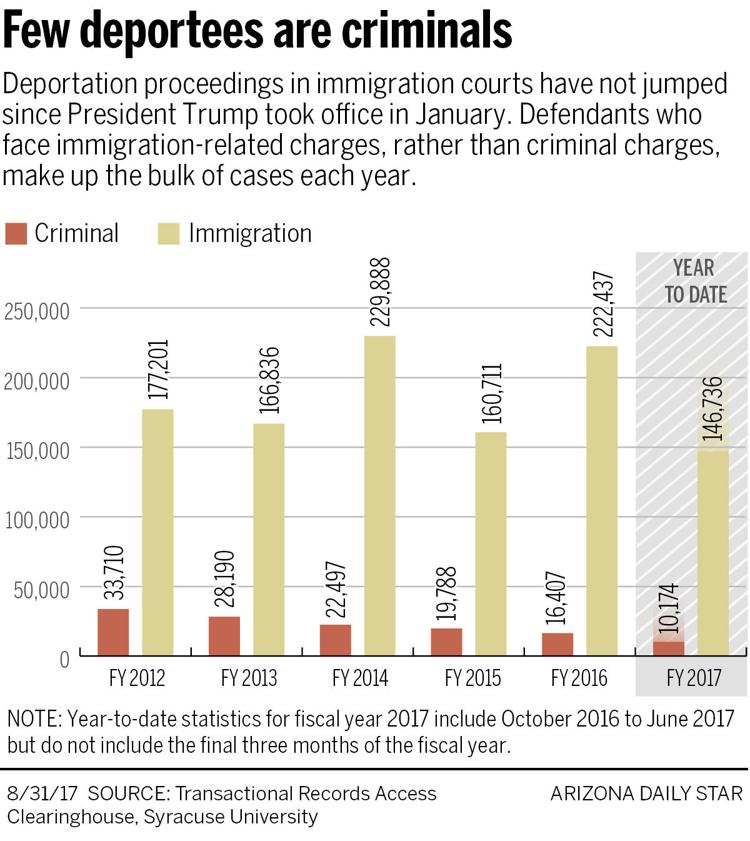 The Obama administration tried to eliminate the backlog by setting priorities for prosecutors, who would agree to close cases for defendants who posed no public safety risk.
The Trump administration's solution is to eliminate the Obama-era priorities, to hire more immigration judges, and to direct them to resolve cases as quickly as possible.
Dozens of new judges have been hired across the country, including one in Eloy and another in Florence. And on July 31, the chief judge of the Executive Office of Immigration Review directed judges to speed up proceedings by no longer granting requests for delays that let cases drag on for years. 
Immigration judges in Tucson are doing just that, three local immigration lawyers said. To one of them, Doralina Luna, "It borders on the ridiculous."
ICE lawyers regularly oppose her requests, even when she has a scheduling conflict with a different court, Luna said. They show up to court ready to go, ICE's Lucero countered, but immigration lawyers sometimes try to stall court proceedings, especially for clients who are not in custody. 
Given the drawn-out nature of immigration court proceedings, a continuance could mean "another year that you're safe from being removed," Lucero said.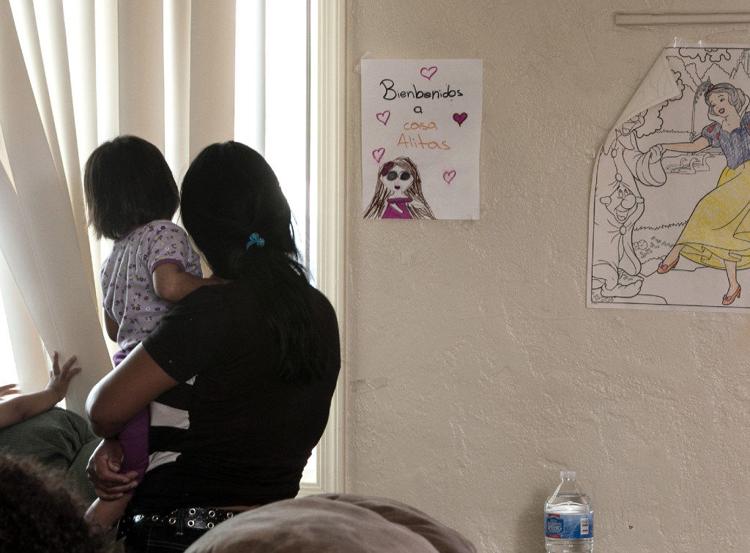 Catch and release
Trump administration officials have vowed to end catch and release, most notably in Sessions' speech in Nogales, Ariz., and in a Feb. 20 memo from then-Department of Homeland Security Secretary John Kelly.
But in a July 10 episode of "The Green Line," a podcast by members of the National Border Patrol Council, agents said catch and release is "ramping back up again" because the Trump administration is being "sabotaged" by Obama administration holdovers in the DHS.
A Green Line host did not respond to requests for comment from the Arizona Daily Star. 
Agents with the Tucson Sector "apply the best course of action to hold everyone accountable for their violations," the sector's public affairs office said in response to an Arizona Daily Star inquiry about the Green Line discussion. 
"Not all cases merit prosecution or detention, but the well-being of detainees and the American public are considered in immigration proceedings by our officials," the statement read. 
An ICE official in Texas told Reuters in June that the agency had received no new direction about catch and release and still was releasing people considered low security risks. 
Sen. Jeff Flake, R-Ariz., sent a letter to Kelly on July 26 asking about a "disconnect between DHS leadership and the Border Patrol agents out on the line" with regard to catch and release. He asked when catch and release will end. 
Instead of giving illegal immigrants notices to appear in court, agents can deport them quickly through a process known as expedited removal. Kelly directed agents on the border to use expedited removal unless the person they arrested is an unaccompanied child, plans to apply for asylum or claims to have legal status. He also expanded the use of expedited removal from the border area to the entire country. 
The practice remains relatively unchanged since 2012 in the Tucson Sector, where about half of apprehensions result in expedited removals, CBP data show.
As of June, agents had used expedited removals 13,500 times this year out of about 30,500 apprehensions.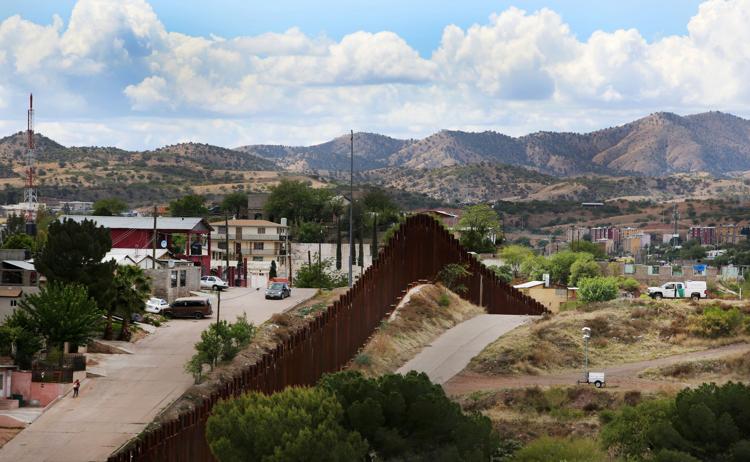 The border ahead
Some items in memos from Trump administration officials have not yet been enacted, such as Kelly's directive to expand detention space near the border to the "greatest extent possible," which would expand a roughly $200 million-per-year industry in Southern Arizona, as the Star reported May 21. 
Sessions issued a directive to prosecute more cases of transporting illegal border crossers, but that likely will affect U.S. citizens more than foreign nationals. CBP data show that 74 percent of human smugglers arrested along the border in fiscal year 2015 were U.S. citizens or legal permanent residents, as the Star reported last October. 
Other directives raise significant questions: How will Kelly's order to deport Central Americans to Mexico, rather than to their native countries, affect Mexican border towns? What will happen to children smuggled into the United States as federal agencies charge their parents with paying those smugglers? 
Those questions, and more, remain unanswered. But so far the border security machine built by Trump's predecessors has both enabled, through the buildup of agents and technology, and stymied, through the logjam in immigration courts, his promised crackdown on illegal immigration. 
Police
Police cooperation with immigration authorities goes only so far
By Yoohyun Jung
President Trump wants state and local agencies to help enforce federal immigration laws — but local immigration and jail data show agencies here aren't jumping to follow his order.
In his January 2017 executive order, Trump vowed to withhold federal public safety grants from communities that refuse to cooperate with immigration authorities. 
"We're walking down a very dangerous road when you start tying federal grants to decisions and priorities that local and state governments make on how they do their jobs," said Tucson Police Chief Chris Magnus.
Though it no longer does so, the administration previously published weekly reports on jurisdictions that did not honor federal authorities' request to hold jail and prison inmates with immigration detainers. The detainers notify local authorities to hold people who could be deported so immigration authorities can pick them up.
One reason the administration is paying so much attention to local cooperation is that it helps boost immigration arrests, said Randy Capps, a research director at the Migration Policy Institute, a nonpartisan think tank based in Washington, D.C.
About 70 percent of Immigration and Customs Enforcement arrests originate in state prisons or local jails, the institute's analysis shows.
All 15 Arizona sheriffs notify ICE when an inmate has a detainer, said Henry Lucero, director of the ICE field office in Phoenix. "We think it's in the best interest of the public."
Neither Maricopa County nor Pima County — the two largest in Arizona — detain people for the 48 hours ICE requests. Both agencies have said they will hold people only for as long as is required based on the local charges they face.
In Tucson, police are questioning fewer people about their immigration status as a result of changes in legal guidelines for enforcing Arizona's Senate Bill 1070, which started as one of the nation's strictest immigration laws until court challenges softened many of its toughest provisions. 
Legal opinion leads to big change
In 2015, an average of roughly 1,500 people a month were questioned about their immigration status and referred to the Border Patrol by Tucson police. So far this year, that average plummeted to fewer than 10 per month.
Tucson police conducted 69 immigration status checks between Jan. 1 and July 31, 2017, compared with more than 11,000 during the same period in 2015.
The steep decline followed a September 2016 opinion from the Arizona Attorney General's Office, Tucson police officials say. That nonbinding opinion, which agencies across the state now use as guidance, said state driver's licenses and tribal enrollment cards were presumptive proof of legal status. Previously under SB 1070, those forms of IDs did not meet the law's requirements. 
"It almost directly corresponds with the number drop," said Lisa Judge, a legal adviser to Tucson police. "The timing was absolutely right when we implemented that policy change."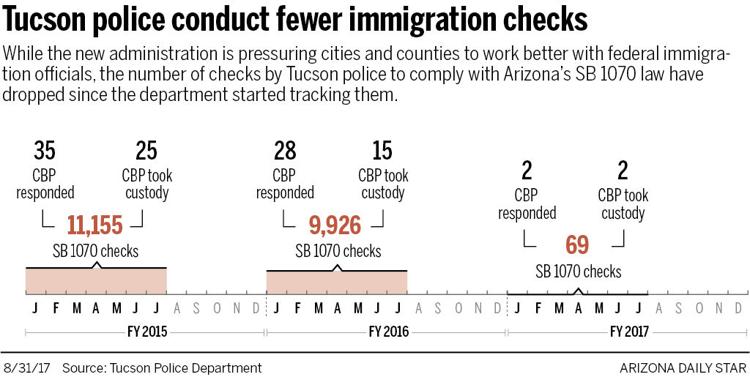 The opinion also says officers cannot prolong a stop for the sole purpose of an immigration inquiry.
Even when police contact the Border Patrol, that doesn't necessarily mean agents will respond — the federal agency actually rarely does. Of the 69 immigration status checks this year, federal authorities responded and took someone into custody twice.
In 2015, when there were many more checks, the Border Patrol responded in 35 instances, or 0.3 percent of the time.
Unlike TPD, the Pima County Sheriff's Department doesn't have a way to track all cases in which an officer referred someone to the Border Patrol. Officers can use a specific code when they suspect someone is in the country illegally, but they don't always use it. Based on when officers did use the code, in the first eight months of 2016, there were 160 such instances, compared with 122 between January and July this year. 
Tucson police officers still routinely run criminal history checks on people they stop who are suspected of being in the country illegally, then transmit information to federal authorities through a shared data portal. 
Having fewer checks has helped Tucson police be more efficient, Chief Magnus said. 
"We struggle as it is just to keep up with our calls for service and to focus on a wide range of public safety needs in the community," he said. "So if we're going to be doing that kind of enforcement, we really want it to be around folks who actually pose a public safety threat."
Federal officers in local jails
Maricopa and Pima county sheriff's departments both give ICE windows of time to pick up inmates that are consistent with their typical processing times — two hours in Pima County and five to eight hours in Maricopa. 
"ICE detainers do not constitute a legal basis for extending detention," said Pima County Sheriff Mark Napier. 
Both sheriff's departments allow federal officers access to the jails. Lucero, ICE's field office director in Phoenix, said all inmates are screened for immigration status when they're booked. ICE agents work out of the Maricopa jail 24/7 and the Pima jail 16 hours a day.
Since the beginning of this year, the Pima County Jail has held an average of about 44 people a month who have immigration detainers. That's up slightly from an average of 36 in 2015 and 30 in 2016.
About 55 percent of the people held at the Pima County Jail with immigration detainers this year were handed off to ICE, compared with about 64 percent in 2015 and 68 percent in 2016. 
Maricopa County has held far fewer people with ICE detainers this year than it did the previous two years, though it handed over nearly 93 percent of those people to ICE. In 2015, an average of about 295 people with immigration detainers were held in the Maricopa County Jail monthly, compared with about 56 this year. 
On top of notifying ICE hours before an inmate's release, the Maricopa County Sheriff's Office notifies federal officers again 15 to 30 minutes prior.
"MCSO does not hold that inmate to wait for ICE," said Mark Casey, a department spokesman. "ICE is responsible for bringing its personnel into the MCSO detention facility on time to take custody of those it wants."
Star opinion
Trump takes credit — and blame — for enforcement apparatus already in place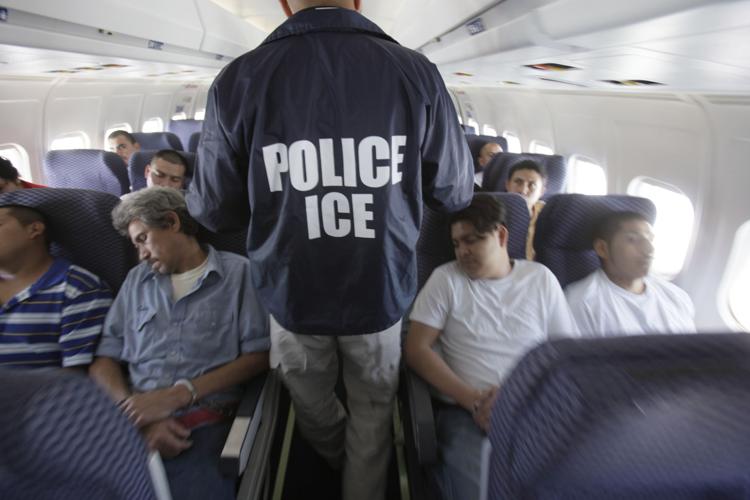 After the presidential election, it seemed every arrest of an immigrant who was in the country illegally set off waves of shock in the national media.
The hard-working mother of U.S. citizen children; the man who sought sanctuary inside a church; the "dreamer" who was at the wrong place at the wrong time — it was all Trump and his promise to be tough on illegal immigrants.
For many, this is what they had been waiting for, what voters throughout the country thought needed to be done. For Trump supporters, his inauguration on Jan. 20 was a new day for immigration enforcement.
Arizona just called it a Friday.
While Trump's rhetoric and shift in policies are more strident compared to the latter years of the Obama administration, the effects are nothing new, especially not in border communities and especially not in a place where being tough on immigration has been part of local and state politics.
An investigation by a team of Star journalists found that, at least in Southern Arizona, the federal immigration enforcement apparatus that has been running for years — and was boosted statewide by Arizona Senate Bill 1070, the so-called "show me your papers" legislation of 2010 — had already done most of what the president is taking credit, and blame, for.
Consider the facts on the ground:
Arrests at the border have declined precipitously since Trump took office, which means fewer people are trying to cross, but that number was already going down. In the Tucson Sector, 65,000 people were detained last year; compare that to more than 500,000 in 2000.
First-time border crossers are being criminally charged, but with fewer people crossing, immigration prosecutions are now fewer than they were during the Obama administration. Nationally, arrests are up, with Immigration and Customs Enforcement averaging more than 13,000 arrests per month, but deportations are down. It is harder to deport people who have been living here for years and can appeal to an immigration system that faces a backlog of more than 600,000 cases.
These numbers provide fodder for critics and supporters alike, who can pick and choose what they focus on and either call it the return of the rule of law or a crisis for immigrants. But seven months into the Trump administration, the numbers don't show a big shift in enforcement — at least not yet.
Along with pushing for the improbable and unneeded border wall, President Trump has called for increased detention space, additional immigration judges and 15,000 more agents — 5,000 for the Border Patrol and 10,000 for ICE. Every item on his wish list faces almost insurmountable financial and logistical obstacles, and many practical changes would be needed for the president's tough talk to become real.
What is real right now is the increased fear. Star reporters talked with people who say they are more careful now when they drive, when they go out. Some are reconsidering whether to check in with immigration services because they've heard stories of people who have done that and found themselves deported to Nogales, Sonora, within hours.
At the same time, the immigrant community has learned from SB 1070 and many are turning that fear into action to protect their families. They are organizing, learning about their rights and preparing. Some parents are drafting their older U.S.-born children to take care of their younger siblings if the worst happens.
Regardless of who is taking credit for what, the spotlight that follows the president is shining on an immigration system that our reporting has long shown is broken, keeps people in fear, tempers economic growth and hurts public safety — and that affects us all.
If Congress fails, yet again, to act on real and functional immigration reform, the question to ask is what happens after Trump is gone? What happens after that spotlight moves on and it's back to a president like Obama, quietly deporting 5 million people — including the mom, the sanctuary seeker, the dreamer?
The president may be to blame for giving a megaphone to anti-immigrant sentiment, but that attitude has been there for a long time, along with the policies.
Just look at Arizona.
Columnist Tim Steller
Trump proves his border wall isn't necessary
Tim Steller Arizona Daily Star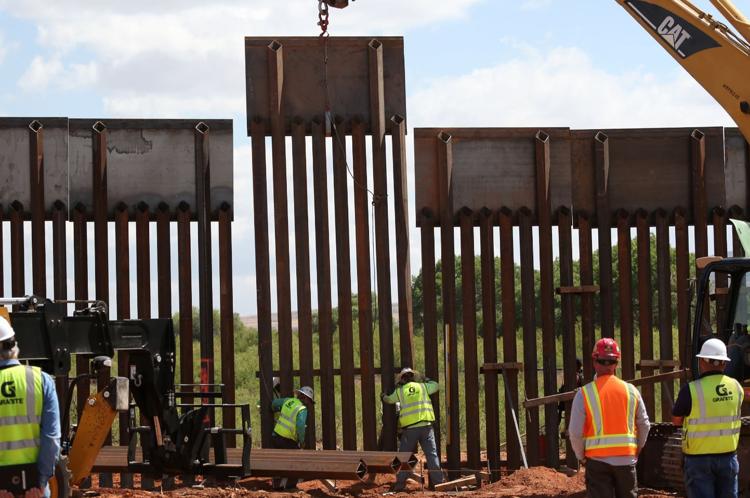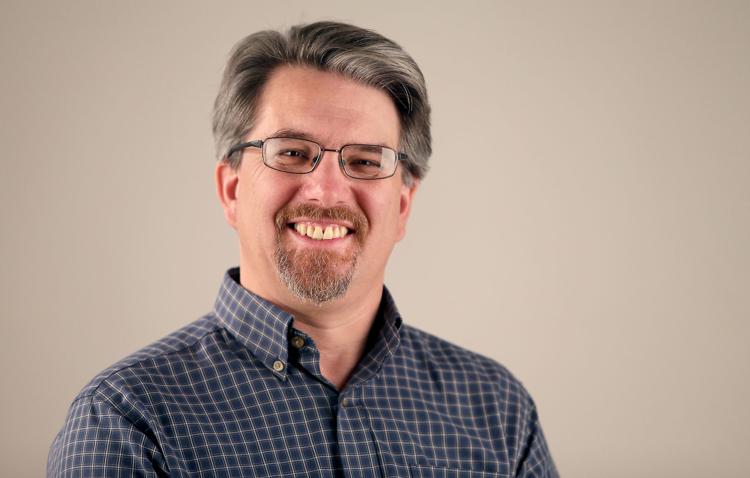 Yeah, right.
That was the response of skeptical border watchers like me this year, as U.S. Customs and Border Protection reported drastic decreases in the number of people crossing the Mexican line illegally. 
Yeah, sure: The agents whose union enthusiastically endorsed Donald Trump for president suddenly started reporting thousands fewer people crossing the border after he took office. Of course.
So I checked into it, gathering anecdotes and measures from other sources, suspecting manipulation but keeping an open mind. And actually, I was surprised to find that CBP's story checks out. The flow really is way down.
But what that means is probably not something President Trump wants you to consider, not if he also wants you to embrace the rest of his border agenda. 
One of the places I went to check the numbers was the Kino Border Initiative's migrant-aid center just across the border in Nogales, Sonora. As a young man named Jose was having major blisters on his feet bandaged, he told me hardly anyone is leaving his hometown in Veracruz, Mexico, anymore. Jose, of course, had been caught crossing the border and returned. He told me he turned himself in near Green Valley because he could no longer walk.
Jose has jumped the border before, the first time 11 years ago, he said, and one difference now is that the groups trying to cross are typically just a handful of people with a smuggler. It used to be 20 or more.
The man bandaging Jose's feet, Tucsonan Bob Kee, frequently goes out into the borderlands in search of crossers needing help as part of the Tucson Samaritans group. These days he has a hard time finding them.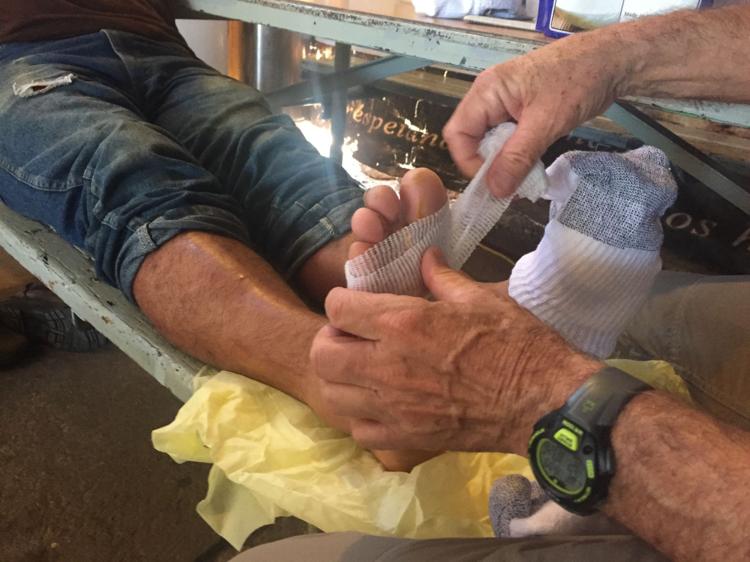 "Definitely the number of people crossing is down," Kee said. "The numbers are much smaller."
That, of course, is what Border Patrol apprehension figures show, and what Trump and some supporters have eagerly pointed out. For the whole U.S.-Mexico border, the number of apprehensions dropped from 229,745 to 122,467, a 47 percent decline, in the first seven months of this year compared to the same months in 2016.
More remarkably, apprehensions were relatively high in the months around the presidential election and in January, but declined sharply after Trump took office. They have increased slightly the last three months. 
Figures from Mexico's immigration agency show a similar pattern. The Grupo Beta offices help deported migrants and also intercept and counsel groups departing for the United States, and they work both on Mexico's southern and northern borders, so they capture a wide swath of the migrant flow. They show a 30 percent drop in contacts with migrants for the first seven months of this year over the same period last year.
So, it's true. To an extent, Trump benefited from a steady decline that began under President George W. Bush and continued under President Obama. The only major policy changes by the new administration were efforts to charge first-time crossers with crimes, and allowing Immigration and Customs Enforcement to pursue anybody in the country illegally, not just those convicted of crimes. 
Some of the credit for the slow flow must also go to the perception created by Trump of a crackdown on illegal entries — although, as Rep. Martha McSally pointed out when I asked about this, the flow of intercepted drugs has remained steadier. 
Trump bragged in Phoenix Aug. 22 that his administration had drastically reduced illegal border crossings by "78 and almost 80 percent" — an exaggeration, of course. 
His more important comment came a moment later, when Trump went on to say "we are building a wall on the southern border which is absolutely necessary."
This is, of course, a contradiction. And it's not the only contradiction Trump's comments are creating. The administration has also pledged to hire an additional 5,000 Border Patrol agents, beyond the 21,000 currently authorized.
You can't say that you've managed to decrease the flow drastically with existing resources and also say that an expensive, environmentally destructive wall and 5,000 additional agents are "absolutely necessary." Obviously, they aren't.
Consider this: The approximately 3,800 agents of the Border Patrol's Tucson Sector made a total of 2,177 apprehensions in July. That's a little more than one apprehension for every two agents during the whole month. Ten years ago, in July 2007, there were about 2,600 agents in the sector, and they made 30,373 apprehensions.
It's not that the agency shouldn't grow from its current level. The Border Patrol is funded to have 21,000 agents but has less than 20,000 on duty because of trouble hiring and keeping agents. So there's clearly an argument for, at the least, building back up to that 21,000-agent level, if only to sustain the gains in security made so far.
But 5,000 additional agents beyond that — a 24 percent increase? No way. First, it will be hard to find enough qualified applicants who are willing to live in some of the remote places where Border Patrol agents are assigned. Second: It's hard to imagine keeping people in a job so slow that they have a 50 percent chance of apprehending one person in a whole month.
Now, allegedly, the agents want Trump's wall. He told us so himself in Phoenix, after a short trip to visit border fencing near Yuma. 
Trump said: "Again, (with) the Border Patrol today, I said, how important is the wall to some of the folks? I met with a lot of them. And they looked at me, they said, 'It's vital. It's vital.' " 
But that's not really what the administrators or agents have said publicly. Rather, they've finessed the issue, saying more barriers are necessary in some areas, while also supporting the idea of adding alternative technology and more agents. 
No one other than Trump and his most avid supporters think a border-long wall is a worthwhile idea anymore, let alone vital. It's not only too costly, at an estimated $20 billion-plus, and environmentally damaging. It's also clearly not necessary.
If we can reduce the flow of people to a trickle with a change in rhetoric and a tweak of policies, then we know that for sure. 
Reporter's notebook
Readers deserve thoughtful, sustained immigration coverage
By Perla Trevizo
I've been thinking a lot about immigration reporting and how we as journalists do our jobs.
Thanks to the Robert Bosch Foundation and the Star, I spent the last year in Germany, where I learned and reported on the refugee situation in Europe, and where I was fortunate to have time to take a step back and reflect.
When most news consumers think of immigration or refugees, they think of specific geographies — the U.S.-Mexico border, or Western Europe receiving people from Africa or the Middle East. But the movement of people is global, and the issues across geographical regions are more similar than different.
Opinion pieces about security and immigration published in a newspaper in Nairobi could be reproduced almost word for word in Washington; Sicilian advocates' concerns over Frontex are almost identical to what Texas activists say about the Border Patrol; and when businessmen in Greece talk about Islamization and Sharia law, they echo concerns of some Southern Arizona ranchers.
Migration has once again jumped to the top of the news agenda on both sides of the Atlantic — fueled by the Trump administration in the United States and by the arrival of more than a million people seeking refuge in Europe. But is the media giving this issue the right coverage?
I have focused on the topic of diversity and migration for the last 10 years. Every election cycle, as politicians trot out immigration to motivate voters, we hear about the importance of reporting on this issue. That enthusiasm is almost always short-lived, though, and we find ourselves back where we began. Ideally, immigration should be treated to constant coverage that captures the nuance in the issues, much like education or health care.
Instead, much of the media seems to cover it like a natural disaster.
One could argue that coverage in the last decade or so has been hampered across the board, as newsrooms in North America and Europe face shrinking resources along with expectations to be faster and do more with less. But the use of stereotypes, and the focus on crime and terrorism in immigration coverage by some media outlets, is hardly novel.
While German media is largely credited with the overwhelmingly positive reaction to the refugees' arrivals in the beginning of the so-called refugee crisis, earlier (and subsequent) coverage has been problematic. In the United States, coverage on immigration, according to researchers, has contributed to polarization on the issue. 
If anything is different in this new wave of coverage, it is the climate in which news is being received. Now, on top of immigration being a hot-button and highly politicized issue, we are living in an era when everything some people don't like gets called "fake news" and where the term "lügenpresse," the lying press, has come back into use.
Immigration touches on issues of identity, human rights, justice and fairness — all against a backdrop of real and perceived economic impact. And based on the current picture researchers paint of how we in the media are doing, there's plenty of room for improvement.
The stories we cover or don't cover, the language we use, the voices we choose to represent, play a major role in shaping the public policy debate on immigration.
Shortly after President Trump came into office, I started to read stories about parents of U.S. citizens being deported; about "dreamers," young people brought to the U.S. illegally by their parents, arrested and sent back to a country they hardly knew; of domestic violence victims being afraid to come forward; and of immigration agents arresting people they encountered when looking for others.
While the new administration had shifted policy, I wondered how much of what I was reading was actual change and how much was a result of more people, more media outlets paying attention.
The Arizona Daily Star is investigating what is happening in our state and in our communities when it comes to immigration enforcement. The result is a multi-story package that seeks to answer some of these questions, which we will continue to follow as the administration's first term progresses.
As I return to cover the border and immigration beat for the Arizona Daily Star, I welcome your calls and emails. I am interested in your feedback and your story ideas. I promise to listen and examine the issues that are important to you, our readers.
Contact me at ptrevizo@tucson.com or 573-4102. Follow me on Twitter: @Perla_Trevizo
To read my report on how the U.S. and German media cover immigration, click here.
Team
The project team