Survivors describe 'war zone' at Vegas mass shooting
From Arizona Daily Star and Associated Press reports. 
Tucsonan at Las Vegas concert: "The guy next to me was shot in the head"
It sounded like fireworks at first, but when they realized it was gunfire, Mark and Misty Lacy and fellow Tucsonan Deborah Jane Power found themselves in the middle of the worst mass shooting in modern U.S. history.
More than 500 people were injured and at least 59 were killed in the shooting late Sunday night in the finale of the three-day Route 91 Harvest Festival in Las Vegas.
A sniper perched on the 32nd floor of Mandalay Bay Hotel, across from the makeshift parking lot amphitheater on the bustling Las Vegas Strip, fired into the crowd of 22,000 four songs into headliner Jason Aldean's festival-closing concert.
"Nothing that I've witnessed being in Saudi Arabia, Turkey, Honduras — I've seen nothing like this," said Lacy, a retired military law-enforcement officer who serves as a National Guard reservist in Tucson. "It's something that will not be easy to erase out of my mind."
Lacy and his wife, separated in the chaos from Power, joined other concertgoers to help victims reach safety.
For two hours, he carted victims in makeshift gurneys created from barricades and tables to an area where people in their cars took the wounded to hospitals. An emergency staging site was created once ambulances were given the all-clear to enter the festival grounds.
"The guy next to me was shot in the head. He didn't make it. We tried to get him out," Lacy said Monday morning, still unable to shake the images of the victims. "Another lady was shot; we got her out of the area. Then we started evacuating people. ... There was so many bodies and we started assessing who needed help."
Lacy had assumed that Power, a Tucson doctor, was off helping victims as well.
But Power had been swept up into a crowd of concertgoers ushered to safety away from the festival grounds next to the Mandalay and the shooter.
"They were yelling at us to run. I don't think they were police. But they told us to run to the Tropicana," Power said Monday morning from her hotel room in Henderson, Nevada, recalling how she hid for 30 minutes behind a giant air conditioner in the back of the Tropicana until she saw ambulances arriving and realized the shooting had stopped.
First responders were loading the wounded into the ambulances, but Power said she wasn't sure if the victims were injured at the festival or at the Tropicana.
"The rumors were that there were multiple casinos involved and multiple shooters," she said. There were even rumors of bombs planted in some casinos, she added.
At the Tropicana, she and the other concertgoers were told to run to the nearby Hooters, which emergency workers had assured them was safe.
"When I got around the backside of Hooters there was a woman in a car and she said, 'Do you need a ride somewhere?' I said, 'Yeah. Yeah I do'," Power recalled.
It was nearly 2 a.m. when the Lacys finally got to their Henderson hotel and reunited with Power.
All Lacy, who left the military 11 years ago, wanted to do was close his eyes and have those images of the injured and the chaos disappear.
"When you see parts of individual's heads off and lifeless individuals that look like they're sleeping but there's no pulse and you don't know what's happened," he said, his voice trailing off.
"It's just something you're trained for, but you don't necessarily think at a concert you're going to have to do that."
Las Vegas shooter lived in Tucson as young boy, brother says
The man who shot and killed 58 people at a Las Vegas concert Sunday night spent time in Tucson as a young boy in the 1950s and 1960s, his brother said Monday.
Stephen Craig Paddock, 64, was born in Iowa and moved to Tucson with his family, said brother Patrick B. Paddock II, who lives in Tucson.
Patrick Paddock, who spoke to the Star briefly from outside his apartment, said there were four siblings in his family, including three who were born here.
The family left Tucson in the 1960s, moving to Southern California, he said.
Patrick said as far as he knew his older brother never returned to Tucson.
Patrick Paddock said news of his brother's involvement in the deadliest mass shooting in United States' history left him shocked and wondering why his brother could commit such an act.
He said he hadn't talked to his brother in many years.
Authorities said Stephen Paddock fired from the 32nd floor of a Las Vegas hotel-casino on a crowd of over 22,000 at an outdoor country music festival, turning the expanse into a killing field from which there was little escape. At least 58 people died. At least 515 people were injured.
The motive for the attack remained a mystery, with Sheriff Joseph Lombardo saying: "I can't get into the mind of a psychopath at this point."
Earlier reports said the father of Stephen Paddock was arrested for a string of Phoenix bank robberies when Stephen was 7 years old.
His father was described decades ago by the FBI as a "glib, smooth-talking" con man who enjoyed gambling, umpiring prison sports games and playing bridge.
Stephen Paddock was the oldest of four children when his father was arrested for a string of Phoenix bank robberies.
His then Tucson neighbor Eva Price took the boy swimming while FBI agents searched the family home.
She told the Tucson Citizen at the time: "We're trying to keep Steve from knowing his father is held as a bank robber. I hardly know the family, but Steve is a nice boy. It's a terrible thing."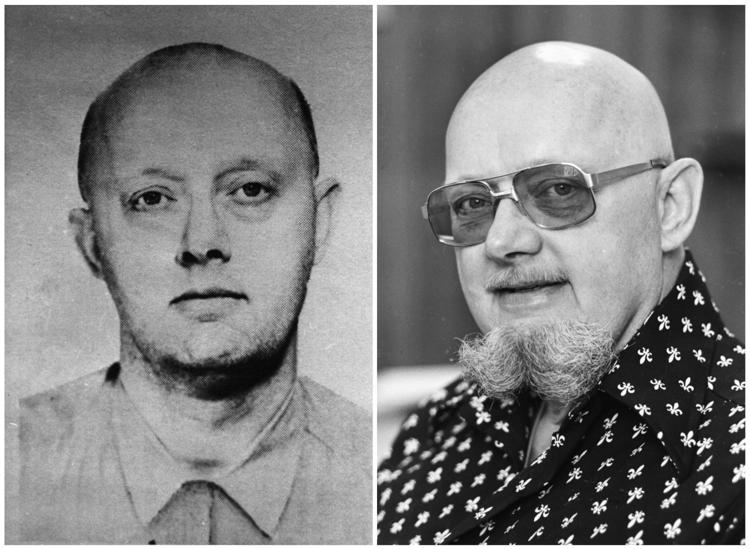 Paddock's father went by the nicknames "Big Daddy," "Chromedome" and "Old Baldy."
Before the robberies, he served prison time in Illinois for stealing a car, engaging in a confidence game and conspiring to pass bad checks. He was in prison for the first three years of his oldest son's life.
New clips said the elder Paddock sold garbage disposals in Tucson and at one point owned a nightclub on North First Avenue.
The Associated Press is reporting that the elder Paddock operated an Oregon bingo parlor after escaping from a Texas prison in the late 1960s.
An Oregon Supreme Court opinion from 1981 says FBI agents arrested Patrick Benjamin Paddock on Sept. 6, 1978, at the Bingo Center in the small city of Springfield.
Despite the escape, Paddock was paroled the following year and returned to Oregon. He continued the bingo operation until authorities shut it down in 1987 and charged him with racketeering.
Don Bishoff, a columnist for The Register-Guard of Eugene, wrote in 1998 that Paddock pleaded no contest to the charges, but he received no jail time. He wrote that Paddock spent the last decade of his life in Texas.
The columnist described Paddock as one of the Eugene-Springfield area's "most colorful rogues." Patrick Benjamin Paddock was also known as Bruce Ericksen.
A gunman on the 32nd floor of a Las Vegas Strip casino opened fire on an outdoor music festival, killing at least 58 people — including two of…
Country stars took to social media to express their sadness after the mass shooting in Las Vegas at the Route 91 Harvest Festival.
Videos from CNN and the Associated Press show scenes from a Las Vegas shooting that killed at least 50 people and sent more than 400 other vic…
Mass shootings continue to plague the nation, including the latest in Las Vegas that killed at least 50 people and injured more than 200 when …
At least 58 people were killed and more than 500 wounded when a gunman opened fire on an outdoor music festival on the Las Vegas Strip in the …