The Good Samaritan: Blame
Crash shatters Tucson mom's world: 'She helped me and she's the one who got ruined'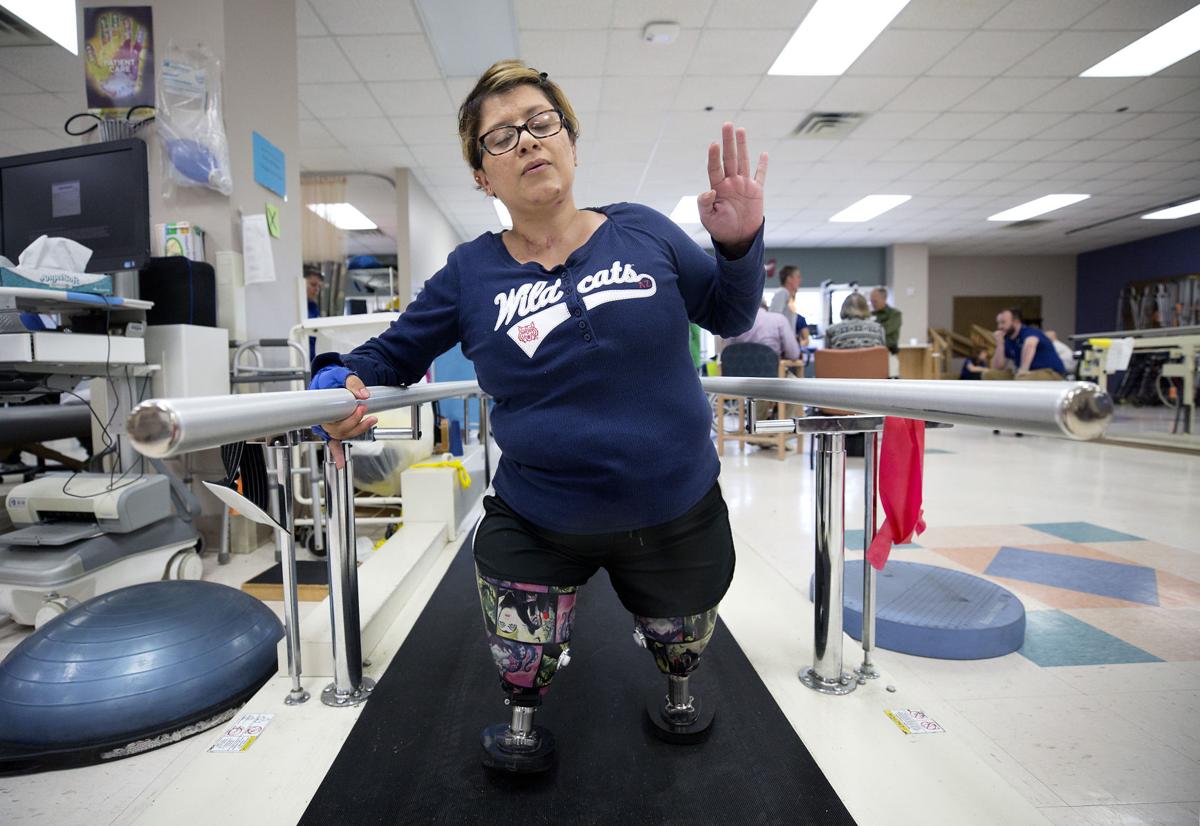 Norma Santos Trujillo woke with a start, elated and relieved.
The crash, she told herself, had just been a bad dream.
Then, looking around her bedroom, she saw the wheelchair.
"I'll never feel sand on my toes," she thought, overcome with a rush of terror and grief.
"I want to run after my boys."
"I want to run with Josslyn on the soccer field."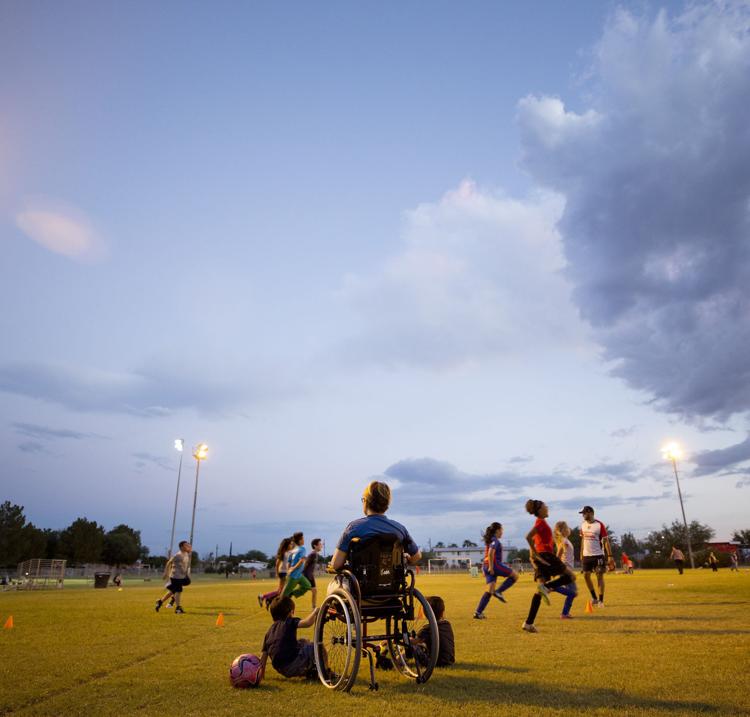 That day, she packed up her pants, shoes and socks in a box and put them in the garage.
She yearned for her old life, but less than three months after the crash, Norma was going full steam ahead creating a new one.
"I try not to overthink it. I'll get really mad, and then I'll tell myself, 'This is what it is,'" she said.
"I need to let myself heal and get used to my body, accept it."
The crash occurred April 19, while Norma was driving home from coaching her 10-year-old daughter Josslyn's soccer team.
She got out of her car to assist a couple — strangers — whose SUV had stalled in front of her at the intersection of South Campbell Avenue and East Irvington Road on Tucson's south side.
While she was helping to push the stalled SUV, she was struck by another vehicle — a Chevy Beretta — and suffered severe injuries, including losing both of her legs above the knees. In addition, her skull had disconnected from her spine, requiring titanium rods to fix.
Norma still couldn't remember details of that night, including why she got out to help when she was already running late.
When she got home July 6 after more than two months in the hospital and then in rehabilitation, her body was still badly broken from the crash.
The burns on her right arm were blistering, the wounds where both her legs had been amputated needed to be cleaned and dressed twice a day, and she'd lost 70 percent of the motion in her neck.
Determined to get better, Norma pushed forward.
The 33-year-old mother of three was keeping so busy following her return home that some family members worried she was holding in her emotions for the sake of others.
Her sister Reyna Santos, 35, reminded Norma that it's OK to cry and told her not to push people away.
Norma wasn't getting any mental health therapy. She said she didn't need it.
Privately, she was harboring anger at Sergio Castro, the 25-year-old University of Arizona student who was driving the Chevy Beretta that struck her.
Sergio was not arrested for his role in the crash.
He received a civil traffic ticket for failing to slow down to avoid a collision. The violation was dismissed when he completed online driving school.
The way Norma saw it, Sergio could go back to his old life. Yet Norma's life was forever changed.
Adapting
Three days after Norma arrived home from rehabilitation, her husband, Michael Trujillo, woke up expecting, as usual, to help her use her slide board to transfer from the bed and into her wheelchair. But she was already up, out of bed and wheeling herself through the house.
"I don't want to be a burden on anyone," Norma said. "I'm used to taking care of myself."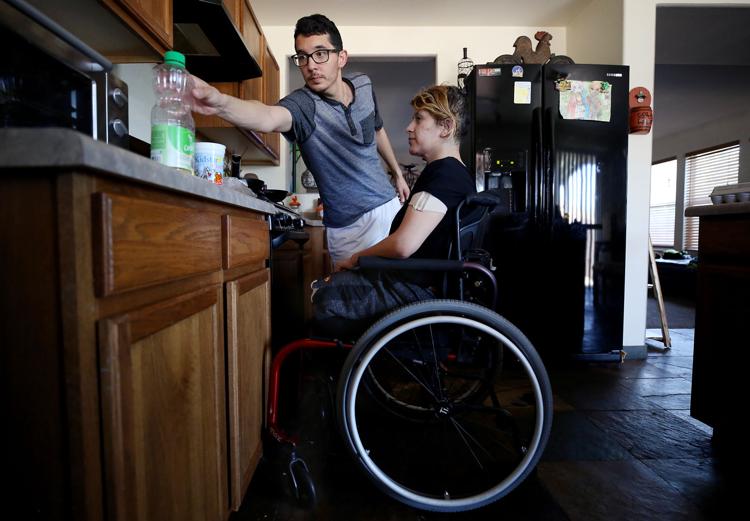 She was using the bathroom on her own, doing daily arm exercises, and practicing sitting up and down to work on her core strength.
When she read her medical records from her nearly seven-week hospitalization, she felt a sense of pride.
"I wasn't grossed out," she said. "I thought, 'Wow. I am a tough chick.'"
During physical therapy, she regained some mobility in her right hand and started creating a Spider-Man painting in bold primary colors.
With the help of a stretched-out wire hanger, she could pull clothes out of the washing machine.
When the family went to the Tucson Premium Outlet Mall two weeks after she came home, Norma insisted on wheeling herself everywhere. She did not want Michael pushing her chair.
"Aren't your arms tired?" asked Michael, 33.
"Yes, but I've got to learn," Norma replied.
Michael was changing the dressing on her wounds twice a day, plus taking her to all of her medical appointments since she could no longer drive.
"Before this happened I was always go-go-go. I cleaned the house, I did everything. Now the roles have flipped, and I get frustrated," Norma said.
A longtime art instructor for special-needs children, Norma had earned her medical assistant certification a few months before the crash. The night of the crash, she was set to start training for a new job at a laboratory. Working had always been part of her life.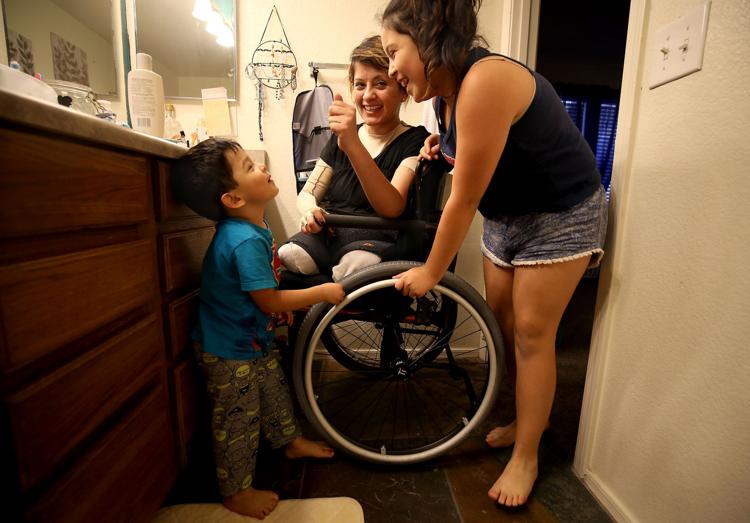 "I wasn't home much with the kids," said Norma, who has three children, 10-year-old Josslyn and 3-year-old twins Kaleb and Dean.
"Now I see what it's like to be home."
Bilateral AK 
Every week starting in July, Norma, usually accompanied by Michael, began going to Hanger Clinic of Tucson for appointments with Hanger community care coordinator Alan "AJ" Jolivett and prosthetist and orthotist Sarah Don.
At Hanger, Norma found herself welcomed into a family of professionals whose life's work is to help people who are missing limbs to transition and function using prosthetic arms and legs.
She learned some of the lingo of her new world, including the fact that she was now a bilateral AK (above knee) amputee and that her new prosthetics would be called "stubbies" — short in height so she'd have less distance to fall while learning how to walk.
The goal would be to eventually get full-length prosthetics so she'd stand at her previous height of 5 feet.
With the stubbies she would stand about 3ƒ feet tall.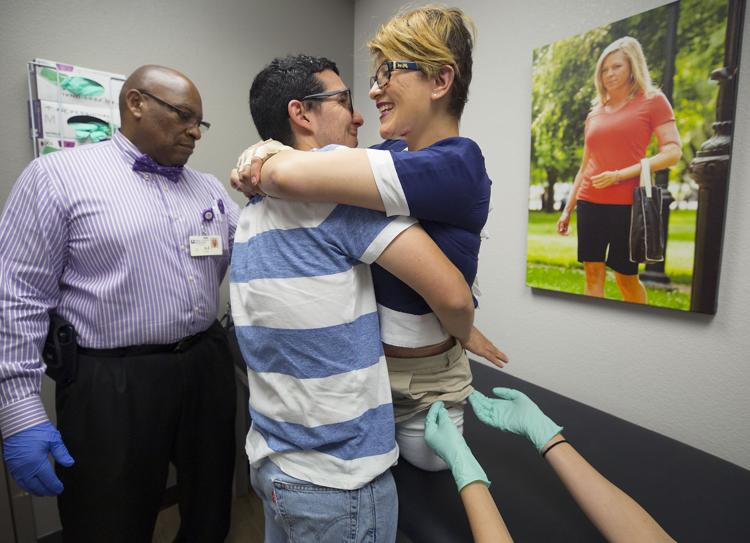 "The closer to the ground you are, the more stability you have. The higher you go, the more you've got to work," Don told Norma on Aug. 4. "It's all about your butt muscles, to keep the knees stable."
Through Hanger, Norma was learning about other amputees, and about possibilities ahead.
She watched videos of Pedro Pimenta, a Florida resident who lost his arms and legs to meningitis as a teen. Now in his 20s, he is able to drive with prosthetic arms and computerized prosthetic legs that can be programmed for driving. The car itself has no adaptive devices.
She learned the story of Yvonne Llanes, who was a 36-year-old assistant school principal and mother of four living in Yuma in 2005 when she lost both her legs. Yvonne was loading packages into her parked SUV at a shopping mall when an impaired driver slammed into her, severing her legs above the knee.
Yvonne, now 49 and living in Texas, is an avid walker and swimmer.
"This is all new to you, but in the country the size of the U.S., we can bring above-the-knee bilaterals together. We have a bilateral above-the-knee women's group," Hanger Clinic's national vice president of prosthetics Kevin Carroll told Norma during a visit to the Tucson clinic Aug. 30. "We work on independence."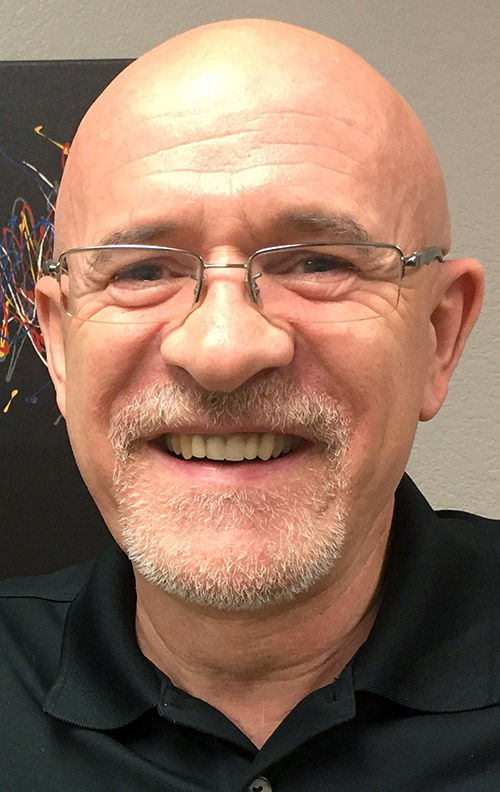 Carroll visited Tucson with Florida clinic prosthetist and orthotist Dan Strzempka to meet some of the local patients and assess their cases.
The two men are known for helping to design the prosthetic tail for Winter, the bottlenose Florida dolphin who was the subject of the 2011 film "Dolphin Tale."
Norma and her kids had seen the film, the true story of how Winter lost her tail in a trap and then swam again with the help of a prosthesis.
Carroll ran Norma through some exercises and started by telling her to climb from a chair to an exam table.
"No helping!" Carroll said as Jolivett put his arm out, worried Norma would fall.
After a couple of tries, Norma hoisted herself onto the table.
"You've got age, strength and support going for you," Sztrempka said.
"You are a motivated lady. You are not your typical patient. In a month you'll be walking," Carroll said.
"Above knee amputee," Norma wrote, updating her Facebook intro shortly after the clinic with Carroll and Sztrempka.
Alongside that Facebook intro she included some of her favorite emojis — hearts, an engagement ring, dogs, bears, twin boys, and a woman dancing.
Walking
On Sept. 20 — five months and one day after the crash — Norma grinned as Hanger prosthetist Sarah Don came into the exam room holding temporary, Duraplex stubbies. 
The Hanger appointments up to that point had been tedious.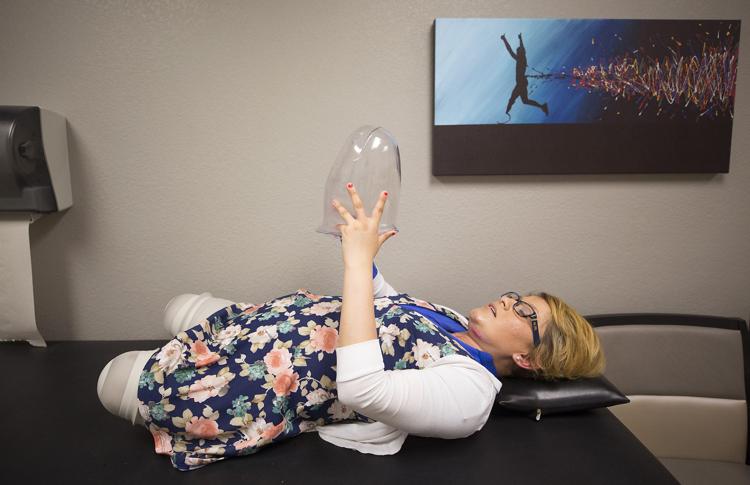 Throughout August and September, Don fit and re-fit the stubbies, and cast molds of the remainder of Norma's legs, which Norma had been referring to as her "nubs."
The nubs had been shrinking, losing volume as swelling went down.
The stubbies consisted of two upper leg sockets, each attached to a metal bar and flat, black, rectangular "feet."
Norma, wearing pink and blue compression garments and a navy blue top, slipped her nubs into the clear plastic sockets.
"Wow, I forgot what it feels like to stand," she said quietly, looking over at Michael. "Am I taller than the boys?"
Taking her first steps, Norma smiled, then put her head down on one of the railings.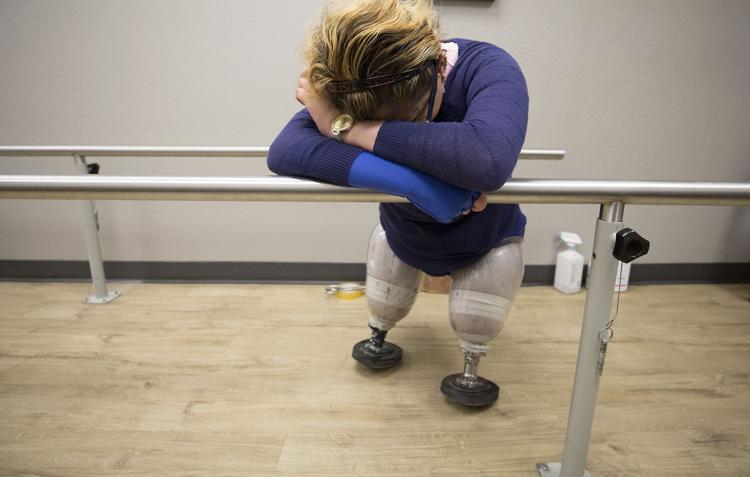 "Are you OK? You are walking," Michael said.
"Thank you," Norma whispered, wiping her eyes.
"You make it look very natural, but it's not. You are abnormal in the best of ways," Don said.
"This is awesome," Norma said, giggling and crying at the same time.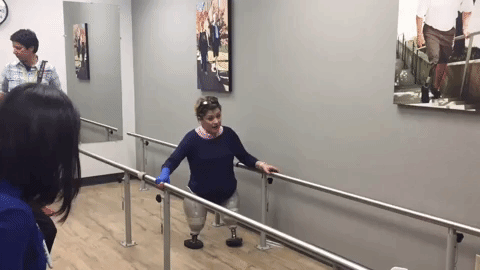 Don told Norma she could pick a design to put on the permanent, fiber and acrylic resin stubbies she'd be getting soon. She suggested going to a fabric store to find the right one.
At SAS Fabrics, Norma chose a pattern of female Disney villains, including the Evil Queen from Snow White, Ursula from the Little Mermaid and Maleficent.
"I always rooted for villains," she said. "I feel bad for them. Something happened to them. What's their story?"
Dancing
On Wednesday, Oct. 4, Norma got her Disney villain stubbies.
She had a black eye and a gash on her chin from a fall a few days earlier. She'd landed face first and had also broken her nose when her wheelchair landed on top of her.
But she forgot about the fall as she excitedly put on the new stubbies in the Hanger exam room. Using forearm crutches, she walked without assistance.
"That is insane progress from a few days ago," Don said.
The next morning, Norma and Michael flew to Empowerfest in San Jose, California. The Hanger event brought together a group of about 14 Hanger patients — men, women and children, all of them missing one or two legs.
They'd lost their legs in a variety of ways. Some had been born that way. Others had been in motorcycle and car accidents. One young woman had been tortured. One man had passed out after a heroin overdose and the position of his body cut off circulation to his legs.
"It was so unique how we all related," Norma said.
Norma was excited to meet Cameron Clapp, a 31-year-old Californian whose picture she'd seen on the wall at Hanger. Cameron lost both his legs and an arm when he was run over by a train in 2001. He's now a motivational speaker, actor and athlete who runs, swims and surfs.
She also met Yvonne Llanes in person, and they quickly became friends. Yvonne shared how she had spent nearly 10 years in a wheelchair, angry and depressed over losing her legs, before making the life-changing decision to get prosthetics in 2015.
Yvonne said technology has vastly improved prosthetics since 2005, when she first tried but initially gave up on them. Technology, via social media, has also vastly improved available peer support for amputees, she said.
At Empowerfest, the group talked about how to handle stares and rude comments from strangers, about what kind of pants fit bulgy prosthetics, and why it's important to carry tools at all times.
They also talked about relationship issues. Some of the people there found themselves suddenly single after losing their legs.
Others, including Norma and Michael, shared that the trauma had strengthened their relationship. Although Michael and Norma were briefly separated before the crash, they had fallen in love all over again after it happened.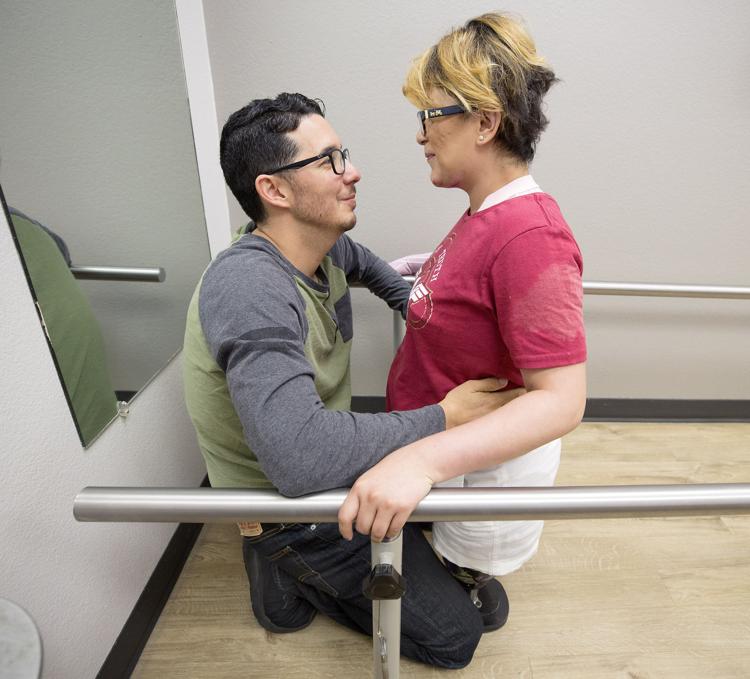 "We are more understanding with one another now," Norma said. "I let my life relax a little bit. We are more on the same page with parenting. We just keep committing more and more."
On the last night of Empowerfest, Norma and Michael danced the merengue.
Back in Tucson, the couple marked another milestone in their relationship. They bought a house not far from their southwest-side rental. They'd long talked about buying a house together but before the crash had never managed to make it happen.
On Oct. 28, Norma walked into her brother Ramon's Halloween party using her Disney villain stubbies, forearm crutches and wearing the "Not Today, Satan" T-shirt she had received as a gift while hospitalized.
"Normally we would have decorated my house together. She loves that kind of thing," Ramon said. "She is my creative sister, my creative partner. But it's harder, more complicated for her to do things now."
Ramon, 38, a manager at the J.W. Marriott Starr Pass Resort and Spa, took two weeks off after the crash.
"Bubbly Norma is still there," he said. "She can still draw, and do artwork. But it's been hard on our family. … It still hurts."
A few weeks prior, when Norma had asked Ramon whether he was having a Halloween party, he couldn't say no.
"I kind of did it for her," he said. "She is better when she is around us."
Frustration
On Nov. 29, as she sat in an exam room at Hanger, Norma did not seem like herself. That morning she'd woken up feeling sad and hadn't been able to shake it. A few minutes into her appointment, she began to cry.
"It's just a lot of work. There are rods in my neck. There are the prosthetics. There are the burns," Norma told Sarah Don and AJ Jolivett. "I'll say I'm going to walk, and then it hurts. It's everything. It's really frustrating."
As the swelling in her legs continued to go down, Norma's stubbies had become increasingly uncomfortable. She desperately wanted to wear them but they hurt.
Paperwork and insurance bills needed to get sorted out, too. She was using a wheelchair borrowed from HealthSouth Rehabilitation. For months, she'd been trying to get insurance approval to buy one.
The compression garments needed for her burns had already cost nearly $1,000 of her own money.
Moving forward, she will require more physical therapy, and possibly more surgeries.
Norma put her head down on the exam table and sobbed.
Don said it was time for Norma to get new stubbies. Her legs had changed too much. She would put in a request with Norma's insurance company, Don said.
"You are just going to be doing better and better and better. The only reason why you are not right now is because of your prosthetics," Don said. "You have the ability, just not the supplies you need."
Don then asked if it would be OK to start some drills, to measure Norma's progress on the stubbies. Norma, her eyes red and swollen, said yes.
Don put her through a series of tasks that Norma completed without any struggle — standing on one crutch, picking up a pen from the floor, and standing without crutches with her eyes closed.
On the first pass of the 4-meter walk test, Norma's time was 15 seconds. On a second try, it was 11 seconds. She was starting to crack a smile. Next time she'd be breaking 10 seconds, she said.
Don asked about chores. Norma replied that she was doing dishes, laundry and cooking. She potty-trained her twins within three weeks of getting home, and the boys were riding their bikes again, too. They'd stopped while she was away.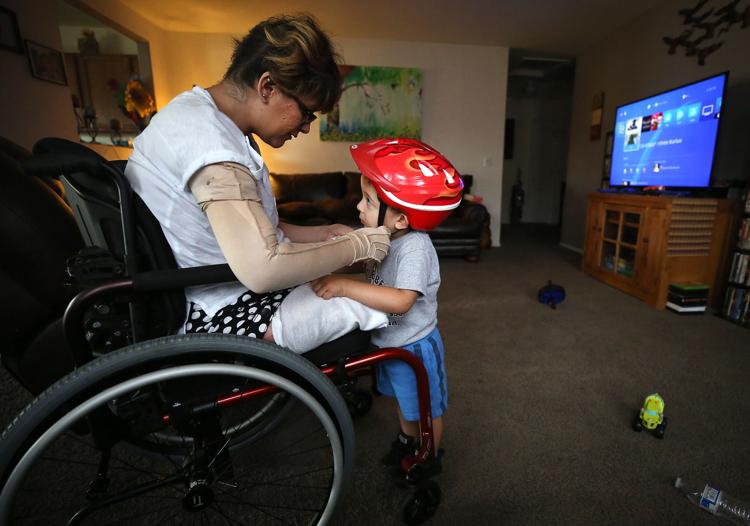 And Josslyn, who had just turned 11, was going back to soccer with Norma. At the last practice, Norma had walked out onto the field in her stubbies, as the kids and parents clapped.
Norma, still teary, embraced Don and Jolivett. She told them she needed to get mental-health counseling. It was time. They agreed and said they'd help her find someone.
Blame
Norma's niece, Vanessa Marin, has been in therapy since the April 19 crash. Vanessa, now 17, was in the car with Norma that night and still has trouble sleeping.
Sergio Castro is in therapy, too. He repeatedly asks himself what would have happened if he had stayed to take one more picture at the awards ceremony or if he'd stopped to put gas in his car. What if. What if. What if.
Unlike some of the witnesses who were there that night, Sergio continues to drive through the Campbell and Irvington intersection where it happened.
"My psychologist and I agreed it was better not to avoid it, not to be afraid of these things, to confront it," said Sergio, now 26.
Johnny Lopez, who helped lift Sergio's car off of Norma the night of the crash, still drives through the intersection, too. Every time he does, he makes the sign of the cross.
"I had never seen anything like that before in my life," he said. "It makes you more aware and conscientious about life."
The night of the crash, Sergio had been driving home to the house he shares with his elderly aunt from a ceremony where he had won Outstanding Junior 2017 from the UA Honors College.
The award was based on grades, research and Sergio's work tutoring students with learning disabilities.
Sergio, who is putting himself through the UA, discovered a passion for academics after working for his brother-in-law's landscaping business for several years following high school. He is hoping to become a math teacher, or to go on to graduate school in education.
After the crash, he took time off from school but is now back and finishing his senior year.
"Why did it happen at all?" Sergio said recently, visibly upset as tears ran down his face. "I don't know."
Sergio, who is shy, heavyset and soft-spoken, rarely uses his phone and almost never texts anyone, he said. A police investigation of his cellphone use confirmed that to be true. He had not been drinking, either, the investigation confirmed.
Sergio's sister, Melissa Gallegos, said that when he called her the night of the crash she instantly knew something was wrong. She had just seen him, and he wasn't someone who calls for no reason.
"Sergio has never been concerned about himself," said Melissa, 42, who raised Sergio from the time he was 10. "He is a good person."
Melissa's husband is one of Michael Trujillo's cousins. They have not spoken since the crash.
Safety
While the crash was "obviously horrific," police could find no evidence that Sergio's actions were reckless or intentional, Tucson police Detective Natalie Pike said.
"Sergio has been cooperative from day one. At first he was a little scared. But in the end he was cooperative with every request I made of him," Pike said.
Felix and Maria Moreira, whose SUV Norma was pushing when she was struck, have struggled with guilt.
They spoke with their priest, and members of their church have been praying for Norma. The Moreiras and fellow parishoners attended two fundraising car washes for Norma. Maria gave Norma $800 in savings she earned decorating cakes.
"She helped me, and she's the one who got ruined," Felix said recently, sitting in the tidy south-side mobile home he shares with Maria. "It should have happened to me. It should have been me. … It's impossible to forget something like that. You take it to your grave."
The crash was so loud that Felix said his ears were ringing for days after. He is convinced Sergio was texting, or that he was driving much faster than the 40 mph speed limit.
But Pike, the Tucson Police Department detective, said there's no evidence to support that.
The crashes Pike investigates are often caused by impaired drivers, carelessness and texting. But this crash appears to be an isolated incident, Pike said, and "so unfortunate," especially given the fact that Norma was critically injured while acting as a good Samaritan.
Police say visibility was an issue. Sergio did not see the Ford Explorer, even though its hazards were on. Backlighting from Walgreens and the bright lights of the intersection could have made the dark vehicle harder to see, Pike said. Darker objects can get lost to the human eye with bright backlighting, she said.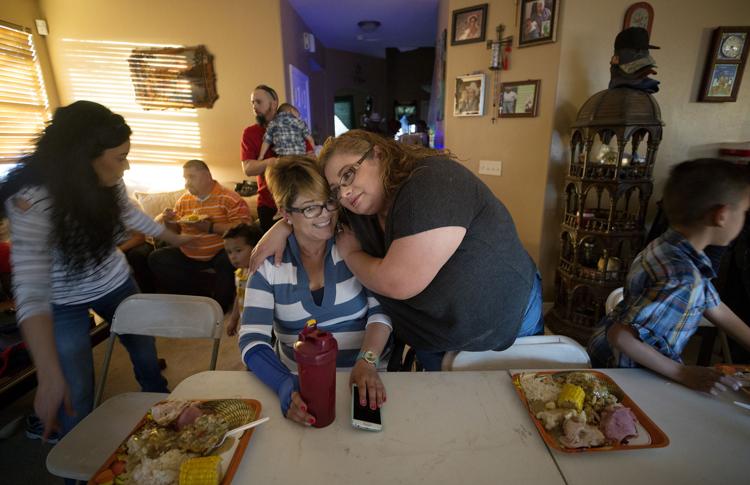 Some days, Norma struggles with anger at Sergio. She blames him and questions whether he's remorseful. Sergio has never reached out.
"I don't see him as innocent," Norma said.
Other times, she tells herself that God would not have given her another chance at life in order to make someone else suffer. Maybe what happened was just bad luck.
Sergio said he wants whatever is best for Norma and regularly prays for her and her family. Ever since the night of the crash, he said, he's wanted to say he's sorry.
"I can never express how sorry I am. These words will never be enough. I would hope someday I could meet her. But not without her permission. I'd want it to be mutual," he said.
"With the help of my psychologist, I decided it would be best to let her approach me."
At a recent soccer practice, some children approached Norma and asked about her legs. She enjoyed the interaction. She told them about traffic safety, about the dangers of distracted driving, and invited them to touch her nubs.
"It's my job to tell them to be careful," she said.
Norma has been able to impart some valuable lessons on her own children since the crash, too.
As Dean recently complained that he couldn't get out of the bathtub on his own, Kaleb told him not to say "I can't."
"You can, use your arms like Mama," Kaleb told his brother.
Norma's parents and Michael have been consistently generous with their time and support.
Norma is grateful, yet antsy, yearning.
For her next pair of stubbies, she chose a pattern of soaring birds.
"It makes me think of birds who are in a nest and then take their first flight," she said.
"They have their independence, and they are free."