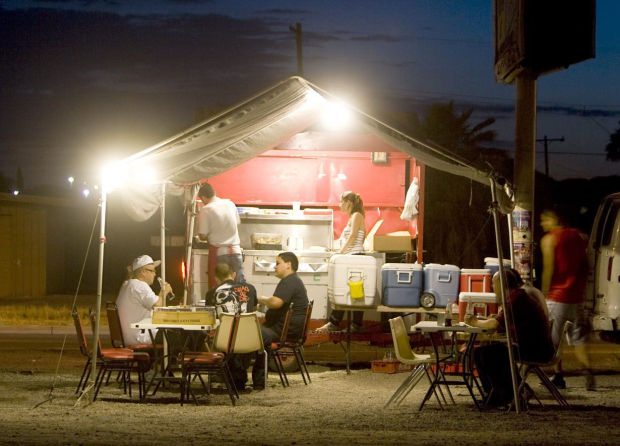 The Sonoran hot-dog stand has become an icon of Tucson cuisine over the past couple of decades.
It's the kind of thing that happens along borders.
We serve up Americanized tamales, and our southern neighbors open hot-dog stands in places like Aconchi, Sonora, along the Rio Sonora, which, along with Hermosillo and other places, claims to be the birthplace of the Sonoran dog.
Like the "Sammy Dogs" at El Güero Canelo in Tucson, the bacon-wrapped hot dogs served street-side in Aconchi come two to a bolillo and are served with Mexican and American condiments and a hot pepper.
You can find Sonoran hot dogs on restaurant menus across town, but the real "estillo Sonora" deal comes from the carts that dot vacant lots along our major streets.
When the Arizona Daily Star held a taste test in 2010 to find the best in town, honors went to Noe Maciel, who owned Ruiz Hot Dogs on South Sixth Avenue at East 22nd Street, and a cart farther south on Sixth called El Sinaloense.
Sinaloa is the Mexican state south of Sonora, but let's not quibble. Let's eat.