Fitz Cartoon Caption Contest: Week of April 10, 2013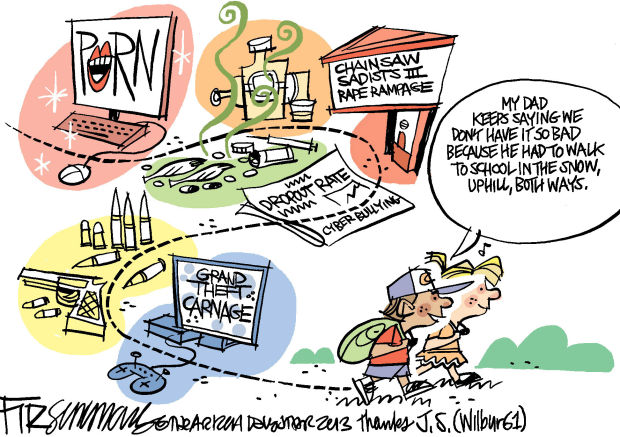 This week's winner is J S. (Wilbur 61), " My dad keeps saying we don't have it so bad because he had to walk to school in the snow, up hill, both ways." And the runners up are Daniel G. (gdobie1),"Who needs family values when society provides so much?" and Kenneth T. (tredwell),"I don't think we're on Sesame Street anymore, Dorothy."Each Wednesday the Star will publish a Fitz cartoon without  a caption. We want you to come up with the funniest caption. The deadline is 6  p.m.Thursday.
Go to azstarnet.com/opinion in your web browser (not e-mail) to find and enter the contest. To submit a caption, you must be a logged-in, registered user of StarNet. The winning caption, selected by the Star's David Fitzsimmons, will appear in Sunday's paper.
Tags