Fitz Cartoon Caption Contest: Week of June 6, 2012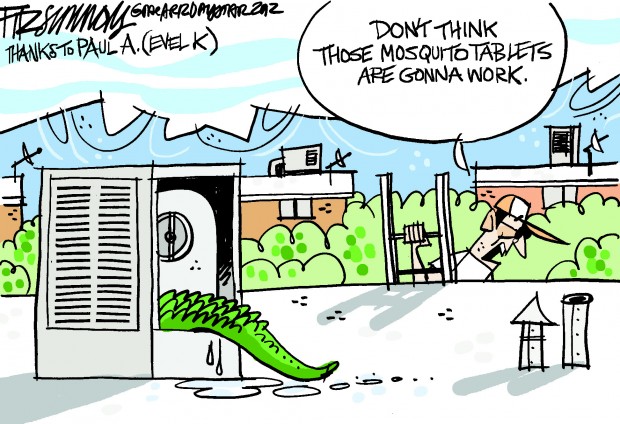 This week's winner is: Paul A. (Evel K), "Don't think those mosquito tablets are gonna work." And the runners up are Gary H. (Gary53), "Worst scaling buildup I've ever seen." And Josh A. (jaz246), "Honey, can you be a sweetheart and get me the manual?"
The entries were so good this week I had to add a few categories: The Most Out There Award goes to L. S. (Captioneer),"I don't think your brother will be in "Fiddler on the Roof" after all." The Most Deliciously Politically Incorrect Award goes to John B. (John Henry),"I sure hope the environmentalists don't see us removing him or they will designate our swamp cooler as a riparian area..." An Honorable Mention for Most Shameless Stretch goes to Kevin v. (the food review guy)," So this is why the cooler is not up and working.........ereptile dysfunction!" And last, but not least, the Most Painful Pun of the Month Award goes to Kenneth T. (Tredwell) "Well, the neighborhood watch report about alligators turned out not to be a crock after all."
Each Wednesday the Star publishes a Fitz cartoon without a caption. We want you to come up with the funniest caption. The deadline is 6 p.m. Thursday. The winning caption, selected by the Star's David Fitzsimmons, will appear in Sunday's paper.
Tags