Letters to the editor - Saturday, Nov. 11
From a thanks to veterans to starting times for University of Arizona football games, Arizona Daily Star readers voice their opinions.
A thank you to our veterans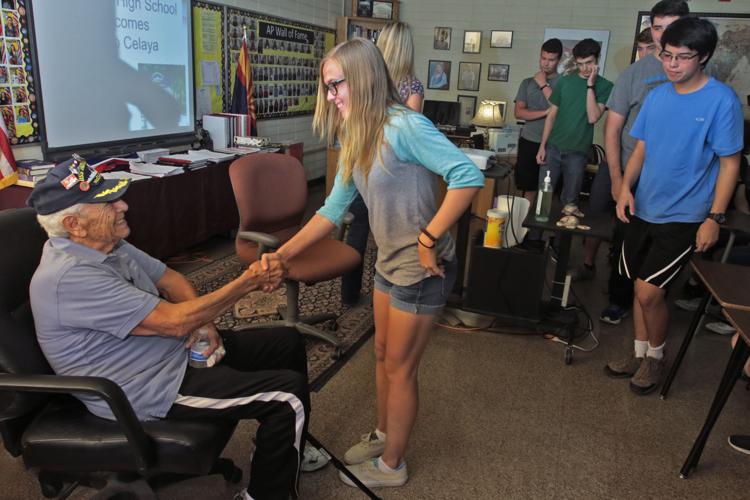 We Americans should all celebrate the beauty of our land, the freedom we all enjoy and the hope of peace for all people. On each and every Veterans Day, we should count our blessings and thank all the proud veterans who have served this great country. Today, as we continue the war on terrorism, we should give thanks and pray for the outstanding men and women who are protecting us with service in foreign and domestic lands.
As we thank our veterans and those now serving to protect our freedom, let us never forget the men and women who gave their lives for the freedom we live by. Let us also pray for our POWs and MIAs who have also given of themselves for this great country, and on this Veterans Day may God bless all.
William H. and R. Smith Frede
 Northwest side
Honoring neighbors would be a good idea
Just got back from Sonora, where the flags of the U.S., Mexico and Canada flew over a main street in Rocky Point. It would be nice to have returned to a USA displaying such a joyful spirit of cooperation in building something more pleasant for all North Americans, instead of our current portrayal of our neighbors as unpleasant competitors who must be denigrated and dominated.
William K. Hartmann
 Midtown
McConnell started political schism
Re: the Nov. 6 letter to the editor "Divisiveness didn't start with Trump."
The letter is from yet another individual parroting the line that Sen. Jeff Flake has withdrawn from re-election only because his polling numbers are terrible, and responding to his complaints about divisiveness with the familiar refrain: "What about Obama?" Such letters would deserve to be ignored if they were not, in fact, parroting a carefully nurtured Trump party line. Perhaps the writer's vitriol blinds her to the basics of cause and effect.
Flake was popular among conservative Republicans right up until he found it impossible to stomach Donald Trump. And the divisiveness during the Obama administration emanated from Mitch McConnell's stated priority, from day one, of trying to make Obama a one-term president — and the Trumpian obsession with the fantasy that Obama was born anywhere other than where he manifestly was, in the United States of America.
Andrew Browning
 Foothills
Hiroshima, Nagasaki are ongoing lessons
It is unfortunate that President Trump did not visit Hiroshima or Nagasaki on his recent trip to Japan. When my wife and I toured Japan a couple of years ago, our tour guide said she wished every president of the United States would visit Hiroshima and Nagasaki as a requirement for holding that office. How enlightening the visit would be for those heads of state who have their finger on the nuclear trigger.
Jay Smith
 Northwest side
New ideas for holiday charitable donations
Re: the Nov. 7 article "Groups need turkeys, trimmings for holidays."
Before retiring to Tucson, I worked for 15 years in Kansas City, Mo. My office was right across the street from that of the Salvation Army. During holiday seasons it had workers at the curb accepting donations, money or turkeys. I always handed a turkey out the car window and received their thanks.
Coming to Tucson, my wife and I decided to continue our donations to the Salvation Army. Last Christmas we took 10 turkeys to their office. The receptionist looked like she had never seen a donation before. She called the kitchen and shortly a man with a cart came and took the turkeys away. No one thanked us and no one put our name down on a donor list. Strange behavior for an outfit that relies on donations.
Well, thanks to the Star we now have a new list of organizations that need money and food for the holidays. We have scratched the Salvation Army from our list.
Vern Pall
 Northeast side
D-M will be fine, just keep F-35s out
Re: the Nov. 9 letter to the editor "Who will fight for D-M now?"
In response to the worried letter about the fate of Davis-Monthan Air Force Base in the face of Rep. Martha McSally's impending departure, let's not kid ourselves. Every representative from Southern Arizona has fought to keep it open and expand its mission. That will not change. Furthermore, given its long runway and the climate, it will never be closed or left without a mission, regardless of the fate of the A-10.
That does not mean that we should embrace any mission, especially the F-35, which would render much of Tucson virtually uninhabitable due to the noise — which would be much louder than the A-10. Property values would drop drastically in much of the city core. Officials warn that if it comes to D-M, residents in the flightpath (midtown, south, downtown) should move or suffer quality-of-life degradation and plummeting property values.
Robert Frederiksen
 Midtown
Late football starts keep fans away
Once I had an issue to share with then-University of Arizona athletic director Greg Byrne. Within 24 hours I received his response. Over a week ago I sent current director Dave Heeke an email about the late start times. So far, I have received no response. I told him that for over 30 years my family has purchased five or six football season tickets. I explained that my wife and I and our two children lived in Douglas, then Phoenix and now my wife and I live in Prescott.
Even though travel and distance became a problem, it was not unsurmountable until so many games started well after 7 p.m. and few if any have been daytime starts.
Leaving the stadium near midnight takes away the option to drive home. We will no longer renew our season tickets. Attendance at Arizona football games is already an issue. I hope the athletic department considers the many reasons, including ours.
Art Atonna
Prescott