Letters to the editor - Saturday, Oct. 7
Arizona Daily Star readers voice their opinions. Read more at tucson.com/opinion
Procession move is going backwards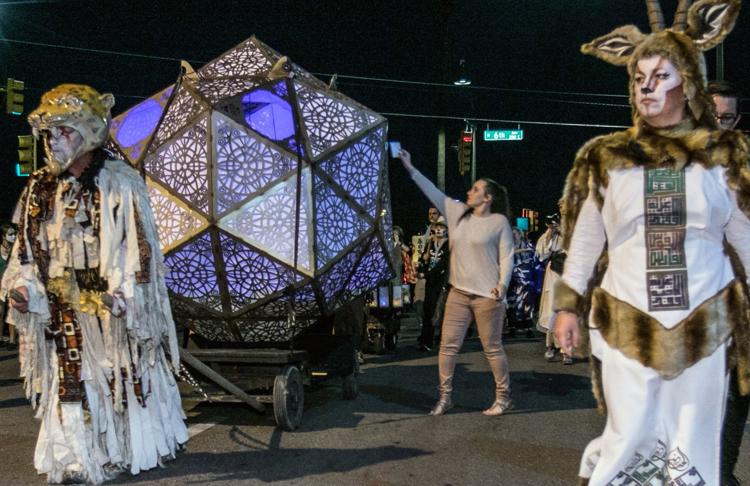 Re: the Oct. 1 article "All Souls Procession is moving west of downtown."
I am disappointed to hear about the new route for the All Souls Procession. Our group of six did it last year for the first time and loved it. We got on the street car (also first time) at the Mercado, took it to Fourth Avenue, had dinner, then joined the parade. Now it will be in a part of Tucson with minimal parking, no shuttles and shorter. The reasons given lack substance.
First, they couldn't afford $12,000 to close the Congress Street ramps. Did they ask the public for help? Second, they want to pay tribute to the Santa Cruz river and surrounding community. If it took place during the day, that would be OK, but it starts/ends in the dark. We won't see the river, which has no lights, and most participants do not stop at businesses along the way. An event, growing in popularity to visitors, marches backward.
Matt Welch
Northeast side
Silencing a conservative voice
Re: the Sept. 29 column "TPD officer pushes boundaries with video rants."
I find it incredible that a local newspaper would attempt to silence a black voice because it is conservative. I have been living here for seven years and love the freedom Tucsonans have with one another. The free spirit, the ability to be near one another and to congregate together without fear of being attacked for one's race.
The free and independent press should be promoting and encouraging diverse thought. As a black person in Tucson, I feel that your news organization has just told me to stay in my place. Shameful.
Tia Peterson
East side
Strong Start Tucson needs balanced coverage
Re: the Sept. 24 article "Proposed preschool tax divides education advocates."
As a former professor of early childhood/elementary education and a supporter of Strong Start Tucson, I am distressed by the one-sided reporting on this initiative. Except for a few comments by Penelope Jacks, campaign chair, the article focused on questions raised by those who have concerns, with almost no indication of how educators supporting SST respond to such concerns (and they can).
This undoubtedly left readers with the incorrect impression that there are no convincing arguments and few educational proponents. But a glance at SST's website reveals the many educational organizations supporting SST (e.g., Child & Family Resources, Literacy Connects, Make Way for Books and the Southern Arizona Association for the Education of Young Children). Yes, it's critical to understand the questions surrounding SST; I just wish the Star had given proponents of Proposition 204 the opportunity to respond to them.
Carol Weinstein
Foothills
Working shouldn't be bad for you
Re: the Sept. 24 article "Union workers confront Ariz. commission over penalty reductions for safety violations."
The governor-appointed commission would at first glance look to be contractor-friendly. The problem is what kind of contractor are they friendly to?
Every state has two kinds of construction contractors: those who play by the rules and those who don't. Good contractors pay their taxes, cover their employees with insurance and are an asset to every community.
Bad contractors cheat their employees, the project owners that hire them and the state by not paying their fair share of taxes. Bad contractors force employees to sign independent contractor paperwork to get around buying insurance to cover workers and pay their state-required burden.
Just out of curiosity, it would be interesting to know how many of those contractors who were penalized by OSHA were repeat offenders? Maybe they should find another line of work.
Fredrick Wilkening
Sahuarita
Cuts to Medicaid costs more than tax dollars
I am a graduate student in the College of Public Health at the University of Arizona, and my husband is a retired police officer. He worked for over two decades in a career that cycled drug offenders in and out of prison, time and again. The congressional movement to cut Medicaid funding for childless adults will cost more than tax dollars.
Cuts to Medicaid will directly impact the candidacy of people facing drug-related jail time to participate in the Drug Treatment Alternative to Prison program. They will be unable to receive services that have the potential to end the cycle of recidivism. The cost savings that DTAP offers is estimated at $17,336 per person annually. But the contributions that a productive and rehabilitated adult can offer the community have a much higher value. Our communities will lose valuable resources by cutting Medicaid and the programs it funds.
Laura Vitkus
Vail
Debt should be priority in tax reform
Our priority should be to reduce the national debt and fix up Social Security. The government never mentions these concerns. The future of our country depends on it.
John Rothstein
Nogales
Enough is enough when it comes to guns
Dear Members of the NRA: 75 percent of you support background checks, while your leadership gives millions to members of Congress to lobby against it. Don't re-up your membership. I understand that a person is fingerprinted when they want to purchase an automatic weapon, but it's a useless limitation when a semi-automatic becomes virtually automatic using a device easily purchased online for as little as $50.
Uncompromising gun owners: You are a minority. No one is trying to repeal the Second Amendment. My dogs are licensed so that my neighbors can be assured that they have had their rabies shots. The vast majority of Americans want more gun control. Why should your unabridged right to carry outweigh our right to be safe? "Enough is enough," should be our mantra.
Pamela Blunt
West side