Letters to the editor - Sunday, Nov. 12
From assault weapons to legislating human behavior, Arizona Daily Star readers share their opinions.
Assault weapons are not for civilians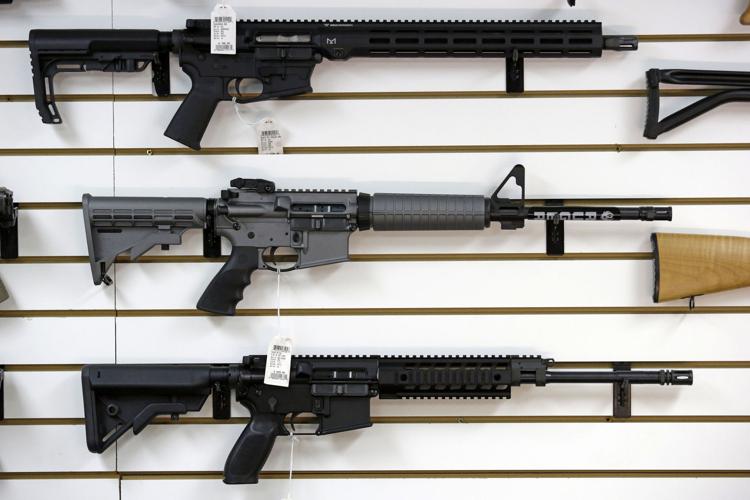 How long are we going to allow assault weapons to be used to mow down our own citizens? As a retired member of the military, I find it appalling that someone off the street could walk into a public place and devastate as many lives as possible, armed with more rounds than a soldier carries on a convoy in Iraq.
Congress should reinstate the ban on assault weapons, regulate devices used to make weapons easier to fire on automatic and reduceavailable magazine size in case we can't ban assault weapons. I understand weapons for sport and hunting and personal protection, but an assault weapon of this nature does not fit that criteria.
Connie Brannock
Downtown
We can't be expected to pay for everything
Evidence from the recent Tucson elections show you can't shove state inefficiency down locals throats. The zoo, schools, stray animals, etc. are all nice, yet those who love their pet projects need to come forward with time, treasure and talent, and not expect seniors, the poor and disinterested people to keep paying more taxes for public safety and potholes. Voters finally said "no!"
Lawrence Quilici
East side
The president's misogyny is clear
Re: the Nov. 5 letter to the editor "Editorial should backup accusations with facts."
Huh? Well, if the letter writer doesn't understand what misogyny IS, then he will never understand why President Trump is a misogynist. If you do not believe your own eyes and ears when you see and hear the future president say he can grab women inappropriately whenever he wants, what will you believe? If you do not believe your own eyes when you see the president ignore his wife as they disembark a plane, or exit a car — or walk up the steps to the White House, leaving her alone to walk by herself — as a sign of disrespect and disregard for her, what will it take? If you do not believe your own ears when he says a woman is ugly, or bleeding from her whatever, what DO you believe would qualify as despising women?
Barbara Milo
Southeast side
You can't legislate human behavior
Re: the Nov. 8 editorial "We cannot become callous to mass shootings."
After reading the Star's opinion, one has to wonder if it was merely words. The Star's position on gun control is well known. Install more controls on private and gun show sales. The newspaper does not permit gun sales in its classified ads, but strangely, they allow gun shows to advertise. Which is more important: advertising money or beliefs?
Even if we stopped the sale of automatic weapons, there are too many already in the country to do much good. We'd merely encourage illegal purchases from other sources. Much like prohibition, the cure would be worse than the disease. We have yet to learn we cannot legislate human behavior. If all the laws, fines and punishments in place have not curtailed bad behavior, what will? As our population grows, the more deranged people it will produce. It's simply a matter of numbers. Perhaps we should start with population control. It would solve many of society's problems.
James Kelly
Foothills
A story from a different world
Sutherland Springs — Just as the service began, an angry young man burst into a church. He was armed with his fists, and keen to find his mother-in-law. An usher shushed the man, but the intruder swung at the usher.
A teenage boy stood up, brandished a heavy hymnal. The lad was punched in the face, leaving a large, red welt. A father stood up, his wife and three kids behind. "Enough," the father said calmly. "This is a place of worship." The man yelled, "Don't tell me what this is. Where is she?"
The father ducked under a wild haymaker, and tackled him about the waist. Took him down. There was a brief scuffle in the aisle. His wife searched her purse and found her cell. She called 911. "There's been some trouble at our church, but nobody's been seriously hurt. Might be best though if you'd notify the police. We'd be ever so appreciative."
John E. Irby
Southeast side
There is such a thing as a good guy with a gun
Much has been written blaming guns in the hands of bad people for causing deaths. Little has been said crediting guns in the hands of good people for preventing more deaths by controlling the bad people. Stronger gun laws will not change the situation. Instead we need to change society to promote a safe, healthful environment.
We need: morality not depravity, respect not rudeness, tolerance not bigotry, authority not anarchy, community not isolation, compromise not domination, freedom not control, work not entitlement, love not hate, peace not war
. Change will not be fast or easy. Returning to old-fashioned values requires individual effort, not legislative mandates. I promise you that it will be worth the effort.
Betty Bohm
East side