Address
5260 North Royal Palm Drive
Tucson, AZ 85705
Last Updated: June 26, 2014
Hours
| | |
| --- | --- |
| Sunday | Closed |
| Monday | 7:30 am - 4:00 pm |
| Tuesday | 7:30 am - 4:00 pm |
| Wednesday | 7:30 am - 4:00 pm |
| Thursday | 7:30 am - 4:00 pm |
| Friday | 7:30 am - 4:00 pm |
| Saturday | Closed |
About Carden Of Tucson Charter School
Carden of Tucson has proudly served the community since 1980 by providing exceptional academic, physical, leadership, and social programs to enable each student to reach his or her full potential, and to prepare the students for success in their further educational endeavors. Carden of Tucson has been recognized with an A rating by the Arizona Department of Education, and also has been heralded as an Arizona Civic Engagement School of Distinction by the Arizona Department of Education.

Conveniently located at 5260 North Royal Palm Drive in Tucson, Carden of Tucson is a charter school that seeks to develop students who are capable, confident, eager, alert, courageous, just, self-critical, compassionate, courteous, and happy. Through high standards and group collaboration, the Carden of Tucson learning environment fosters reason, respect, and responsibility within the school and Tucson community. Carden of Tucson students graduate from the Carden community with confidence and understanding, prepared for their individual futures.

For more information, contact us at 520-293-6661 or visit our website at www.cardenoftucson.org. You also can like us on Facebook at www.facebook.com/CardenSchool.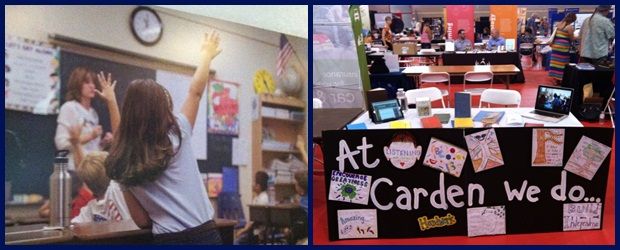 Classroom Openings
Carden of Tucson provides education for students in Kindergarten through 8th grade. If you are interested in enrolling your student at Carden of Tucson please contact us at your earliest convenience. We ask that all potential students visit Carden to get a better grasp of our school environment and traditions. Potential students and parents are always welcome to visit a class for a day and schedule meetings with teachers prior to enrolling at Carden of Tucson.


Athletic Programs
Carden of Tucson also has athletic programs for basketball (grades 5-8), volleyball (grades 5-8), and soccer (kindergarten - 4). This is a Volunteer Program to provide Carden students with sports. We can't run this program without Parent Volunteers. If you want to help, please contact Coach Phil Hendricks or call at (520) 235-6279.


Tags: carden of tucson charter school, school, kindergarten, elementary school, academic programs, education, athletic programs, charter schools, middle school, civics engagements, constitutional studies, music program, school community, science
Carden Of Tucson Charter School Special Offers & Events
Carden Of Tucson Charter School Offers & Events
Email Carden Of Tucson Charter School