Address
1238 W Orange Grove Rd #102
Tucson, AZ 85704
Last Updated: November 19, 2014
Hours
| | |
| --- | --- |
| Sunday | Closed |
| Monday | 8:00 am - 5:00 pm |
| Tuesday | 8:00 am - 5:00 pm |
| Wednesday | 8:00 am - 5:00 pm |
| Thursday | 8:00 am - 5:00 pm |
| Friday | 8:00 am - 12:00 pm |
| Saturday | Closed |
About Dr. Roger C. Biede II, DDS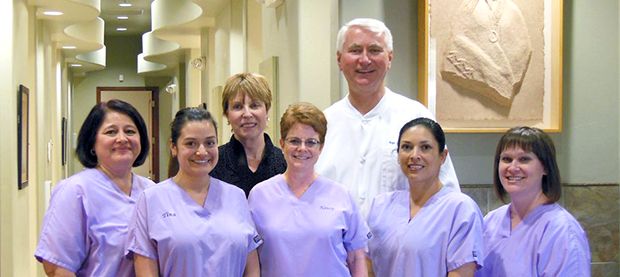 Welcome to Dr. Roger C. Biede II, DDS!

Dr. Biede has practiced General family dentistry in Tucson Arizona for over 30 years. His philosophy as a dentist is to not only treat your symptoms, but to also provide you with education as to the causes of your oral health problems.

As a patient of Dr. Biede you will be entitled with knowledge to care for your mouth and prevent future issues. Decades of experience and passionate for improving patient health through dentistry from a dentist is not easy to find.




♦ We treat all patients with the care, concern and respect that we would show to our own families.

♦ We provide reasonably priced high quality dental care in an environment that is as comfortable as possible.

♦ We strive to elevate all of our patients' lives by increasing their health, comfort, function and improving their aesthetics.

♦ We benefit our patients by not only solving and treating their symptoms, but also by educating our patients as to the cause and prevention of their problems. Everyone in our Tucson dentist office is devoted to the health of our patients. We all have a commonvision for improving overall health of our patients through proper dental care and hygiene.




Our friendly dentists are able to treat you in an emergency, and our staff is friendly and welcoming. Our inviting atmosphere helps minimize anxiety over going to the dentist. We do everything we can to have our patients smiling when they arrive, and when they leave.

Our services include:

♦ General Dentistry
♦ Treating Children
♦ Partials
♦ Dentures
♦ Bridges
♦ Crowns
♦ Fillings
♦ Cosmetic Dentistry
♦ Dental Implant
♦ Teeth Whitening


♦ Sleep Apnea
♦ Perio-Protect
♦ Nitrous Oxide
♦ Oral Hygiene Instruction
♦ Root Planing & Scaling
♦ Cleaning & Fluoride Treatment
♦ Extractions
♦ Oral Cancer Screening
♦ Sealants

Our procedures include:

♦ Air Abrasion
♦ Digital X-Rays & Panorex
♦ NTI
♦ Spectra
♦ Velscope


Accepts:

All other insurance providers are out of network

Care Credit

Delta Dental Premier

Discover

MasterCard

Visa
Tags: dentist, sleep apnea, perio-protect, oral hygiene instruction, root planing & scaling, cleaning & fluoride treatment, extractions, oral cancer screening, sealants, general dentistry, treating children, partials, dentures, bridges, crowns, fillings, root canal therapy, cosmetic dentistry, dental implant, teeth whitening
Dr. Roger C. Biede II, DDS Special Offers & Events
Testimonials
"Hi! I have been a patient of doctor Roger Biede for about 10 years. In all that time I have received the best of care. Because of the great dental care I have had over the years I now have a very healthy mouth. That was not the case when I first started my dental treatments with doctor Biede. Thank You very much!!!"
Ventzi
"Dr. Roger Biede has provided our family (including my husband and 2 children, as well as my 80 year old mother) with the most compassionate and professional care for over 9 years. He takes the time to thoroughly explain any needed procedures. His office staff also provides excellent care with a positive attitude. Dr. Biede is great with children, in fact that is the reason we started seeing him….he's a Shriner's clown with a big heart!"
Donna W.
"When it comes to dental care, you'd be hard pressed to find a better team than the one led by Dr. Roger Biede. Upon entering the offices you're greeted warmly in comfortable surroundings and receive outstanding care by professionals working with the latest in dental technology. As for Dr. Biede, he's one of the nicest men you'll ever meet - and perhaps one of the tallest too! He's an awesome dentist whose thorough analysis, explanation of procedures and tender care in completing them are truly gifts. For many, seeing a dentist is high on the list of things to avoid. However, Dr. Biede and company will change your mind - and that's the TOOTH!"
Mike B.
"I've been a patient of Dr. Biede's since 1990. I lived near Tucson then but moved back to the Phoenix area in 1992. I prefer driving to Tucson than ever going to anyone else for my dental care because Dr. Biede and his staff are very professional, competent and wonderfully caring. He and his staff are simply the best, and I'm very grateful and fortunate to be part of the family."
Beth M.
View more testimonial
here
!
About Doctor Roger C. Biede II, DDS

Dr. Biede has been practicing dentistry for over 30 years. His unmatched level of caring and passion for dentistry is difficult to locate. As a long term Tucson resident Dr. Biede is a committed and active member of the community. Click
here
to read more about his history and community accomplishments. Hobbies include: Water Skiing, Snow Skiing (when I'm able to), Motorcycle Touring, Wood Working, and working on old cars.
Contact Us
Our general dental practice in Tucson, AZ is currently accepting new patients. We are a provider for Delta Dental of Arizona Premier insurance plan. Other payment options are Visa, Mastercard, Discover and Care Credit. We do treat dental
emergencies.
To set an appointment, call us at
520-797-1240
. You can also contact us via email through the online form provided
here
. Be sure to like us on
Facebook
and add us on
Google+
. We look forward to seeing you soon!
Dr. Roger C. Biede II, DDS Offers & Events
Dr. Roger C. Biede II, DDS Videos
Email Dr. Roger C. Biede II, DDS