Pottery Fiesta
More Than Just Pots
16181 N Oracle Rd
Tucson
,
AZ
85739
Last Updated: January 26, 2017
| | |
| --- | --- |
| Sunday | Closed |
| Monday | |
| Tuesday | |
| Wednesday | |
| Thursday | |
| Friday | |
| Saturday | |
Welcome to
Pottery Fiesta
---
Thank you for visiting Pottery Fiesta - More Than Just Pots
Make a big style statement in your home with a great selection of pottery brought to you by Pottery Fiesta.
Whatever you're looking for, whether it's a splash of color for your living room or a new flower pot, Pottery Fiesta is your number one resource for great choice and quality.
Products Include:
Attractive Pottery
Garden Art
Accents
And much more!
Pottery Fiesta proudly services Catalina, SaddleBrooke, SaddleBrooke Ranch, Oro Valley, Oracle, Dove Mountain and surrounding areas.
If you have questions about our products or services please don't hesitate to call Pottery Fiesta! 520-989-3614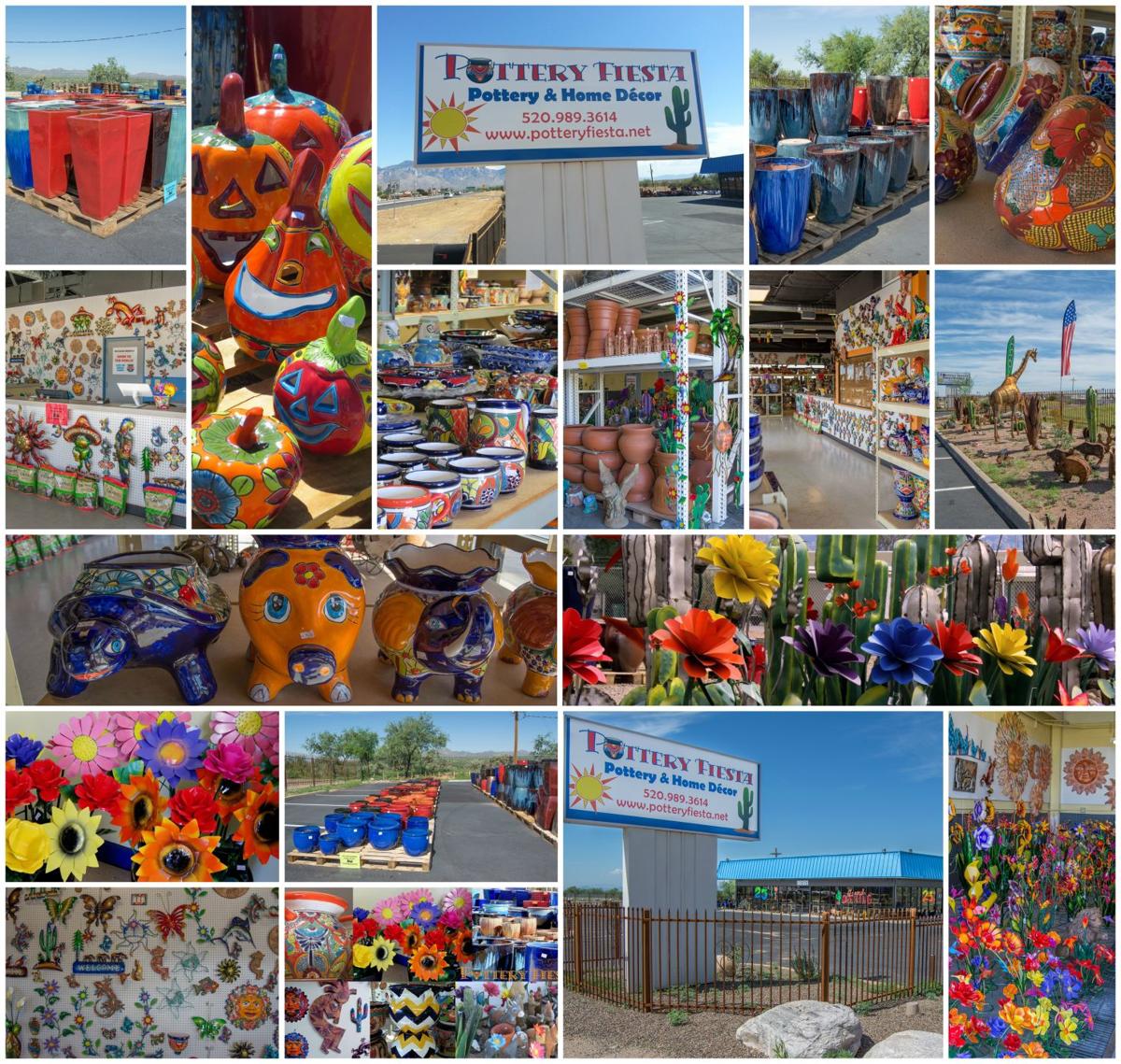 Testimonials
---
"Thank you Pottery Fiesta!!! Loving these new pots...they look amazing!!! Now excited to plant something in them!!! You guys Rock!!!"
- Mountain View Assembly of God

"Great selection, great prices, great place."
-Linda L.

"The latest buzz in Catalina is a brand new small business venture—Pottery Fiesta LLC—undertaken by SaddleBrooke residents, Brad and Julia Huff."
-SaddleBrooke


---
APRIL TIPS!
Annuals in Bloom: Plant spring and summer blooming annuals such as geraniums, gerbera daisies, marigolds, petunias, carnations, cosmos, lobelia, alyssum, million bells, verbena and periwinkle.
Citrus: This is a great month to plant citrus.
Blooming Perennials: Plant spring blooming perennials such as African daisies (osteospermum), Buddleia davidii (butterfly bush), gallardia, guara, delphinium, and lavender.
Frost Sensitive Plants: Great time to select and enjoy plants such as bougainvillea, lantana, and hibiscus.
Pruning: Prune frost damage from plants once new growth appears.
Leaves Dropping: It is normal for evergreen trees and shrubs to drop older yellow foliage in preparation for new spring growth.
Irrigation: Established trees and shrubs may need weekly irrigation by the end of the month. Water thoroughly and deeply.
Plants in Pots: May need daily watering as temperatures warm up.
Yellow Leaves: Iron chlorosis may be detected on plants such as citrus, roses, and gardenias. Foliage will appear yellow with bright green veins. Treat affected plants with chelated iron
Garden Insects: Keep an eye out for aphids and spider mites. Try washing them off with a heavy blast of water.
Grow your own food from our healthy selection:
*Apples, Peaches and Plums
*Lemons, Oranges, Grapefruit, Tangerines, Limes and Kumquats
*Table Grapes – red and white seedless
*Pomegranates
*Figs – Mission, Black Jack and Brown Turkey
*Artichokes, Eggplant, Cucumbers, Squash, Peppers, Cantaloupe and Strawberries
*Tomatoes – Heirloom, Grafted and Traditional
*Herbs – Basil, Oregano, Rosemary, Sage, Thyme and more.
*Plant okra, asparagus, beans, cherry tomatoes, sunflowers, amaranth, cucumber, eggplant, melons, Lima beans, black-eyed peas, cane sorghum, chilies, chiltepines, cotton, gourds, indigo, panic grass, teosinte, tobacco, tomatillos, muskmelon
*Still not too late to plant pumpkins, cantaloupes, squash
* Plant summer bulbs – caladium, anna, dahlia, glads, iris
*Warm-to-hot-season greens such as amaranth, purslane, lambsquarters, Malabar spinach, and Yakima Savoy lettuce can be sown now and grown through summer — all will appreciate afternoon shade from a tall trellis, native mesquite tree, or sunflowers to the west.