2064 N Avenida Mena
Green Valley
,
AZ
85614
Last Updated: October 16, 2015
Open 24 hours a day
| | |
| --- | --- |
| Sunday | Open 24 Hours |
| Monday | Open 24 Hours |
| Tuesday | Open 24 Hours |
| Wednesday | Open 24 Hours |
| Thursday | Open 24 Hours |
| Friday | Open 24 Hours |
| Saturday | Open 24 Hours |
Holiday hours: Our committed team even works on holidays!
About Mike's Drilling LLC
Mike's Drilling LLC is a family owned and operated company, offering drilling and pump services to its residential and commercial clients in Southern Arizona. Services include rotary well drilling, mud drilling, air drilling, well installation, deepening, and repairs. We also offer pump repairs and sales.

Located in Green Valley, AZ, we guarantee quality workmanship to our clients.

We would be happy to hear from you. Contact us at 520-399-2781.



Accepts:

American Express

Cash

Check

Discover

MasterCard

Visa
Mike Lister, the owner and a fourth generation family member in the industry, offers 15 years of experience in the field. Mike's Drilling LLC consists of a strong and committed team, who will be available to you 24/7. We are licensed, bonded, and insured.
Our Services Include:
Drilling Services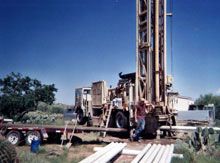 ☼ Rotary well drilling
☼ Mud drilling
☼ Air drilling
☼ Domestic drilling
☼ Industrial drilling
☼ Commercial drilling
☼ Agricultural drilling
☼ Well deepening
☼ Water well installation
☼ Well repair
Tanks
Residential & Commercial
Licensed, Bonded, and Insured
Lic# ROC256060
ADWR #798
☼ Pressure tanks
☼ Storage tanks
☼ Bladder tanks
Pump Service and Installation
☼ Pump repair
☼ Pump sales
☼ Well pumps
☼ Booster pumps
---
We serve Tucson and all of Southern Arizona including, but not limited to: Vail, Green Valley, Sahuarita, Nogales, Rio Rico, Tubac, Carmen, Montana Vista, Marana, Oro Valley, Benson, Sierra Vista, Wilcox, Three Point, Bisbee, Douglas, Oracle, Elfrida, Sun Sites, Phoenix, Casa Grande, and Arivaca.
Mike's Drilling LLC of Green Valley, AZ offers residential and commercial drilling services and pump services to Tucson and all of Southern Ar…
If you have a shallow dug well, and you have less than 1 foot of water, you really don't have too many choices, besides waiting for the water …
Avoid Contaminants! Keeping your well secure can save you a hefty re-investment back into your well in the future. Make sure the cap is tight,…
Mike's Drilling LLC tries to be as informative as possible in order for you to make the smartest decision for both your health, your home, and…
Mike's Drilling LLC of Green Valley, AZ offers residential and commercial drilling services and pump services to Tucson and all of Southern Ar…
Mike's Drilling LLC is a family owned and operated company, offering drilling and pump services to its residential and commercial clients in S…