TLC Environmental Services, LLC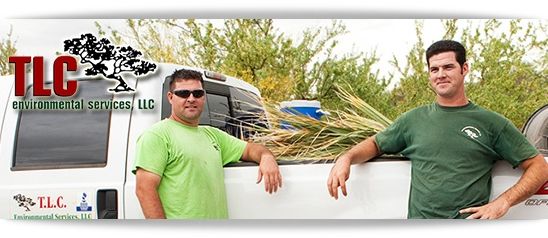 T.L.C. Environmental is a family-owned and operated company based in Tucson, Arizona. For over 35 years, we have been deploying state-of-the-art equipment and up-to-date expertise to provide our customers with the best in tree and lawn care. We know that experience, honesty and communication build excellence.
Our Services Include
☼ Tree Trimming & Removal
☼ Stump Grinding
☼ Storm Damage -24/7
☼ Clearing Hazardous Tree Situations
☼ Foliar & Root Feeding
☼ Planting/Re-vegetation
☼ Cabling & Bracing
☼ Plant Healthcare Program
☼ Landscaping/Maintenance Services
☼ Growth Regulation Treatments
☼ Pest & Disease Management
☼ Certified Arborist Consultations
Our Process
INITIAL CONTACT
| We schedule a time with you on site to review the work that will be done.
PROVIDE ESTIMATE
| We develop an estimate of time involved to complete the project and provide this to you in writing.
AFTER ESTIMATE APPROVAL
| T.L.C arrives on site to conduct the initial walk through and answer any additional questions you may have prior to starting the job.
COMPLETE WORK
| T.L.C performs the work expected on time and within budget, executing efficiently and professionally.
FINAL WALK THROUGH
| All work is performed and reviewed with you to ensure quality and customer satisfaction.
Estimates are ALWAYS free.
Emergencies welcome.
Every lawn and landscape is different! We provide comprehensive landscape maintenance services in Tucson to meet your seasonal needs and to keep your lawn looking its best throughout the whole year. Some of these services include:
LAWN CARE
☼ Mowing & edging
☼ Fertilizing
☼ Weed control
☼ Aeration
☼ Leaf removal
PROPERTY MAINTENANCE CARE
Residential • Commercial • Community
☼ Shrubbery & small tree trimming
☼ Bed weeding
☼ Turf management
☼ Irrigation services
☼ Fertilization programs
☼ De-thatching
☼ Seeding
☼ Soil pH test & adjustment
☼ Ornamental care
☼ Turf disease control
☼ Spring & fall clean-ups
☼ Weeding
☼ Mulch & soil installation
☼ Aeration
☼ Gutter cleaning
☼ Lime & sulfur application
☼ Turf insect control
Tree Care Industry Association (TCIA)
We are affiliated with the TCIA to enhance and train our staff with the most current matters affecting our industry. TCIA members recognize stringent performance standards for quality and safety. They maintain trained, professional arborists on staff and are dedicated to ethics and quality in business practices.
International Society of Arboriculture (ISA)
The International Society of Arboriculture (ISA), through research, technology, and education, promotes the professional practice of arboriculture and fosters a greater worldwide awareness of the benefits of trees.
ISA Certified Arborist on Staff
ISA Certified Arborists understand the importance of continued education and how it helps to make the world be a better place, one tree at a time.
Why hire a certified Arborist?
Certified Treecare Safety Professional on Staff
Certified Treecare Safety Professionals train and develop a culture of safety inside the organization.
Better Business Bureau
Our company is a member of the BBB and an accredited business with an A+ rating.
Proud Supporters of the Reid Park Zoo
AZ ROC #256687 | OPM#8821
Please feel free to call or email us for an estimate, but if you'd rather fill out and submit this simple form, we will contact you shortly after we receive it. We look forward to working with you!