Address
2001 W Orange Grove, Ste 506
Tucson, AZ 85704
Last Updated: July 16, 2014
Hours
| | |
| --- | --- |
| Sunday | Closed |
| Monday | 8:30 am - 4:30 pm |
| Tuesday | 8:30 am - 4:30 pm |
| Wednesday | 8:30 am - 4:30 pm |
| Thursday | 8:30 am - 4:30 pm |
| Friday | 8:30 am - 4:30 pm |
| Saturday | Closed |
About Premier Hearing Center
Premier Hearing Center was founded to help members of our community get more from a local hearing care provider. Premier Hearing Center continues the tradition of better hearing through education, technology, and customer service.


Accepts:

American Express

Care Credit

Cash

Check

Discover

Insurance

MasterCard

Visa

Wells Fargo Health Advantage
Tags: hearing center, hearing, hearing care, hearing loss, hearing screenings, hearing health, preventing hearing loss, hearing aids, hearing tests, hearing evaluation, free hearing screening, hearing instrument, hearing aid repairs, audiology, audiologists, dizziness, tinnitus
More About Us
We are a full service practice that offers the following services:

► Hearing Aid Sales

► Hearing Aid Repairs

► Hearing Testing

► Hearing Aid Evaluations
Many consumers are unsure where to find professional help with their hearing. Our highly trained staff provides hearing health care in a manner that provides you with the information that you need for a successful hearing aid experience.
Most adults with hearing loss can be helped with hearing aids. Choosing the right hearing aid can be difficult. There is an enormous amount of information regarding hearing aids and the choices can be daunting. Choosing an Audiologist who can guide you through this process is the first critical decision in purchasing hearing aids.
Of course, the first step to a successful hearing aid experience is an accurate audiological evaluation or hearing test. Equally important is a determination regarding your specific needs and lifestyle. It is critical to convey this information to the hearing health care professional. Finally, everyone has a budget. Your budgetary constraints should be discussed. Hearing aids are rarely covered by insurance.
Click here for hearing info and a video on how you hear.
Testimonials
"I had procrastinated because I didn't think hearing aids would help---Well they did!!!!"
- P.K.
"Dr. Ballachanda is the most professional audiologist I have ever met. His thoroughness and superb training inspire great confidence."
- C.S.C.
"Cathy Jackson is a great new audiologist who joined Premier Hearing Center. I found her being very knowledgeable and pleasant when helping my needs. I am very pleased to have another audiologist who is as able as Dr. Ballachanda himself."
- Thomas G. Faber
Click here to view more testimonials.
We offer three convenient Tucson locations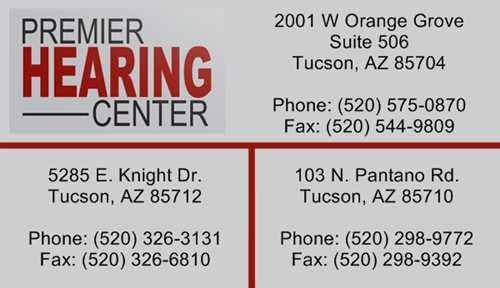 Email Premier Hearing Center