Address
Serving Tucson and Surrounding Areas
Tucson, AZ 85713
Last Updated: August 13, 2014
Hours
| | |
| --- | --- |
| Sunday | Closed |
| Monday | 8:00 am - 4:00 pm |
| Tuesday | 8:00 am - 4:00 pm |
| Wednesday | 8:00 am - 4:00 pm |
| Thursday | 8:00 am - 4:00 pm |
| Friday | 8:00 am - 4:00 pm |
| Saturday | Closed |
Special hours: Winter Hours: Monday-Friday: 9am-3:30pm
About Splash Pool Service



Splash Pool Service is a family owned and operated and has been in business since 1978. We provide the finest pool care for homes throughout the Tucson area. We specialize in:

• Pool Chemical Service
• Swimming Pool Repairs
• Saltwater Service
• Pool Filter Cleaning Services
• Pool Draining
• Acid Washes
• Green Pool Cleanups
• Tile Cleaning

Our trained technicians use the highest quality chemicals and parts to service and balance your pool, ensuring you the finest service available!
Accepts:

American Express

Cash

Check

Discover

MasterCard

Paypal

Visa
Tags: splash pool service, algae treatment, pool shock treatments, pool services, pool repairs, pool chemicals, pool chemical services, swimming pool, saltwater services, pool filter cleaning services, pool draining, acid washes, green pool cleanups, tile cleaning, filter services, system upgrades, drain wash, maintain your pool, maintenance services, filter cleaning, pool filters, cleaning pools, tucson pool service
Splash Pool Service Special Offers & Events
More About Splash Pool Service
Chemical Service—Only $39.95 per Month!
Our Chemical Service is the most economical service offered. With more than 35 years of experience, you can rest assured knowing your pool will be safe, sanitary, and algae free! Our professional service technicians test and balance your pool for only $39.95 per month. We provide the chemicals! With this service, you will never have to add chemicals to your pool!
Filter Maintenance—Only $22.00* per Month!
This service may be added to our Chemical or Salt Water Service. It includes basic upkeep required to keep your pool in tip top shape. Your filter system will be backwashed on a monthly basis, or as needed. Diatomaceous Earth (D.E.) will be added to any filter that's required. With this service and a properly working system, your pool will need little to no extra upkeep!
Salt Water Service—Only $39.95per Month!
Our trained service technicians maintain your salt equipment and keep your pool chemistry properly balanced. All chemicals are included: Salt*, Conditioners, pH Balancers and, if needed, Disinfecting Chemicals may be added. Mineral build-up on Salt Cells will be cleaned regularly to assure proper operation of your salt system. With this service, you will never have to add chemicals to your pool.

Additional Services
Repairs
Our knowledgeable, friendly repair technicians can fix any problem your pool equipment may have. We pride ourselves on providing you with quick response technicians that get the problem solved, and you back in the pool!
System Upgrades
Having reliable, energy efficient pool equipment is an essential part of owning a pool. If you think your equipment is outdated, or you're having a hard maintaining your pool, call today for a free estimate!
To view all of our services, click Here!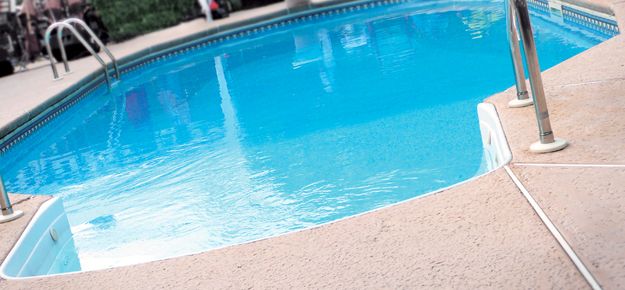 Splash Pool Service Offers & Events