Address
4425 E Broadway Blvd
Tucson, AZ 85711
Last Updated: June 26, 2014
Hours
| | |
| --- | --- |
| Sunday | Closed |
| Monday | 7:30 am - 6:00 pm |
| Tuesday | 7:30 am - 6:00 pm |
| Wednesday | 7:30 am - 6:00 pm |
| Thursday | 7:30 am - 6:00 pm |
| Friday | 7:30 am - 6:00 pm |
| Saturday | Closed |
About The Maids of Tucson
At The Maids of Tucson, we work hard to provide you with the highest quality clean available. Our qualified staff of professional cleaning team members and management are here to help you and your family enjoy a cleaner, healthier home.


We have been serving the Tucson area since 1986, and we welcome the opportunity to serve you and your friends and family the way we have since day one - with quality customer care and deep, healthy quality cleans.

Our cleaning services are based on our unique 22-step deep-cleaning Healthy Touch® cleaning system. We use only environmentally friendly supplies and our state-of-the-art vacuum to remove more dust, dirt and other allergens than conventional cleaning practices.

Nobody can outclean us! We do things the "old fashioned way," including cleaning bathroom and kitchen floors on hands and knees. And we add personal touches that let you know we care about you and your home.

Besides cleaning for a number of regular customers on their requested schedule, we also perform special one-time cleanings, including those for people moving in or out of homes.

Give us a call today at 795-7977. Suzanne or Brandi will be happy to tell you more about what makes The Maids of Tucson the best home service provider in town.
Tags: house cleaning, cleaning services, the maids, green, maid services, ktichen cleaning, bathroom cleaning, dusting, cobwebs, vacuuming, window cleaning, sink cleaning, countertops, toilets, tubs, showers, disinfectant, environmentally safe products, professional cleaning team, house cleaners
The Maids of Tucson Special Offers & Events
The Maids of Tucson Offers & Events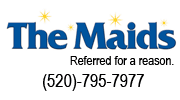 The Maids of Tucson
4425 E Broadway Blvd, Tucson, AZ 85711
520-795-7977
E-mail us: info@maidsoftucson.com
The Maids of Tucson Videos
Email The Maids of Tucson