After The Quake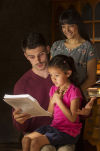 Javan Nelson, Marissa Garciaand Larisa Cota, 6, in Rogue Theatre's adaptation of two of Haruki Murakami's stories.

Matt Bowdren, left, and Javan Nelson in one of the vignettes, "Superfrog Saves Tokyo," in which a giant frog helps stop an earthquake-generating Worm. Guess who has the role of Frog.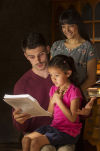 Natural disasters on a grand scale continuously occupy the world stage, but when they play out at the Rogue Theatre, the result is a celebration of the human spirit rather than a descent into destruction.
Follow the Arizona Daily Star
Sign up for Tucson.com e-mail newsletters