Alex Heveri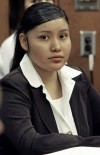 A 23-year-old former University of Arizona student serving a natural life sentence will soon be able to argue for a chance at parole thanks to an Arizona Court of Appeals decision.

Pima County Superior Court Judge Scott Rash imposed a stay in the Galareka Harrison case Thursday after prosecutors announced they will be asking the Arizona Court of Appeals to overturn his decision to grant Harrison a new sentencing hearing.

When now-retired Judge Nanette Warner sentenced Galareka Harrison to a natural life sentence for killing her University of Arizona dormmmate, she said she would've given the student a shot at parole if Harrison had been abused as a child or had a significant mental problem.
Follow the Arizona Daily Star
Sign up for Tucson.com e-mail newsletters