Americans For Prosperity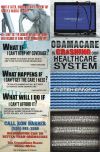 Door hanger, paid for by Americans for Prosperity. Distributed in 2014.
Rep. Ron Barber is sitting on almost a $1 million campaign war chest in his race for a second term in Congressional District 2.
Local hospitals and emergency rooms are at risk of closing if the Legislature doesn't expand a state-run health insurance program to include more people, Arizona Medicaid officials were told Thursday.
Follow the Arizona Daily Star