Anthony Sanders

Over the last 26 days, we've ranked the top 10 football players to come from each major high school in Southern Arizona.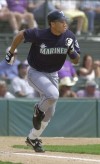 Former Santa Rita High School star Anthony Sanders played professionally for 14 years. He took time off in the middle of his pro career to help the United States win the gold medal at the 2000 Sydney Olympics.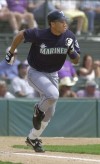 Anthony Sanders helped the U.S. baseball team win the gold medal, appearing in five of the team's nine games. Sanders' biggest role came as a late-inning defensive replacement in center field. He went 1 for 6 at the plate and scored three runs.
Follow the Arizona Daily Star
Vote! Today's Poll
Loading…
What is the most important issue for you in the 2016 Presidential Election?
Sign up for Tucson.com e-mail newsletters