Appellate Attorney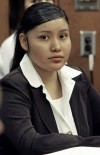 A 23-year-old former University of Arizona student serving a natural life sentence will soon be able to argue for a chance at parole thanks to an Arizona Court of Appeals decision.
Follow the Arizona Daily Star
Vote! Today's Poll
Loading…
What is the most important issue for you in the 2016 Presidential Election?
Sign up for Tucson.com e-mail newsletters