Arizona Opera Orchestra

Several classical music performances are planned around Tucson this month.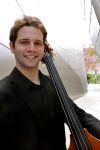 Gilbert, Ariz., teen is the youngest ever to play in the orchestra.

Arizona Opera finds lovable relationship in terrific voices and wonderful humor.
Follow the Arizona Daily Star
Vote! Today's Poll
Loading…
With the pool of presidential candidates narrowing, which front-runner do you support?
Sign up for Tucson.com e-mail newsletters