Arizona Senior Academy; Academy Village; Long Gallery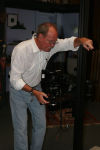 Blair Phillips Friederich describes most of his photographs as "minimalist" or "reductive."

This Friederich photograph, titled "Middle Distance," is part of a larger collection of black-and-white figure studies.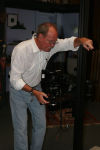 For more than 30 years Tucson attorney Blair Phillips Friederich has pursued a somewhat unusual avocation - black-and-white photography that he transforms into art-quality gelatin silver prints in his own darkroom.
Follow the Arizona Daily Star