Asarco Llc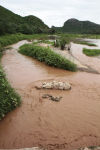 Mexican environmental authorities have filed a lawsuit against the mining operation.

Grupo Mexico, parent of Tucson-based copper producer Asarco LLC, is expected to complete a deal to take full control the Silver Bell mine west of Marana by acquiring an additional 25 percent ownership stake from a business partner.

Eighteen people are charged in a multi-million dollar copper theft ring involving Asarco employees.
Follow the Arizona Daily Star