Ather Dawood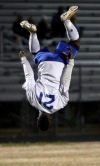 After scoring on a header to give Palo Verde a two-goal lead in the second half, junior Bwaleso Igulu celebrated with a cool back flip.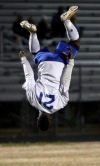 Palo Verde is set to enter the Division III boys soccer state tournament on a high note after shutting out Catalina 2-0 at home Tuesday night, dashing the Trojans' hopes of their own playoff berth in the final week of the regular season.
Follow the Arizona Daily Star
Vote! Today's Poll
Loading…
With the pool of presidential candidates narrowing, which front-runner do you support?
Sign up for Tucson.com e-mail newsletters