Audrey Moreno

Cholla junior Audrey Moreno competed with the boys team last year, then led the drive to restart a girls team.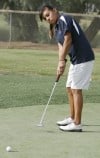 Audrey Moreno's first encounter with the sport three years ago involved being hit by a golf club on another golfer's follow-through.

Cholla High School junior Audrey Moreno will tee off at 11:48 this morning at Silverbell Golf Course in the Division II state tournament.
Follow the Arizona Daily Star
Sign up for Tucson.com e-mail newsletters