Baskin-robbins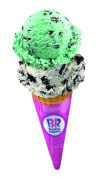 Baskin-Robbins is kicking off "ice cream season" with discount prices tomorrow through Thursday at participating locations in Tucson.

NEW YORK — Even as fast-food chains tout their healthy offerings, they're also coming up with fatty new treats to keep customers interested. Case in point: Dunkin' Donuts is adding a doughnut breakfast sandwich to its national menu this week.

Company head says Tucson could see five or more stores.
Follow the Arizona Daily Star