Bestselling Author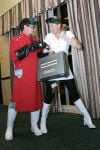 When James Corrick launched the first TusCon Science Fiction Convention with Carol DePriest in 1974, 2013 was a year straight out of an Arthur C. Clarke novel.

Under the soft glow of a red stoplight, romance novels finally wooed Amy Bright.
Follow the Arizona Daily Star
Vote! Today's Poll
Loading…
What is the most important issue for you in the 2016 Presidential Election?
Sign up for Tucson.com e-mail newsletters