Bikers

Users of The Loop might spot a "batty biker" along the trail.

About 170 bikers were charged in a Waco, Texas, melee that left nine dead.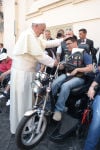 Biker culture came to the Vatican on Sunday as Pope Francis blessed thousands of Harley-Davidsons and their riders celebrating the manufacturer's 110th anniversary with a loud parade and plenty of leather. Thundering Harley engines nearly drowned out the Latin recitation of the "Our Father"…
Follow the Arizona Daily Star
Vote! Today's Poll
Loading…
What is the most important issue for you in the 2016 Presidential Election?
Sign up for Tucson.com e-mail newsletters