Birdwatching

Birder Alert! The Cranes are back!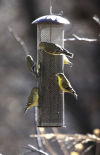 A residence in Patagonia — where bird-watchers have come for decades to spot species such as the sought-after violet-crowned hummingbird in the backyard — will be sold by the owners and managed by the Tucson Audubon Society.

Vast expanses of the main pond at Agua Caliente Park northeast of Tucson have dried up in the drought — and even 55,000 gallons of well water pumped daily into the spring-fed pond won't refill it, officials say.
Follow the Arizona Daily Star
Sign up for Tucson.com e-mail newsletters